Take a look at the names headlining the Calder Trophy race at the halfway mark of the season: Nathan MacKinnon, Aleksander Barkov, Chris Kreider.  None of the Tampa Bay Lightning rookies make the shortlist of Calder favorites despite this:
The #Tblightning's 101 rookie points ranks first in the NHL this season.

— Michelle Gingras (@michellegingras) January 14, 2014
While few teams in the NHL have so many rookies in their lineup as the Lightning do – which naturally inflates the numbers above – this is more than just a case of strength in numbers.  While they may not have the big names like Colorado or New York, the Lightning's young guns have played well enough to warrant their own considerations as the NHL top rookies.
Strength of the Rookies
Showing his talents as an offensive defenseman, Radko Gudas has jumped from 5 points (2 goals, 3 assists) in 22 games during the 2012-2013 season to 15 points (2 goals and 13 assists) in 45 games in the current season.  Those 14 points ranks him tenth on the team.  Out of his two goals, the one he scored on December 21 against Carolina was the game-winner.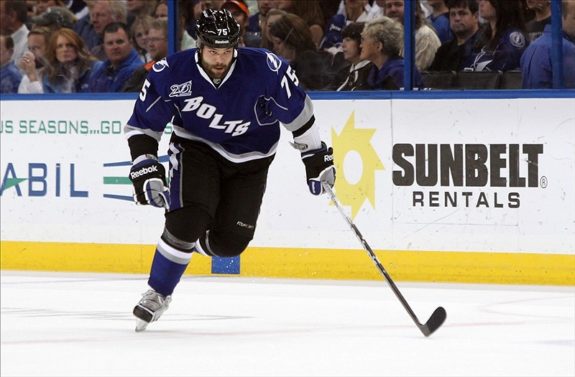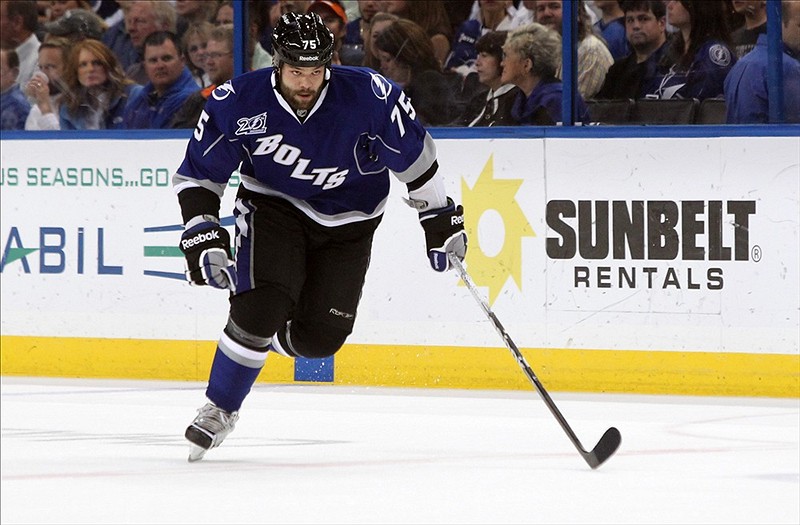 His ice time is massive, averaging at 20:07 minutes per game, with a career-high 28:38 minutes logged in a contest against the Capitals on December 10.  Gudas has also racked up 96 penalty minutes.  He is most well-known for his massive, bone-rattling hits.  His 168 hits lead all NHL rookies and ranks third across the entire NHL.  He is also heading to Sochi for the 2014 Olympics as a member of Czech Republic's ice hockey team.
Also trending in the right direction is 22-year-old right wing Ondrej Palat.  Taken in the seventh round of the 2011 Draft, he played 14 games for the Lightning in the 2012-2013 season.  While his stats were not overly impressive (2-2-4), his play has improved in the current season.  He has scored ten goals and 15 assists in 50 games, including a stretch of eight games (from December 23 until January 9) where he recorded at least a point.  The point streak is a Lightning franchise record for a rookie.  This heightened level of play landed him on the roster for the Czech Republic ice hockey team for the 2014 Olympics.
One of the few rookies without playing time in the AHL, Moscow native Nikita Kucherov jumped onto Tampa Bay ice after two years in the KHL and one year in the QMJHL.  He has played 27 games in the NHL now, scoring eight goals and three assists.  His first goal came in his first game in the NHL.  Interestingly enough, not only did he open the scoring on his very first shot, it was the game-winner in Martin St. Louis's 1,000 game ceremony.  This beauty gained him the third star of the night:
While not showing the high numbers of his fellow rookies, J.T. Brown has also improved since the five games he played in the 2011-2012 season with the Lightning, where he scored one assist.  In the 2013-2014 season, the next time he would crack the roster since his debut, Brown improved to ten points in 31 games, including four goals.
When it comes to defensemen, Mark Barberio is showing his strengths at his position.  After being a minus-2 in two games during the 2012-2013 season, where he registered zero points, he now has seven points in 32 games and is incredibly a plus-15, which places him second among all NHL rookie defensemen.  He has also chewed up a lot of ice time, including a career high 21:35, which occurred during a 3-1 win against Ottawa on December 5.  He has only had a minus rating three times this season.
But of all of the rookies who have impressed, none have done better than Tyler Johnson.
Tyler Johnson Makes a Strong Case
The 2012-2013 season was a strong one for Tyler Johnson.  During his time with the Syracuse Crunch, the center reached the AHL playoffs with 37 goals and 28 assists, good for 65 points in 62 games played.
He was called up to Tampa Bay from mid-March to mid-April, playing 14 games total where he scored three goals and three assists.  He returned to the Crunch in time for their deep playoff run, reaching the Calder Cup Finals against a similarly NHL-rookie-loaded team, the Grand Rapids Griffins.  He exceled in the playoffs with 21 points in 18 games.
While he did not get to hoist the Calder Cup, he maintained his Calder Trophy eligibility, which is good news because he is getting better with each game.  During the course of the season, the Spokane, Washington native has held several multi-game point streaks, including one four-game streak and two three-game streaks.
Even more incredible for a rookie, he also scored three game-winning goals, including this beautiful wrist shot in front of the crease against Edmonton's Devan Dubnyk:
With 12 goals and 18 assists for 30 points, he is currently second in points and fourth in goals amongst all NHL rookies.
Sophomores Getting Past the Slump
It also helps the Lightning's success when their second-year players can avoid the dreaded sophomore slump.
Alex Killorn, who first suited up for the Bolts on February 10 2013 when he assisted on the lone goal in a 5-1 loss to the Rangers, played 38 games in a 48-game season, netting 19 points.  In the 50 games he had taken the ice in the 2013-2014 games, he kept on pace with 29 points, good for fifth in the team in points, as well as improved from a minus-6 to a plus-10.  He had three multi-point nights in his first season.  In contrast, he now has nine multi-point games in the current season.
While it has not been the biggest upward shift, Richard Panik has shown some improvement in his sophomore year with the Lightning.  After nine points in 25 games last season, Panik has now registered 11 points in 39 games.
He excelled with the Syracuse Crunch, however, with 41 points (22 goals, 19 assists) in 51 games in the 2012-2013 season.  He continued to contribute during their 2013 playoff run with nine goals and five assists in 16 playoff games.  Hopefully with more NHL experience – as well as his role skating with Team Slovakia during the 2014 Olympics – he will gain the confidence to succeed at a higher level.
Having so many rookies in the lineup might hurt other teams, but the Lightning have shown that they can win with the depth of their rookie class.