Part 1: Paul Holmgren's 10 Best Trades & Transactions
As mentioned in part one, Paul Holmgren's itchy trigger finger can be an asset or a detriment to the Flyers.  The biggest problem it has created is that the Flyers have, on a few occasions, seemingly outbid themselves when signing or acquiring players.  In addition, his salary cap management has been spotty at best.
It is true that hindsight is 20/20, and it's impossible for a GM to get a steal in every move he makes.  But with most of these transactions, they were almost universally criticized from the start.  Here are the ten worst decisions Paul Holmgren has made as Philadelphia Flyers GM:
Signed Ilya Bryzgalov to 9 year, $51M contract on June 23rd, 2011
This is the prime example of Paul Holmgren outbidding himself.  When Holmgren made this trade, he put his faith in building around Bryzgalov and Chris Pronger instead of Jeff Carter and Mike Richards.  Bryzgalov and Tomas Vokoun were seen as far and away the two best goalies on the market.  Before free agency even opened, Bryzgalov signed for $51 million.  Vokoun settled for a one year, $1.5 million dollar deal with the Capitals.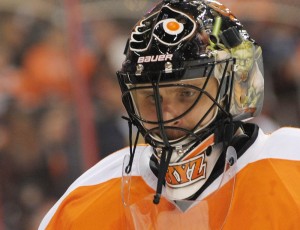 Fans clamored for the Flyers to sign Vokoun and act as a veteran mentor to promising youngster Sergei Bobrovsky.  But, Paul Holmgren went for the big splash, paying $51 million for a giant headache.  Bryzgalov's personality clashed with the Philadelphia media, and the Flyers clearly did not realize that the anonymity of being in Phoenix helped shield what a goofball Bryzgalov was.  Paul Holmgren also failed to recognize that Dave Tippett's stifling defensive system in Phoenix was a far cry from Peter Laviolette's gung-ho style that exposed Bryzgalov's faults.
Not only did Bryzgalov fail as a player himself, but he forced Holmgren to make one of his other worst moves.
Traded Sergei Bobrovsky to Columbus for 2nd round pick, two 4th round picks on June 22nd, 2012
As a young goaltender, Bobrovsky needed consistent playing time to refine his game.  With Ilya Bryzgalov in front of him, he was not going to get that in Philadelphia, and Holmgren shipped him off to Columbus.  He only won the Vezina Trophy last year.  This move was forced because Paul Holmgren wanted to get something of value for Bobrovsky, whose play slipped in his second year when he was forced into a backup role.
It is true that the Flyers did get something value from this trade.  The second round pick turned into Anthony Stolarz, who is the top goaltending prospect in the Flyers' farm system.  But, the fact that they gave up on Bobrovsky in favor of Bryzgalov after Bob showed so much potential AND there were better options out there as a stopgap AND they overpaid Bryzgalov makes this one inexcusable.
Recently, Flyers fans have been clamoring for the Flyers to acquire an elite goalscoring winger to complement Claude Giroux.  Well, the Flyers had one just two summers ago, and gave him away.  In the two years since he was traded, the only left wings with more goals than JVR are James Neal and Chris Kunitz.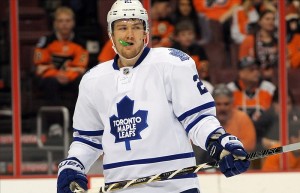 Despite increasing his PPG every year with the Flyers and dominating the 2010-11 playoffs, the Flyers were not satisfied with JVR's progress.  They shipped him off for Luke Schenn, who has been up and down his entire career.  Every strong year he has had has been followed up with a very poor one.  His time in Philadelphia is no different.  He looked great last year, but has taken some serious steps back this year.
Signed Randy Jones to a 2 year, $5.5M extension on July 2nd, 2008
Moving further back in Paul Holmgren's tenure, we find a signing that was truly puzzling.  In the four seasons where Jones played at least 20 games in the orange and black, he was a turnover machine.  He led the team in giveaways per 60 minutes twice, and was second in the other two years here.  He was a liability in the defensive zone for three years in a row, but Paul Holmgren decided to reward him with this contract.
Keep in mind that in 2008, the salary cap was only $56.4 million, which means that in terms of today's cap dollars, Jones' cap hit was the equivalent of $3.1 million cap hit.  A year after signing this contract, he was waived and sent to the AHL.  When Paul Holmgren tried to recall him in October, he was claimed on re-entry waivers and the Flyers were stuck with half of his cap hit on their books for essentially the entire season.
Traded 2008 1st round pick to Washington for Steve Eminger, 3rd round pick on June 20th, 2008
Normally, criticizing a general manager for not taking a certain player with a draft pick would be unfair.  It is very hard to predict how 18 year old players will translate to the NHL.  But I'm making an exception here because I distinctly recall screaming at my TV in anger when Paul Holmgren made this trade.  I was so angry because I wanted the Flyers to select a promising young defenseman who played for the Indiana Ice.  You may have heard of him.  His name is John Carlson.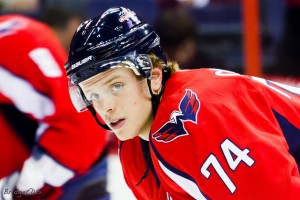 As you well know, Carlson has gone on to become exactly what the Flyers need.  A top pairing, minute munching defenseman that can play in all situations, and is now a US Olympian.  Steve Eminger turned out to be useless in his twelve games in Philadelphia.  He was a part of the package that brought Matt Carle to Philadelphia, which was good.  The third round pick was used on Jacob DeSerres, who was never offered an NHL contract.
Signed Jody Shelley to 3 year, $3.3M contract on July 1st, 2010
When the Flyers played a home-and-home against the Rangers in the last two games of the 2009-2010 season, Jody Shelley scored two goals.  They were the only two goals he scored all year.  But apparently, Paul Holmgren was convinced Shelley could serve as both an enforcer and a power forward that could chip in offense, despite the fact that his career high in goals in one season was three.  That is the only excuse for giving an enforcer like Shelley $1.1M a year, who deserved a salary half of that.
In his two seasons in Philadelphia, he had the worst, and second worst Corsi on the entire team among players that played regularly.  Saying he was ineffective would be an understatement.  He had five points in his 89 career games in Philadelphia.
Traded Simon Gagne to Tampa Bay for Matt Walker, 4th round pick on July 19th, 2010
To say that Simon Gagne was beloved in Philadelphia would be an understatement.  He scored the overtime game-winner in Game 6 of the Eastern Conference Finals in 03-04 to put the Flyers within one game of the Stanley Cup Finals.  If their defense hadn't been so decimated with injuries, they probably would have made it.  He scored the series-winning goal that capped off the improbable 3-0 comeback against the Bruins in 2010.  He was by far the longest tenured player on the team.
In the 2010 offseason, Paul Holmgren signed Nikolay Zherdev and acquired Andrej Meszaros.  Those moves put the Flyers over the salary cap, and they needed relief.  By putting themselves over the salary cap, Holmgren threw away any and all leverage he may have had in trade talks.  He essentially forced Gagne to waive his no-trade clause, and find a team that would want him.  Despite the fact that he had dealt with concussion issues, Gagne was still a productive player that put up 40 points in 58 games the season before he was traded.
The return for Gagne was pitiful.  Walker was a slow, ineffective depth defenseman, and the pick turned into Marcel Noebels, a prospect who will likely never play in the NHL.  The combination of mistreating a franchise player that had given the Flyers so much, giving away your leverage, and getting an awful return made this move truly bad.
Traded Scottie Upshall, 2nd round pick to Phoenix for Dan Carcillo on March 4th, 2009
This move was the culmination of very shoddy cap management by Paul Holmgren.  A few days earlier, Holmgren had to waive both Glenn Metropolit and Ossi Vananen, useful players, in order to manage the cap.  Later in the season after this trade, the Flyers had to sign defensemen David Sloane and Jamie Fritsch to amateur tryout contracts out of college because they didn't have the cap space to recall a player from the minors.  This specific move was made because if they did not clear some room, they would actually have had to send Claude Giroux, who ended the season with 27 points in 42 games, to the AHL because they didn't have the cap space to keep him in the NHL.
The trade was very bad value for the Flyers.  Upshall was clearly a superior player, and Carcillo hurt the Flyers more than he helped because of his undisciplined play.  The Flyers had to give up a better player, a 2nd round pick, and waive two good depth players just to get under the cap.
Signed Michael Leighton to 2 year, $3.1M deal on June 30th, 2010
During their magical run to the finals in 2009-10, there was a consistent goaltending carousel that eventually landed on Michael Leighton.  The Flyers were able to make the Finals despite Leighton, not because of him.  A remarkable defense led by Chris Pronger and Kimmo Timonen helped mask the deficiencies in Leighton's game, clearing out the many juicy rebounds he surrendered.
Inexplicably, despite not even seeing what the UFA market had to offer, Paul Holmgren paid Leighton $1.55M/year despite the fact that he was not an NHL quality goalie.  No team would have given Leighton that money, but Holmgren out-bid himself and gave it to Leighton.  After one game in the 2010-11 season, Leighton was waived and sent to the minors in favor of Sergei Bobrovsky.  The team was forced to move forward with a combination of Bobrovsky in his first year in North America, and Brian Boucher.  When that duo faltered in the playoffs, Ed Snider made the decree that goaltending needed to improve, and the team signed Ilya Bryzgalov (see above).  Who knows what signing a competent goaltender instead of Leighton could have done to the Flyers' future?
Signed Chris Pronger to 7 year, $34.9M deal on July 7th, 2009
At the time of the move, the deal seemed to be a great one for the Flyers.  Pronger was one of the best defensemen in the NHL, and it was a decrease in cap hit compared to his current deal.  The problem was that the deal was going to be subject to the 35+ rule, meaning that the Flyers would be on the hook for the contract even if Pronger retired.  Paul Holmgren and the Flyers' front office maintain that they knew that this would be the case, despite circumstantial evidence suggesting otherwise.
You cannot blame the Flyers for not having the foresight to predict Pronger's freak career ending injury.  But you can blame them for not having the foresight to know that they would be dealing with the contract in some capacity in its later years.  Pronger makes just $575K in the final two years of the deal, showing the Flyers and Pronger had no intention of him playing it out.  If he retired, they would be on the hook for the cap hit.  If he got injured, they could just place him on LTIR.  The problem with LTIR is that in the beginning of the year, they have to have Pronger on the roster and include his cap hit in their calculation to get under the salary cap.  Once the season begins, they can place him on LTIR and open up the $4.941 from his cap hit.  This hinders the Flyers' ability to sign free agents because they have to carry dead weight to begin each season.