They're fast, they're physical, they're hard-working and they're clutch. They set the tone in almost every game and every period in the 2020 Stanley Cup Playoffs. And they were arguably the Tampa Bay Lightning's best line this past summer in the bubble.
Of course, the Lightning probably don't end up with their second Stanley Cup championship without their third line, made up of forwards Yanni Gourde, Blake Coleman and Barclay Goodrow.
Big Plays in Big Moments
The three forwards are an interesting combination. They're led by an undrafted, undersized player in Gourde. And the line was rounded out last season at the trade deadline, as Lightning general manager Julien BriseBois acquired Coleman and Goodrow for a first-round pick each, a move that was criticized by many at the time.
But BriseBois would've happily given up more had he known just how effective they would be.
The three came together to be the Lightning's scrappiest, hard-working and physically dominant line in the 2020 postseason. And they also had a knack for putting the puck in the back of the net in big moments.
Gourde started off the first round of the 2020 Playoffs with a game-tying goal in the Lightning's 3-2 win over the Columbus Blue Jackets in Game 1, a game that went to five overtimes.
Coleman had two huge goals in a Game 2 win against Boston in the second round, as well as the dagger in Game 6 of the Stanley Cup Final over Dallas, a goal that put the Lightning up 2-0, putting the game, and the series, out of reach.
And while Goodrow only scored once for the Lightning in the playoffs, it was a big one. His lone goal broke a 0-0 tie in Game 4 of the first round, a game the Lightning would win 2-1 to take a stranglehold of the series against Columbus.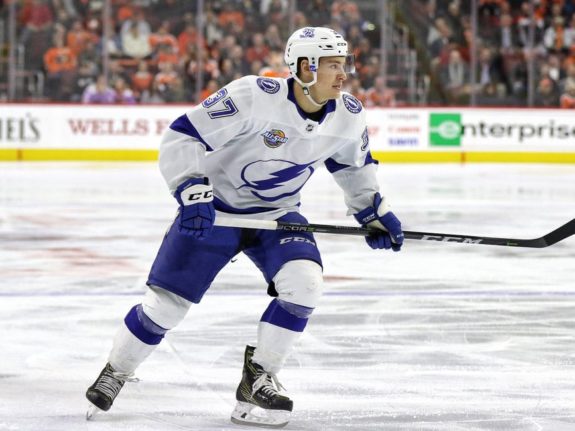 Many times when the Lightning needed a boost, the third line was there to give them one, whether it was with a goal or with their physical play. They were the key ingredient in the championship recipe for Tampa Bay in 2020. And they are the key to the Lightning's success in 2021.
More of the Same in 2020-21
Starting on January 13th, the Lightning will begin defending their title, and there will be many challengers. But Tampa Bay can't expect to be successful without its third line playing up to the level set in the 2020 Stanley Cup playoffs.
Gourde, Goodrow and Coleman set the tone every game for the Lightning last postseason, as they took nearly every opening faceoff in each game. Their physicality, speed and skill were evident from each opening faceoff and will be essential to the Lightning's success in 2020-21.
There is an argument to be made that other lines and players are more important to Tampa Bay's success. Obviously, they aren't the same team without superstars, such as former Hart Trophy winner Nikita Kucherov, an up-and-coming center in Brayden Point, the reigning Conn Smythe Trophy winner Victor Hedman, and captain Steven Stamkos.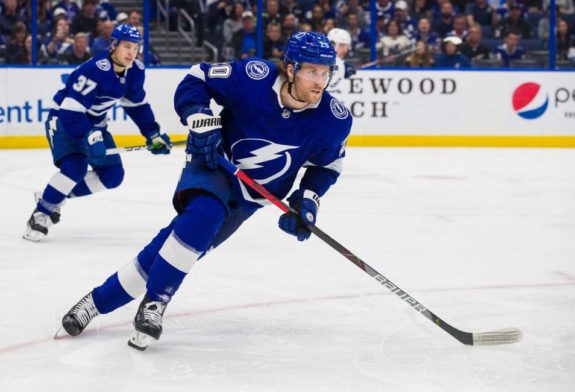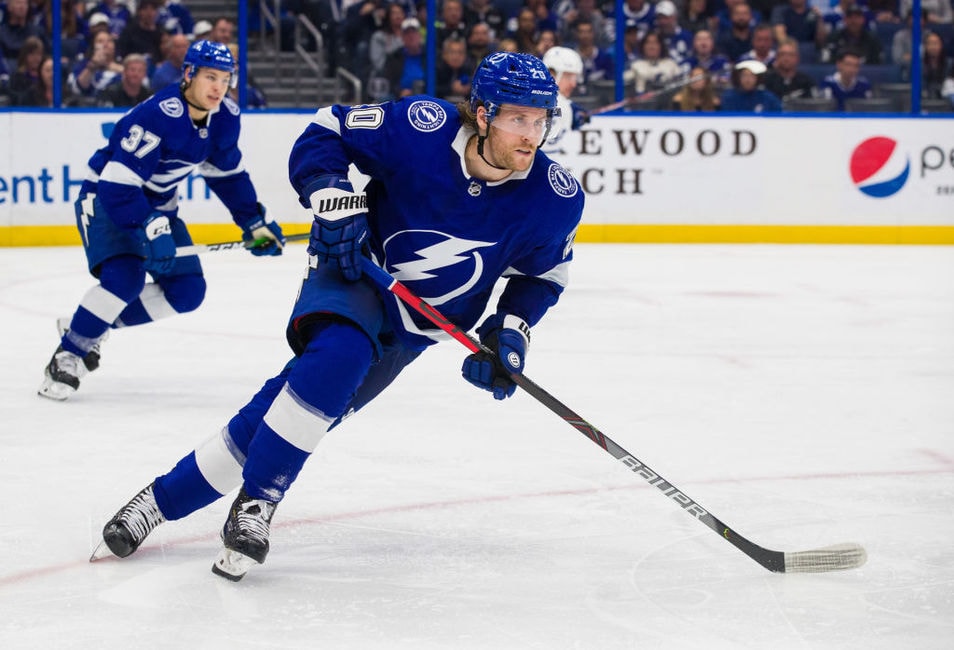 But while this line may not make their mark on the scoresheet each night, their impact will be felt elsewhere. Gourde, Coleman and Goodrow all make incredible contributions in other facets of the Lightning's game. They were key parts of Tampa Bay's penalty kill unit at the end of the 2019-20 regular season and in the postseason. Gourde is a big part of the Lightning's second power-play unit. And each is unafraid of going after pucks in the corner of the boards and fighting to maintain possession, which can lead to big plays.
All of this adds up to a playoff-style of hockey every night. This style of play is what BriseBois envisioned when he traded for Coleman and Goodrow. And that move has obviously paid big dividends for the Lightning's GM.
Salary Cap Could Lead to Breakup
While BriseBois is certainly happy he managed to acquire Coleman and Goodrow last season, there is no guarantee that they, or Gourde, will even be on the roster at the beginning of this season.
It's no secret that the Lightning have salary cap issues. They are close to $2 million over the cap after re-signing defenseman Mikhail Sergachev, but they still have forward Anthony Cirelli and defenseman Erik Cernak to re-sign.
With very little money and time to work with, the Lightning do need to figure out how they're going to get Cirelli and Cernak under contract while remaining under the salary cap.
And while Gourde's name has floated around in trade rumors, it shouldn't necessarily surprise anyone should Coleman or Goodrow be the ones to get moved.
Gourde would seem to be the most likely, as his contract is the most expensive and has the most time remaining. He's due to make over $5.16 million this season, so getting his contract off the books would be a nice cap relief for Tampa Bay. However, he has a full no-trade clause in his contract, so that would need to be waived by him before they can make a trade.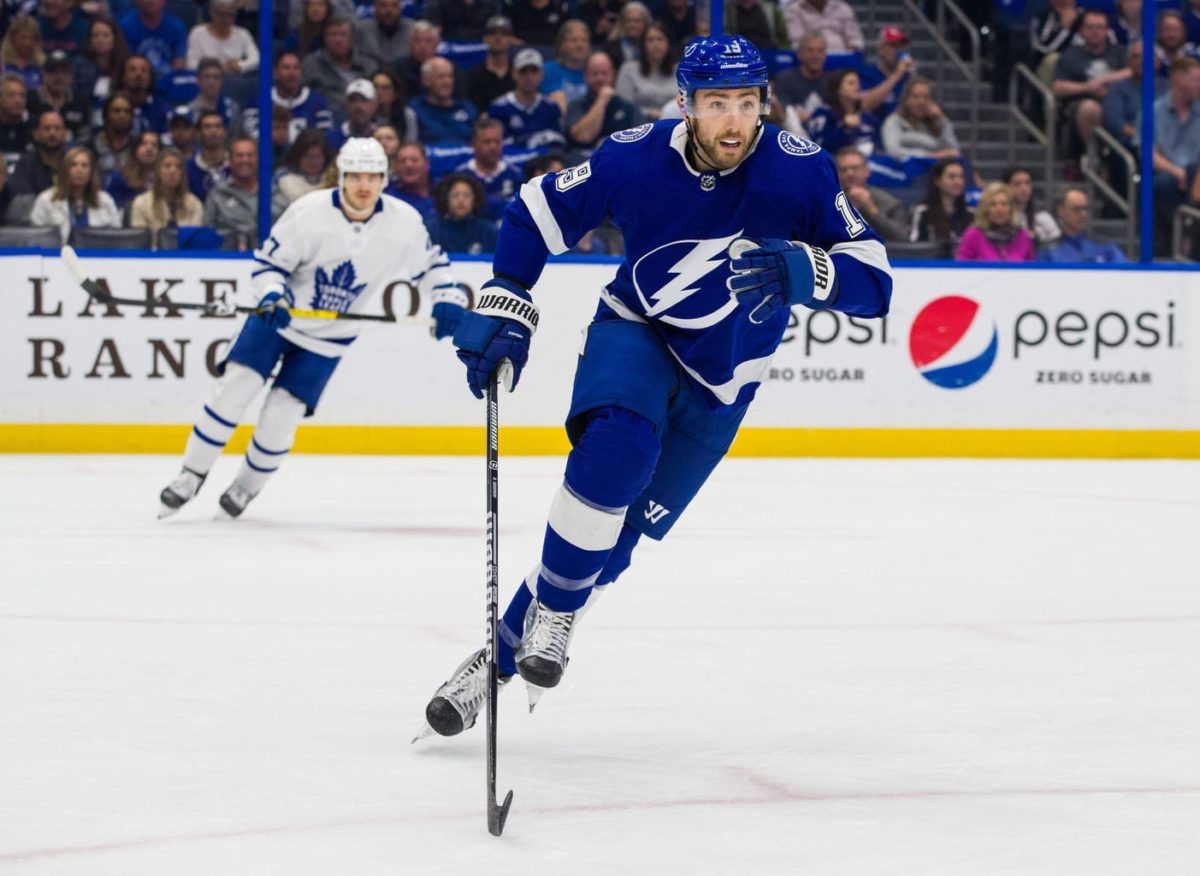 Coleman and Goodrow are much easier to move, as neither of their contracts include no-trade clauses. However, neither of their contracts are very expensive — Coleman will make $1.8 million this season, while Goodrow will earn $925,000.
Coleman and Goodrow also both only have one year each remaining on their deals. So any team interested probably wouldn't give up much for a one-year rental, should Coleman or Goodrow not want to sign an extension upon being traded.
There would be many hurdles to clear for the Lightning to give up any of their third-line forwards. And each brings so much to the team that it may not be worth it to Tampa Bay to even attempt to do so, as this line should make an impact in the 2020-21 season, assuming the Lightning don't trade any of them.
If the case remains the same as it is now, and the Lightning's third line remains intact for the 2020-21 season, it would be extremely significant for Tampa Bay's hopes of winning back-to-back Stanley Cup championships.
And if last season's postseason was any indicator, with Gourde, Coleman and Goodrow together on the ice, a Lightning championship repeat has a great chance of becoming a reality.
---
---