In less than two weeks, the 2021 IIHF World Junior Championship will be starting in Edmonton. This past week saw the finalization of rosters and teams arriving in Canada. Similar to the 2020 NHL Playoffs, the IIHF has established a secure bubble for the duration of the tournament. No fans will be present at any games. 
Related: 2021 Guide To the World Junior Championship
This year, the Bruins have only two prospects in the tournament after 2019 first-round pick John Beecher was one of the final cuts from Team USA. Beecher, a sophomore at the University of Michigan, was cut after testing positive for COVID-19 early Saturday morning. Due to strict guidelines, Team USA sent him home. He was a member of last year's team and has been making a name for himself in the NCAA since being selected 30th overall at the 2019 NHL Entry Level Draft. So far this season, he has a goal and an assist in eight games.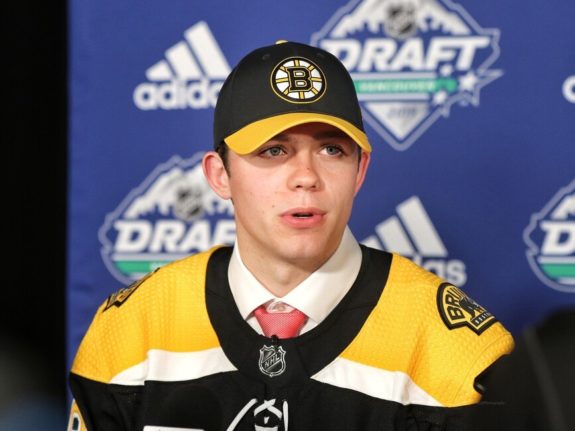 Roman Bychkov and Matias Mantykivi, fellow 2019 draft picks, made the rosters for their respective countries. Bychkov will be suiting up for Team Russia and Mantykivi for Team Finland. This is the first WJC appearance for both of them.
Roman Bychkov
The Bruins selected Roman Bychkov in the fifth round of the 2019 Entry Level Draft with the 154th pick. The 19-year-old defenseman is originally from Yaroslavl, Russia and currently plays for Buran Voronezh in the VHL, the second level of Russian ice hockey and an affiliate of Dynamo Moscow of the KHL. In 21 games this season, he has one goal and four points.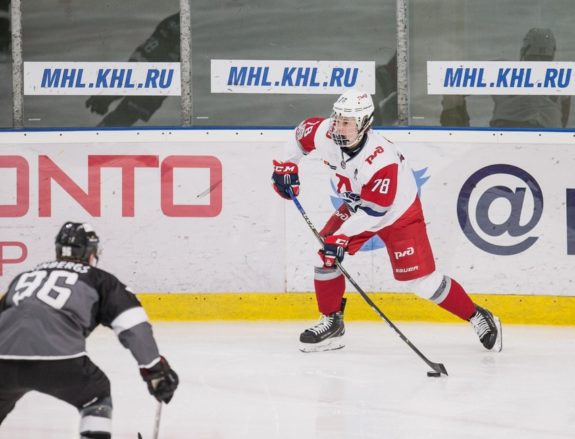 Bychkov was the Bruins' only defenseman selected at the 2019 Draft, adding another left-shot blueliner to the depth chart. Coming into the Draft, what stuck out the most about him was his high hockey IQ. Bill Plazcek at DraftSite had the following to say about Bychkov.
Russian defender with a good backward pedal, puck skills, good hockey IQ, and stick handling ability. On the small side and this point, but displays fluid feet and strong stride and terrific puck handling skills. His strength is his ability read the ice and use his stride, agility, and edging, coupled with his high end stick-handling skills to push the pace, and then dish the up to an open teammate. Has the willingness to engage along the wall, and although he does need work on his gap control, he will close shooting lanes with his stick and even block shots. Has a good first pass in transition, but prefers to not be the primary on zone entries, but likes to jump in as the trailing rover.

Needs to get bigger and stronger, and his shot needs more mustard.
In general, Russia's defensive core lacks experience at this tournament. Bychkov will be one to watch, as there will be an opportunity for him to step up and make an impact in this group. Teammate Shakir Mukhamadullin will most likely be the number one, but there may be an opportunity for Bychkov to play some solid minutes and get that important experience playing in a major international tournament.
Matias Mantykivi
The Bruins selected Matias Mantykivi in the sixth round of the 2019 Draft at pick 185. The 19-year-old center is from Lappeenranta, Finland. Going into the draft, he was playing with Saipa in the Finnish junior hockey league Liiga. In 2018-19, he had 12 goals and 36 points.
He's described as a smart, left-shot center who plays well on the forecheck and has decent playmaking abilities and stick skills. The biggest drawbacks for Mantykivi were his size (only 5-foot-11 and 160 pounds) and his skating, which scouting reports say is too heavy for a guy his size. He's still a few years away from contesting for a Bruins' roster spot, but he continues to improve. So far this season in the Liiga, he has 4 assists in 17 games.
While Finland is a fairly young team this year, they are still a dangerous team. Mantykivi will most likely slot into a depth position, but it's a sign that he is developing in the right direction that he was able to make the roster for a talented team like Finland. They most recently won this tournament in 2019 in Vancouver.
Bruins' Pipeline
The Bruins' pipeline has been light on top-end talent in recent years. Outside of a few names, there are not many exciting prospects in the system. There are some solid players who could have decent NHL careers or turn into great players with more time, but no one is really standing out to be the heir apparent to guys like Patrice Bergeron and Brad Marchand. Like Bychkov and Mantykivi, most of the prospects still need a few more years before they'll be able to start pushing for a roster spot.
Related: Boston Bruins 'Untouchable' Prospects
But playing in the WJC is a step in the right direction. In recent years, the Bruins have not had many prospects playing at the tournament. Last year, they had three, and this year, they only have two. In comparison, the Los Angeles Kings have nine prospects playing in Edmonton this year. The team has some work ahead of them over the next few years to add more top tier talent to their pipeline. 
Related: Boston Bruins' Prospect Spotlight: Jack Studnicka
The 2021 IIHF World Junior Championship will run from December 25, 2020 through January 5, 2021. 
---
---