The Tampa Bay Lightning's Brayden Point is a first-time finalist for the 2023 Lady Byng Memorial Trophy along with the New Jersey Devils' Jack Hughes and the L.A. Kings' Anze Kopitar, who won the award in 2015-16. Point's 51 regular season goals were the most of his career and demonstrate why he is an integral component of the team's success.
Recipients of the Lady Byng Memorial Trophy exhibit the "best type of sportsmanship and gentlemanly conduct combined with a high standard of playing ability." Last year the Winnipeg Jets' Kyle Connor joined 53 other NHL players to win the award, which was first given in 1925. The award was a donation to the league by Lady Byng of Vimy, who was the wife of Lord Byng, the governor-general of Canada.
As a finalist, Point is following Lightning great Martin St. Louis, who is a multiple Lady Byng Trophy recipient.
Point's Playing Style and Sportsmanship Similar to St. Louis
Point plays a speedy, graceful style of hockey that allowed him to score 51 goals during the 2022-23 regular season. Joined on the top line with Nikita Kucherov, they combined for 208 points this season. However, he can also dominate puck possession, battle along the boards, and administer a timely hit in between scoring some beautiful goals. The good news is that the 27-year-old is just hitting his prime.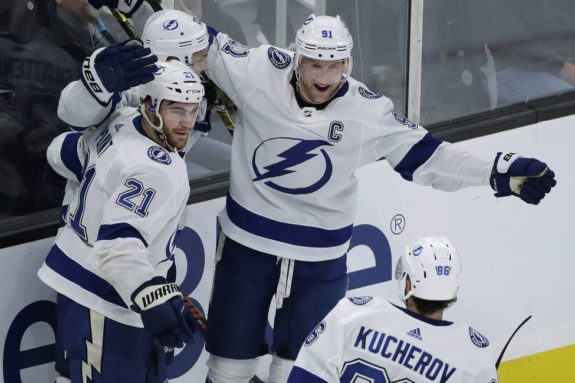 At 5-foot-11 and 180 pounds, Point is fast on the ice. Even so, he wasn't taken until the third round of the 2014 NHL Draft, when the Lightning took a chance on him. In his third full season with the team, he exploded for 41 goals and 51 assists. Although never known as a fighter or agitator, this season's seven penalty minutes were the fewest in his career. It's interesting to note that five of those seven minutes were against future teammate Mikey Eyssimont during a Feb. 7, 2023 matchup with the San Jose Sharks. His only other penalty cost him two minutes for slashing on Nov. 3, 2022, against the Carolina Hurricanes.
Although the NHL awards are dictated by performances during the regular season, Point's production in the postseason further demonstrates his value to the Lightning as he helped them win two Stanley Cups. In 82 career playoff games, he is averaging a point per game. When they lost him in the first round of the 2022 NHL Playoffs, the team missed his speed and energy on the ice as they eventually lost in the Cup Final to the much faster Colorado Avalanche. This postseason, he played all six games against the Toronto Maple Leafs and scored two goals, and added two assists.
St. Louis Set the Standard in Tampa
When St. Louis arrived in Tampa in 2000, his contributions to the then-struggling Lightning may have been more impactful than Point's has been on a team stacked with superstar talent. In 2003-04, St. Louis played all 82 games, scoring eight short-handed goals and posting 94 points to help the Bolts win an improbable Stanley Cup.
Related: Martin St. Louis, the Little Big Man
During his lengthy career that consisted of 1,134 games and 1,033 points, St. Louis only sat in the penalty box for 310 total minutes. His most penalized season was 2005-06 when he amassed 38 minutes. These stats helped him earn four Lady Byng Trophies, winning three with the Lightning in 2009-10, 2010-11, and 2012-13 and the following season with the New York Rangers. An interesting fact is that he didn't win his first until he was 35 and had been playing in the NHL for over a decade.
---
Latest News & Highlights
---
At only 5-foot-8, St. Louis enjoyed a successful collegiate hockey career but went undrafted in the NHL before eventually signing a free-agent contract with the Calgary Flames in February of 1998. He has proven his critics wrong every game since then. He became the captain of the Lightning in 2013 and although he never won another trophy, he continued to model sportsman-like play for the remainder of his career. He retired with the Rangers at age 40.
Point Can Follow St. Louis
Both Point and St. Louis are known for their humility and are fan favorites. "Point is quick to credit his teammates, attributing his success to playing with good players who give him the puck in scoring areas." (from "Brayden Point's presence anything but quiet to Lightning." The Tampa Times, April 22, 2023).
When St. Louis was inducted into the Hockey Hall of Fame in 2018, Dave Stubbs of NHL.com wrote, "St. Louis doesn't broadcast his fame; he wears it comfortably, humbly, discreetly. That his jacket is on a hanger and his ring is locked away speaks volumes about a man who has been concerned his entire life about proving something to himself rather than to others."
Playing with something to prove can often morph into a tough, chippy style of play, but both St. Louis and Point have proven that being leaders on and off the ice, keeping their composure, and respecting the game is what will distinguish their careers, which is exactly what Lady Byng wanted to honor.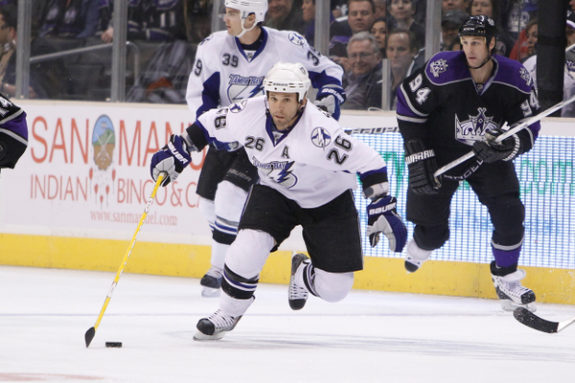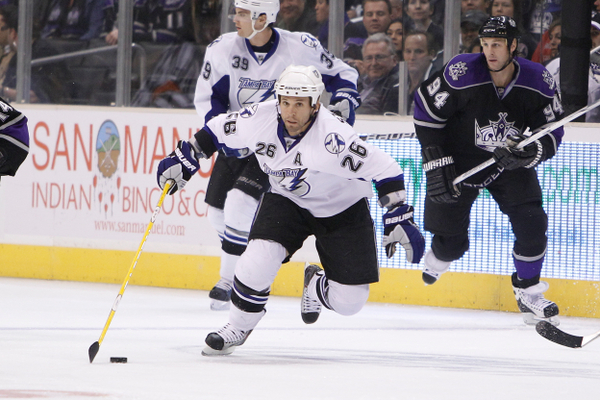 Voting for the award is conducted at the end of the regular season by members of the Professional Hockey Writers Association, and each individual voter ranks their top five candidates on a 10-7-5-3-1 points system. Three finalists are named and the trophy is awarded at the NHL Awards ceremony after the Stanley Cup Playoffs. This year's will be held on June 26, 2023, in Nashville.

Even if Point doesn't win the Lady Byng Trophy, he can take solace in the fact that St. Louis didn't win his first one until he turned 35.