James Malatesta is the perfect example of a late-round draft selection that is developing into a potential steal. The 2021 fifth-rounder was a star for the Québec Remparts during their Memorial Cup run, winning not just the Quebec Major Junior Hockey League (QMJHL) playoff MVP but the MVP of the entire tournament. A goal scorer who found the net in 13 of the 22 games he played during the playoffs and Memorial Cup, he enters the offseason as one of the Columbus Blue Jackets' most intriguing prospects.
Part of the Youth Movement in Columbus
The Blue Jackets selected Malatesta with the 133rd overall selection in 2021 after he posted 23 points in 32 games while adding four more in six playoff appearances. Despite being the 64th-ranked North American Skater according to NHL Central Scouting, he started slipping in the draft and right into Columbus's hands in the fifth round. It was a special moment to see that he had been selected by the Blue Jackets as he had the chance to join one of the best prospect pools in the NHL.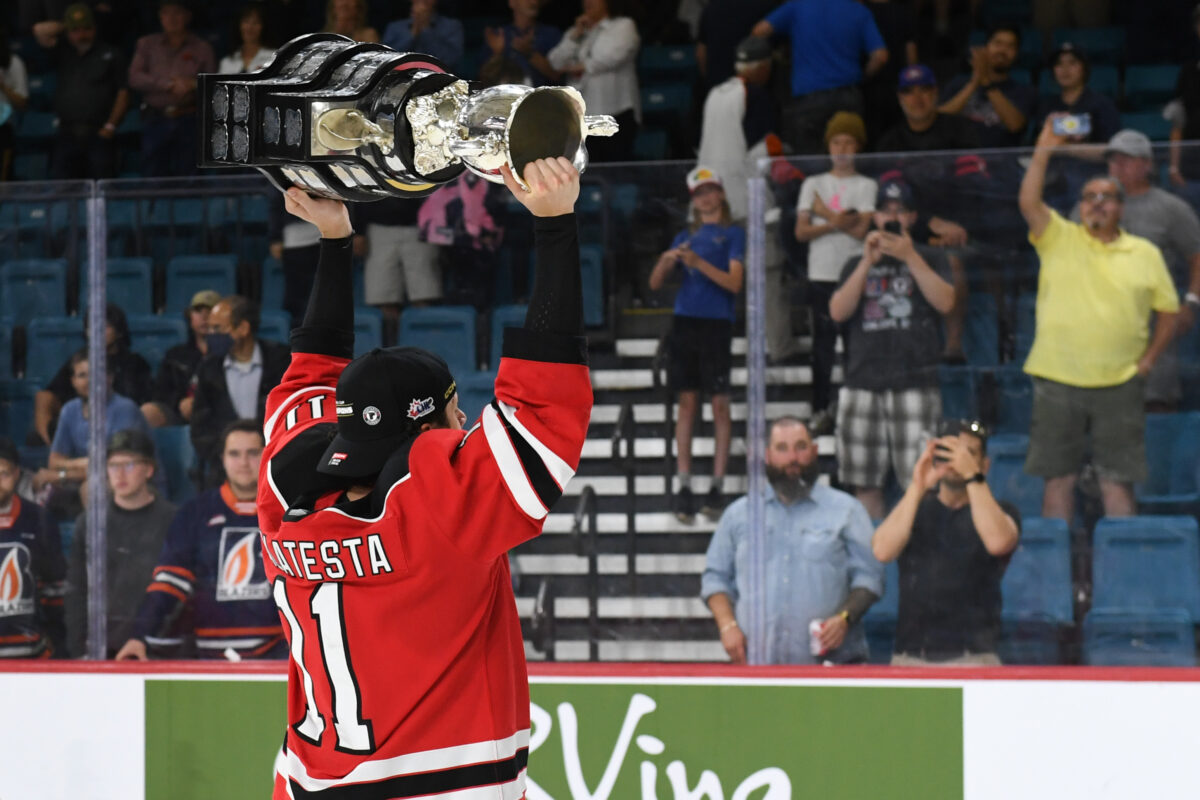 "When I was drafted by them, I was very lucky," said Malatesta. "I was put in a great position within a great organization. They are young, have a lot of talent and have a lot of room for young players to grow up in that organization. I am very humbled and honoured to be part of that organization."
Over the last two years, Malatesta has had the opportunity to attend Blue Jackets camp. There, he had the chance to meet with staff, as well as potential future teammates like Kent Johnson, Denton Mateychuk and David Jiricek. It has been an experience he has enjoyed and looks to take advantage of each year.
"I have done it two years now. When I get there, I know a lot of the people around there, a lot of the staff. They are great people, so I always have a blast when I am down there."
Related: Blue Jackets Find Another Gem in Memorial Cup MVP Malatesta
It is safe to say that the Blue Jackets have been impressed with the young Rempart as they signed him to an entry-level contract earlier this season. While there is a ton of competition in Columbus, it is best not to overlook him as teams did during the draft. He has a ton of momentum on his side and could surprise once training camp comes around in the fall.
The M in MVP Stands for Malatesta
This season, Malatesta became one of the league's most dangerous goal scorers, scoring 37 times in 55 games during the regular season, followed by 14 in 18 playoff games. He also was over a point per game for the first time in his QMJHL career and led the entire league in game-winning goals with five during the postseason. While he had a ton of individual success this season, he gives a lot of credit to his teammates for helping him reach these new heights.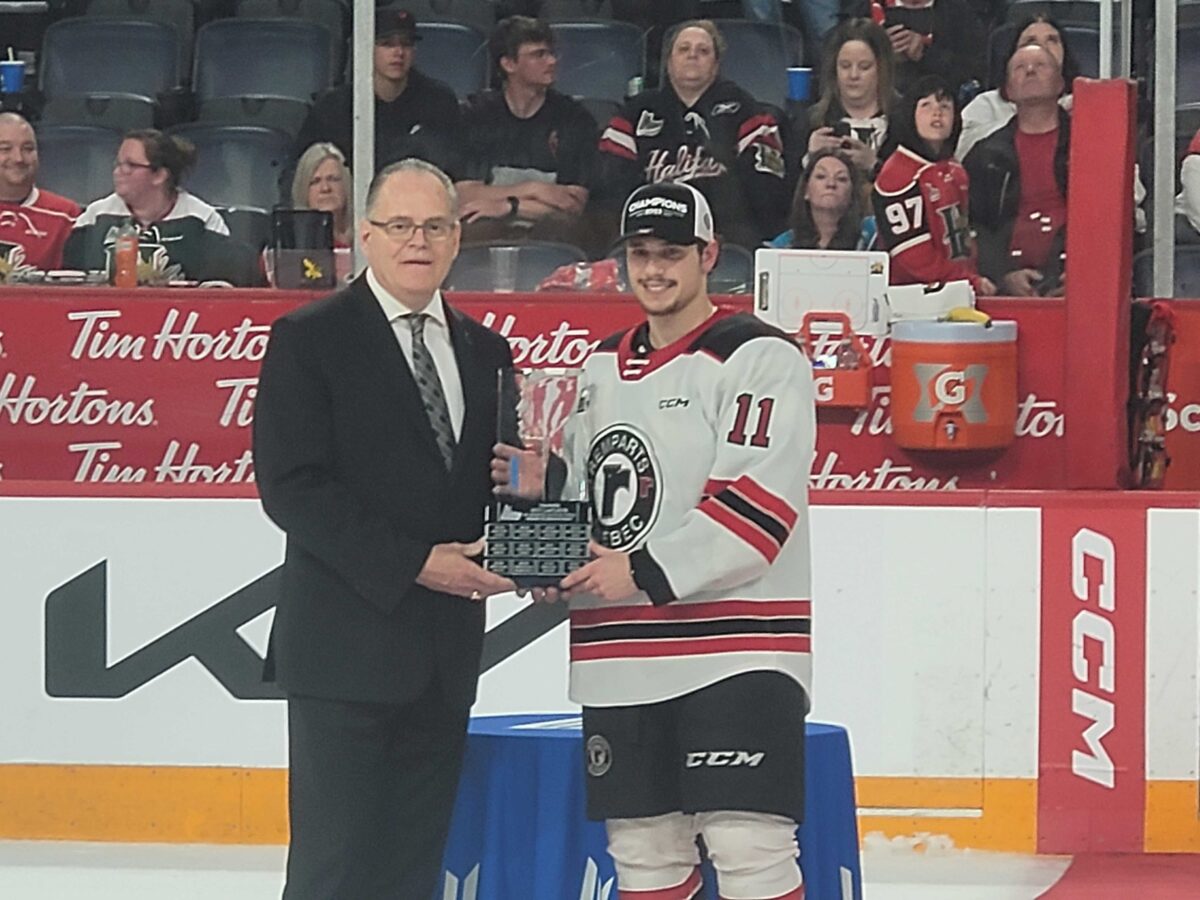 "I think our whole team clicked during the playoffs. We were playing good hockey. My line was playing well, the whole team was playing well, so it was just clicking."
After leading the QMJHL in goals, Malatesta was named playoff MVP. With the win, he joins a long list of players, including Dale Hawerchuk, Mario Lemieux and Sidney Crosby, to win the Guy Lafleur Trophy. He also became the first-ever Blue Jackets-drafted prospect to win the award and the first prospect Columbus has drafted since Gilbert Brulé was named Western Hockey League (WHL) playoff MVP back in 2006 to win a Canadian Hockey League (CHL) playoff MVP trophy.
"It is very special. My mind was on winning the Cup, so winning MVP was just an extra. It feels good. A lot of very talented players have won it, so for my name to be on there with theirs is very honouring."
Related: QMJHL Final – Remparts End 47-Year Championship Drought
What made Malatesta's run so special was his consistency. Throughout the postseason, he never went more than two games without registering a point and didn't go more than three games without scoring a goal. A player who never left the scoresheet blank, recording at least one shot in all 18 games, he was impressive throughout and stepped up when his team needed him most.
Relationship With Head Coach Patrick Roy
Since joining the Remparts, Malatesta has played for one coach, Patrick Roy. The Hockey Hall of Famer has been with Québec since the 2018-19 season and has helped mold this current group into the champions they have become. While some may find the former goaltender intimidating, the Blue Jackets prospect has developed a special connection with his coach and one he will miss in the future.
"I have been here for four years with him, and I think we have a very good bond. He is a great coach and an even better person, so after this year, I am for sure going to miss him. Pat had come up to Montreal plenty of times before I had decided to go to Québec. It was a good fit for me, and I fit in well with the team."
Related: The 5 Greatest Goaltenders in NHL History
Under Roy's eye, Malatesta has developed from a seventh-round pick in the QMJHL's Entry Draft to an award-winning player. He has seen continual growth throughout his career and has been able to thrive in the Remparts' system. It is clear the two work well together, and who knows, could end up reuniting in the future at the NHL level.
Memorial Cup MVP James Malatesta
Malatesta continued his goal-scoring all the way through the Memorial Cup, finishing tied for the tournament lead with five goals in four games. He started off with a bang, recording a hat trick in their first game against the Kamloops Blazers, and recorded at least one goal against all three teams in the tournament. While he didn't score in their first game against the Seattle Thunderbirds, he made up for it by getting one past Thomas Milic during the Final as part of a 5-0 win over the WHL Champions. As he explains, the group was ready not just ready for the Championship game but the opportunity to quiet those who doubted them.
"I think after the first game, some were doubting us, saying they got lucky. We didn't play as good as we wanted to, but I think (during the Final) our defence and offence showed up. I think we played one of our best games of the year, and I think it speaks to the group of guys we have. We believed in ourselves and never were scared of any opponent."
This Remparts team was a special group that played well as a unit. They identified weaknesses and exploited them, making them almost impossible to beat. As Malatesta states, they knew that most of the team would not be back next season, so they really bought into the game plan in order to leave the CHL as champions.
"We grew up together. A lot of us won't be here next year, so we wanted to finish off the best we could, and we did it in great style. We really wanted to be physical. Pat was talking about that before the game. I think we proved that tonight. We may not be the biggest team, but we have a lot of heart and have strong guys. We wanted to prove we were physical and finish our checks on them and knew it would slow them down."
There was also a cool moment postgame as Malatesta, along with teammate and Florida Panthers prospect Evan Nause, snuck up behind their head coach and dumped Gatorade on him in celebration of the win. Each has been with Roy for the past three seasons and are both expected to make the jump to the pro ranks next season. When asked postgame whether scoring a goal or giving their head coach a Gatorade bath was better, the answer was pretty obvious.
"Pouring it on Pat. I hope he brought another suit because seven hours in a plane won't be too comfortable in that."
Related: Québec Remparts Crowned 2023 Memorial Cup Champions
At the end of the tournament, Malatesta once again made history, becoming the first Blue Jackets drafted prospect to be named Memorial Cup MVP. His name will now be next to some of the best in CHL history, including Scott Niedermayer, Shane Doan and Corey Perry. It was the perfect end to a phenomenal season that those around the team won't soon forget.
Malatesta's Development Shows Importance of Late-Round Picks
The way Malatesta has developed over the past few seasons shows how valuable later-round picks can be if used correctly. He adapted to a system, continually improved and got to the point where he became a leader for this team. He has a bright future ahead of him as he has become a prospect Blue Jackets fans should be excited to watch come training camp.