For the third time in their history, the Québec Remparts are Memorial Cup champions after defeating the Seattle Thunderbirds 5-0. This is the second time they have defeated a Western Hockey League (WHL) team en route to a championship, having beaten the Edmonton Oil Kings in 1971. Here are four takeaways from the Memorial Cup Final.
Full Team Effort
As they have all Memorial Cup, the Remparts played as a unit and executed their game plan to near perfection. They got goals from their star players like Columbus Blue Jackets James Malatesta, who scored his fifth of the tournament, and St. Louis Blues' Zachary Bolduc, who contributed with a goal and an assist while also getting offensive contributions from the blue line as Buffalo Sabres' Vsevolod Komarov finished with a two-point night including scoring the game-winner. In total, 11 players walked away with a point, with everyone playing a role in the win.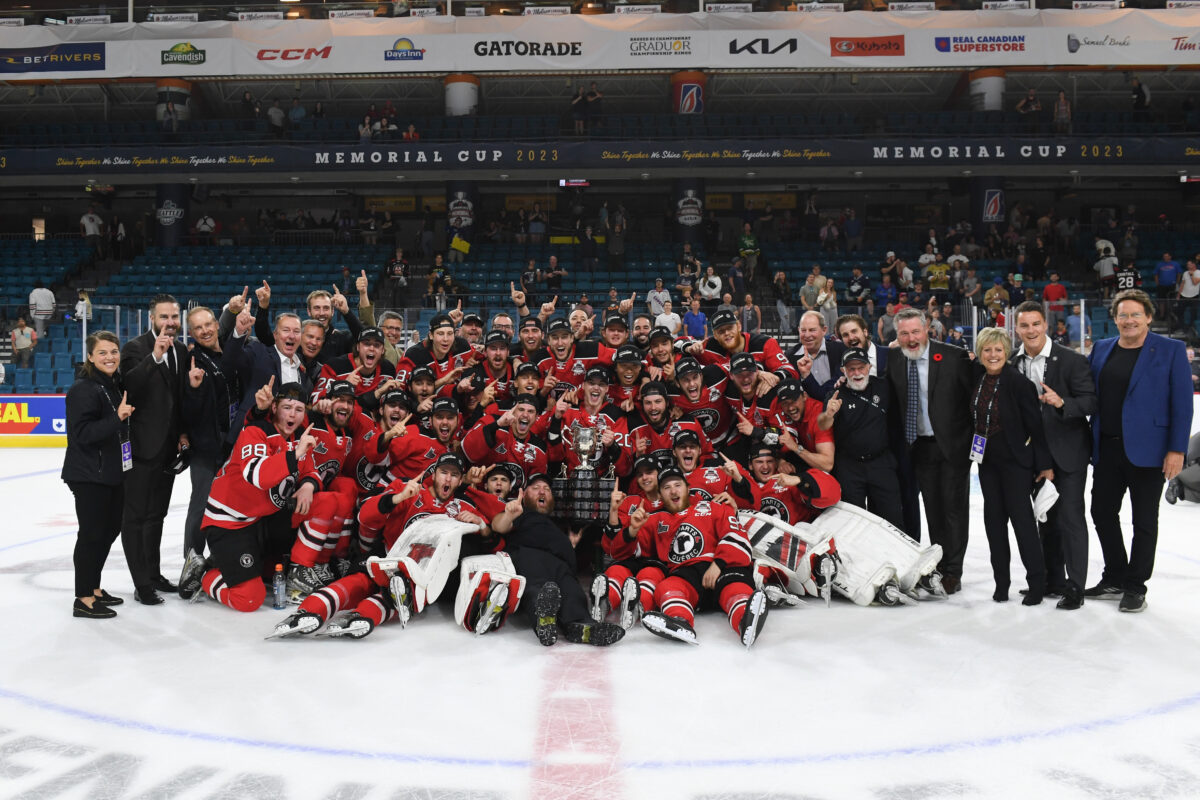 One player that deserves a ton of credit is forward Kassim Gaudet. The undrafted 19-year-old had not just a big game for Québec, recording a shorthanded goal and an assist, but a massive tournament overall with five points. He also finished second on the team with 15 shots and was a physical presence throughout. The Remparts' unsung hero of not just the Memorial Cup but the entire playoffs, according to head coach Patrick Roy, stepped up when his team needed him most and now can call himself a champion.
William Rousseau Stellar in Net
Throughout the tournament, goaltender William Rousseau was fantastic but saved his best for last as he posted a 32-save shutout in the Final. In the win, he became just the second goaltender all year to shut out the Thunderbirds, joining Everett Silvertips netminder Tyler Palmer who stopped all 35 shots he faced back on Feb. 4, 2023. Here is Rousseau talking about the win:
My dad is here, my mom, my girlfriend, aunt, uncle, just to live these moments with them and get a third apperance for the Rousseau name on the Cup is an honour. Shutout or not, I just wanted that Cup. Credit goes out to all the guys. Two times against Seattle, we played so well defensively and offensively. Takes quite a lot of pressure off my shoulders.
---
Latest News & Highlights
---
When asked about his goaltender's performance in the game and the tournament, here is what head coach Patrick Roy had to say:
He almost had two. He almost had a shutout against Seattle in the first game but they scored when they pulled their goalie. Will was outstanding in the playoffs, he was outstanding during the entire tournament. He could have certainly been the MVP of this tournament because you can not win without a performance like this from your goaltender. For everything I had the chance to win, the goaltender had to play some very good hockey and that is what Will did for us.
Rousseau would finish the tournament going 3-1 with a .937 save percentage and a goals-against average of 2.00. He also was the only goaltender to record a shutout, and the first goaltender to record a Memorial Cup shutout since Acadie-Bathurst' Titan goalie Evan Fitzpatrick blanked the Regina Pats during the 2018 Final. An undrafted 20-year-old, if this is his final Canadian Hockey League (CHL) game, then what a way to end his career.
Québec's Structure Holds Strong
From the opening faceoff, one thing that stuck out was how structured the Remparts' play was. They didn't look rusty at all despite not playing since May 30, as they were able to create turnovers and play a physical game that Seattle could not match. Québec was also able to maintain possession for long periods of time, which helped kill any momentum the Thunderbirds had created throughout the game.
One other impressive part of how the Remparts played is that they rarely gave up odd-man rushes. It seemed as though every time Seattle was able to create a turnover, two or three players were already back, ready to defend. It didn't matter if they were defencemen or forwards; it was clear the players understood how to neutralize the Thunderbirds' dangerous counter-attack and limit any second-chance opportunities that may have arisen throughout the game.
Another Memorial Cup for Patrick Roy
With the victory, Roy has now coached Québec to two Memorial Cup championships in the last 17 years. His first win came in 2006 when his Remparts beat the Moncton Wildcats 6-2 thanks to a two-goal performance by Alexander Radulov. While he was unable to find success at the NHL level when he coached the Colorado Avalanche for three seasons, he has now helped multiple Québec teams reach the pinnacle in the Canadian Hockey League (CHL). As goaltender Rousseau stated after the game, he means a lot to the players and is a big reason why they won and were crowned Memorial Cup champions.
"He is an incredible mentor. All the speeches he does in the room and personally with his mental side of the game, he helped me out a lot. Helped me with that killer instinct.
Related: Patrick Roy: A Legendary Legacy
Now that Roy has led his team to a Memorial Cup championship again, the question now focuses on whether or not he will get the chance to coach in the NHL again. He has shown over the past few seasons he can not just develop young players but turn them into champions which is something that may entice teams toward him. Regardless of what happens in the future, it is hard to argue with his track record the last few seasons as he has taken the Remparts from a 27-win team back in 2018-19 to the league's best in 2021-22.
A Great Tournament Start to Finish
The 2023 Memorial Cup has come to an end, and what a tournament it was. Whether it was watching the Peterborough Petes stay alive and then win the tie-breaker against the Kamloops Blazers or Québec's stellar performance in the Final, it is safe to say it lived up to the hype. Congratulations to the city of Kamloops for hosting such a fantastic event, and good luck to the Saginaw Spirit, who will be the host team for the 2024 tournament.