The Halifax Mooseheads and Quebec Remparts entered the Quebec Major Junior Hockey League (QMJHL) Final ready to make it one of the most hotly contested series of the playoffs. With the Remparts finishing first in the league with 107 points and the Mooseheads sitting in second overall only two points behind them, the expectations were a hard-fought series with several close games.
Related: QMJHL Final Preview – Halifax vs. Quebec 
---
Latest News & Highlights
---
Having two of the largest markets in junior hockey in the Canadian Hockey League (CHL) meant there would be significant national coverage by major television providers. Up until this Final, only one series (Halifax vs. Sherbrooke Phoenix) went past five games. These two teams did not disappoint as they played the most inspired hockey in the playoffs.  
Fans were given a front-row seat to a clash of two styles of play. Quebec's physical, grinding style led by a veteran-laden roster is a more traditional playoff style of game. They use this approach to wear down their opposition over a seven-game series until they make errors that can be exploited. In contrast, the Mooseheads made their way to the Final playing a fast-paced style relying on their team speed, excellent transitional play from the blue line, offensive creativity, and excellent goaltending. The series is not just a clash of the two best teams in the QMJHL, but a clash of styles, the traditional (Quebec) and the modern (Halifax).
Quebec Homestand 
Game 1 of the series turned into a rout for the hometown Remparts, who won by a score of 5-1 in front of 18,259 fans, a QMJHL record. Quebec outshot Halifax 33-27 in the game. The win was the Remparts' 13th straight victory in the playoffs. If you include the end of the regular season, the winning streak was at 21 games.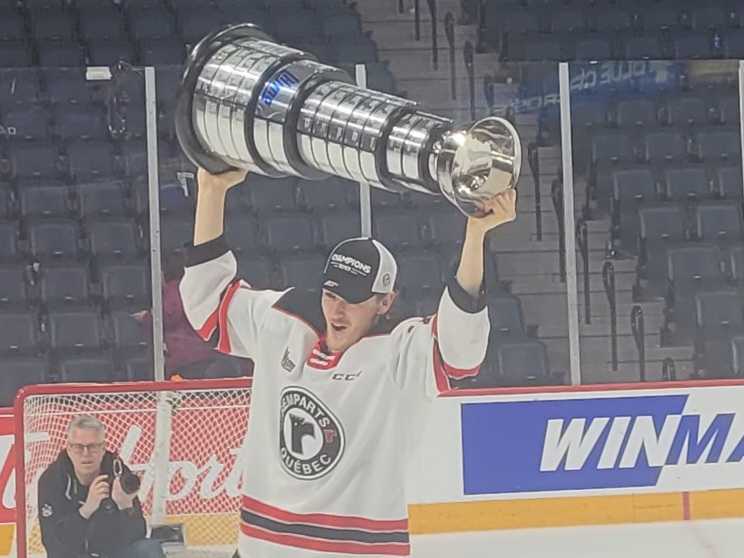 Yet in Game 2, the Mooseheads handed them their first loss of the playoffs and their first home loss in over two months. The Mooseheads were able to use their speed, creating several Remparts turnovers and causing fatigue and a lack of discipline to creep into their play. This led directly to Halifax scoring four goals in the second period to give the Mooseheads a comfortable 5-2 lead after 40 minutes, thus allowing them to cruise to a 6-3 victory. 
Halifax Homestand  
The Mooseheads did something no other QMJHL team could do in these playoffs, leave Quebec City with a split after the first two games of a playoff series with the Remparts. The hope in Halifax was that some home cooking could help them take a stranglehold on the series. However, the Remparts, led by head coach Patrick Roy, had other plans.  
Fans in Halifax watched as Quebec played their physical brand and wore down the smaller Halifax defenders. The Mooseheads, however, did find seams in the Remparts' defense and used their speed and finesse to counterattack. There was no secret plan or formula for the Remparts.
"There's no matching on my side. We play three lines, plus one at times, but when you're rolling three lines there's not as much of it (line matching). I just want to make sure that our guys are rested when they go on the ice," said head coach Patrick Roy. "I feel like our three lines could play against any of his (Favreau's) three lines and I'm sure he feels the same." 
---
Latest News & Highlights
---
Both teams provided a relentless effort, but it came down to a lucky bounce in the overtime period. Yet you make your luck, and in this case it stemmed from getting the puck to the net and following it in, simple yet hard-nosed hockey. Game 4 provided a different challenge as the games were being played on back-to-back nights. Quebec made no changes to their lineup, but Halifax had big holes to fill with Zachary L'Heureux and David Moravec sitting out with upper-body injuries. The hometown team had a goal called back in the second period for a hand pass, but there was clear contact by a Remparts defender before the shot was taken. It was a goal that should have counted.
Yet, the difference in this matchup came down to the Remparts taking advantage of a late mistake to score the winning goal, and for the second game in a row, the Remparts left with a hard-earned, one-goal victory. 
Final Countdown
Halifax entered hostile territory for Game 5 as the host Remparts were in search of their first QMJHL title since 1976. Yet the return of L'Heureux to the Mooseheads lineup made the difference as he scored a goal and an assist while playing the role of the agitator on the way to a 3-2 Mooseheads victory, their second in a row on Quebec's home ice. 
The series moved to Halifax for Game 6, and the tension could be cut with a knife. Both teams felt each other out in the opening period, exchanging scoring chances but were unable to convert. Mathis Rousseau played yet another stellar game, keeping his team in the game as they were being outshot by the Remparts.
The Mooseheads had gained control of the match late in the third period, which led to a beautiful wrap-around goal by L'Heureux, who has been a buzzsaw for Halifax all playoffs. But it was a short-lived 4-3 lead as one minute later Kassim Gaudet tied the game, leaving everyone in the Scotiabank Center thinking there was going to be overtime as there was just over one minute left in the period. Yet with only 58 seconds remaining, Pier-Olivier Roy handed the Remparts the winning goal that allowed them to win their first league title since 1976. As the team celebrated the victory on Halifax ice, some Mooseheads remained well after the handshake line to watch, or perhaps they were simply unable to move due to their emotions. That was when L'Heureux came back out, consoled his teammates, and guided them back to the room.  
"It always sucks to lose anything but I'm proud of these boys, battled to the end and just give ourselves a chance. It sucks to fall short but there's a good group of core guys that'll be back next year and hopefully they'll have another chance."

– Zachary L'Heureux 
The Mooseheads are a young team and will have another chance at a title next season, but for now they will feel the sting of coming up just short. For Quebec, however, they will celebrate and return home to share in the elation of ending a 47-year drought. 
QMJHL Playoff MVP  
James Malatesta was named the Guy Lafleur Trophy recipient as QMJHL Playoff MVP. Of course, there were heroes on the ice with several amazing performances. Mathis Rousseau was a dominant force making miraculous saves. Justin Robidas quietly went about scoring timely goals and generating dozens of scoring opportunities while exemplifying the style of playoff hockey the Remparts played. However, the title of MVP goes to Tyler Long, Mooseheads superfan and assistant equipment manager who was targeted by a small group in attendance. 
As soon as Remparts head coach Roy heard about how Long was treated in Game 2 in Quebec City by a small handful of "fans" in attendance, he set out to make things right by inviting Tyler to join the team at practice and apologize, but also make sure the young man knew that he and the entire Remparts organization denounce the actions of a handful of drunken jerks.
In the end, this six-game Final lived up to the expectations of being a long, hard-fought series. The Remparts simply came out on top thanks to a veteran-laden team, playing physically on every shift and executing their game plan to perfection. Halifax and its youthful, fast-paced, highly skilled approach simply fell short, not for lack of effort or heart.