It has been a crazy two years for the Québec Remparts Zachary Bolduc. Some of his achievements include being a first-round draft pick of the St. Louis Blues, making the Canadian Hockey League (CHL) Second All-Star Team and, of course, winning the Memorial Cup. Ever since he stepped on the ice in the Quebec Major Junior Hockey League (QMJHL), he has been one of the league's best and now has the hardware to prove it.
One of the Blues' Top Prospects
Bolduc was drafted by the Blues 17th overall during the 2021 NHL Entry Draft. He was the first QMJHL player taken after finishing the season with 29 points in 27 games. While he wasn't able to attend the draft in person due to it being held virtually, it was a special moment for him and his family.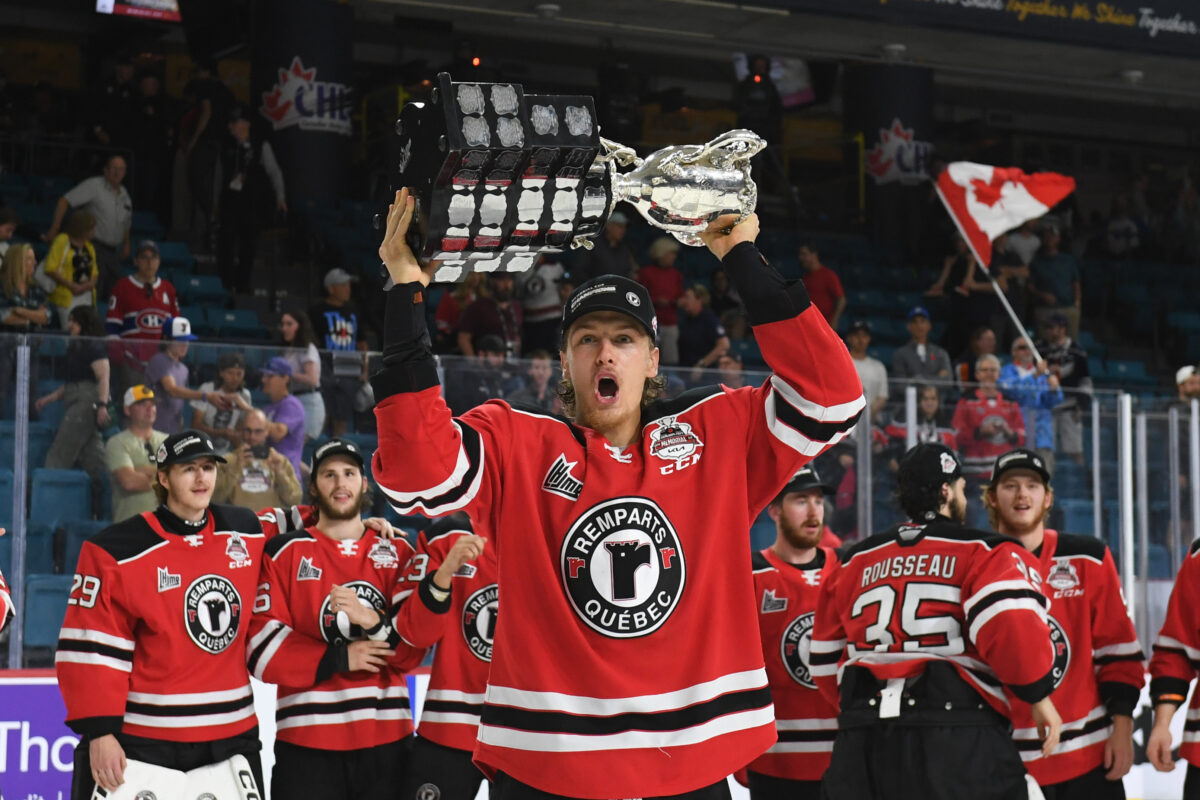 "I think I am pretty lucky," said Bolduc. "I was drafted by a really good organization, and they are taking care of me. Almost every week, I am talking to them. I am excited to go there for camp."
Since being drafted, Bolduc has attended multiple training camps with the team but hasn't yet cracked the opening night roster. Despite that, he has left a strong impression on Blues management and has become one of the top prospects in their system. As he explains, they want to ensure he continues his development and are putting in the resources to make sure that happens.
"They gave me a lot of feedback and sent me some videos. I think these were the two important points for me. It really helped me throughout the season."
Related: Blues' 2021 Draft Deep Dive: Zachary Bolduc
---
Latest News & Highlights
---
The Blues have a long history of success in the QMJHL, with names like Doug Gilmour, David Perron and Sammy Blais all being drafted from the league. For St. Louis, the hope is that they have found another gem with Bolduc that they can build around over the next few years. Based on how he has developed since being drafted, it appears their work has paid off as he looks ready to make the transition to the pro level.
Playing For The Remparts
Bolduc has now played two seasons for the Remparts after being traded to Québec prior to the 2021-22 season. After posting 99 points in his first year, he was able to surpass the century mark this season, leading the Remparts with 110 points in 61 games. While eclipsing the 100-point mark is a great accomplishment, he has always been more focused on team success rather than individual statistics.
"For sure, it is fun to reach that number, but I don't think I could have reached that without my linemates or teammates. I am really happy to achieve that 100, but the ultimate goal is to win."
What made this Québec group so good from start to finish was their willingness to put egos aside and play as a unit. They bought into the system head coach Patrick Roy installed and had different players step up all season. As Bolduc explains, everyone buying into the same goal was one of the reasons they had so much success this year.
"I think we are 20 guys that can compete and play offence but also be responsible defensively. For us, we trust in each other and know that if someone has a bad day or game on one day, we know that someone will pick it up for him. We always know that someone has our back, so it is pretty fun to be in that group."
Related: Blues' Top Prospects Having Great December in Minors
It is clear that this pack mentality worked out well for the Remparts, as not only did they finish with the best record in the QMJHL, but the third most wins in the entire CHL. They also finished second across all three leagues in goals allowed during the regular season while holding their opponents to two or fewer goals in 50 percent of their playoff games. All of this hard work paid off as Bolduc and his teammates were Memorial Cup bound after defeating Halifax in the QMJHL Final and becoming the first team to lift the newly named Gilles-Courteau Trophy.
Bolduc Becomes A Memorial Cup Champion
With the Memorial Cup being such a short tournament, Bolduc and his teammates understood that they needed to take advantage of every opportunity given to them. They did so, winning their first two games against the Seattle Thunderbirds and Kamloops Blazers, booking their spot in the Final as a result. That meant the Remparts had a few days off between the round-robin and the Final to create memories as a team and with their traveling family members.
"All the time together I have spent with my teammates. Just being around here. For sure, there are the memories on the ice we are creating, but I think the memories off the ice, like going to frisbee golf and those types of activities, are good memories. To have my family here with my girlfriend is also pretty special. Everyone wants to play at that tournament at the end of the year, so we are pretty lucky."
In the Final, it was clear the rest and team bonding worked as Québec shut out the Thunderbirds 5-0 to win their third Memorial Cup in franchise history. It was the second time all season Seattle had been held off the scoresheet and the first since early February. While Bolduc had a fantastic game, notching a goal and an assist, he would rather talk about the team as a whole instead of his strong performance.
"It is unbelievable. We had goals at the beginning of the season. We wanted the three trophies, and we got them, so it's pretty special. I scored a goal, but I had a pretty good pass on that one. It's all about the team; I am very proud of the group here. Their goalie has been unbelievable all series long and during the Mem Cup too. It is pretty cool to be part of this. It is a team win."
Related: Québec Remparts Crowned 2023 Memorial Cup Champions
In four games at the Memorial Cup, Bolduc finished with two goals and six points which was tied for the team lead. Just as he was all year, he was consistent at both ends of the ice, finishing the regular season, playoffs, and Memorial Cup all at over a point per game. With the win, he also became just the fourth player from Trois-Rivières, Quebec, to win the award, joining teammate William Rousseau as well as Pierre-Olivier Morin and Alex Beaucage in the exclusive club. It was a special end to an outstanding season for the Blues prospect, as now he can call himself a Memorial Cup champion.
What Is Next for Bolduc?
Now that the season is over, Bolduc's focus shifts to making the Blues roster at the start of next season. He has already signed his entry-level contract and should have a good shot of making the team based on their projected roster. If this is the end of his QMJHL career, then what a way to go out as he helped lead his team to a Memorial Cup championship.