Rivals in the Western Hockey League, the bond between Dillon Dube and Matthew Phillips has been well documented — both from Calgary and drafted by their hometown Flames.
Now, Phillips and Kole Lind have something in common too — both coming up short in their quest to crack Canada's roster for the ongoing World Junior Championship in Buffalo, N.Y.
Lind was among 10 cuts from the selection camp in St. Catharines, Ont., in mid-December, unable to produce offensively in two games against the U Sports All-Stars, which Canada's hopefuls wound up losing 3-0 and 4-3.
"It's something that is out of my control. I thought I played pretty well out there, but obviously it wasn't enough," said Lind, who is leading the Kelowna Rockets in scoring for the second straight season with 48 points, including 20 goals, through 28 games after netting 30 goals and 87 points in 2016-17.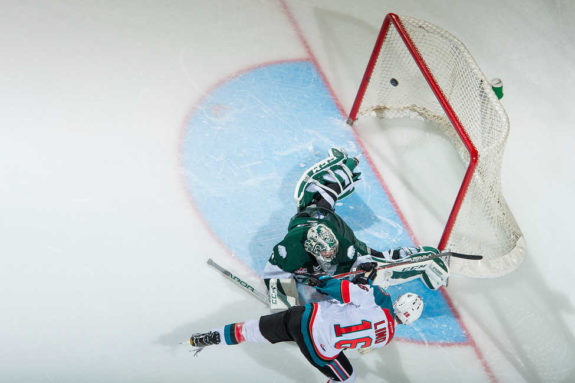 An early second-round pick (33rd overall) for the Vancouver Canucks in the 2017 NHL draft, Lind earned an invite to audition for the national junior team after emerging as a standout for Team WHL in the Super Series against Russia. He scored twice in a three-point performance and was named MVP of the Nov. 6 game in Moose Jaw, Sask., which Team WHL won 7-0.
Phillips also found the back of the net in that blowout, but both were held off the scoresheet the next night in Swift Current as Russia rallied for a 4-3 victory after Lind was denied on a second-period penalty shot in front of friends and family, hailing from nearby Shaunavon, Sask.
"With the Super Series, you know you're a bit on the radar, but I didn't want to look too much into it because they really do look for certain players to play certain roles," said Phillips, also leading his team, the Victoria Royals, in scoring for the second straight season with 59 points, including 28 goals, through 40 games. "Over all of Canada — all the leagues, all the players — sometimes it's hard to stack yourself up against that and see exactly where you stand. All I was trying to do was do my best and see what happens."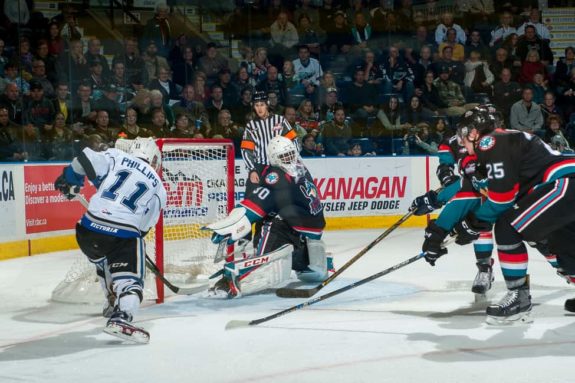 Phillips had previously outshone Lind at the Summer Showcase tournament in Plymouth, Mich., scoring a couple timely goals against Finland to spark a third-period comeback in a 6-5 overtime win for Canada. That effort was praised by Dominique Ducharme, who returned for a second stint as Canada's head coach at the world juniors.
"He's not the biggest guy, but he gets in there and he's in the action for sure," Ducharme said of Phillips following that Aug. 2 exhibition. "There's a reason why he's scored so many goals in the WHL, and I think the more it goes on, you see him get a little more comfortable. We like what we're seeing right now."
Phillips captained Victoria to a fast start this season and had the Royals topping the B.C. Division standings when the selection-camp roster was announced on Dec. 6, but Phillips wasn't on that list of 32 prospects invited back by Hockey Canada for a final audition.
For anyone in need of a template on how to handle rejection or failure, here's Victoria Royals Captain Matthew Phillips just minutes after finding out he wasn't invited to Team Canada's World Junior selection camp. pic.twitter.com/AbeRCvqIEI

— Kevin Charach (@Kcharach_CHEK) December 7, 2017
"I'm pretty sure every 18- or 19-year-old wants to be there, but there's a lot of really good players for that team," Phillips said of the country's deep talent pool. "I saw Ducharme in an interview saying they're picking the best team right now — the best team for these two weeks, for this tournament. They found the players that they thought fit. . . .
"It would have been pretty cool and it's too bad it didn't work out, but sometimes it doesn't go your way and that's all right. I'm still having a lot of fun playing here with the Royals."
At 5-foot-7 and 155 pounds, and a sixth-round pick for the Flames in 2016, Phillips was always going to be an underdog among bigger bodies and bigger names vying for 22 roster spots on the national junior team. This, despite being one of only five players to score 50 goals in the WHL last season — netting 50 in 70 games for Victoria, finishing with 90 points.
In the midst of the world-junior tournament, to some consolation, Phillips signed his three-year entry-level contract with Calgary on New Year's Eve.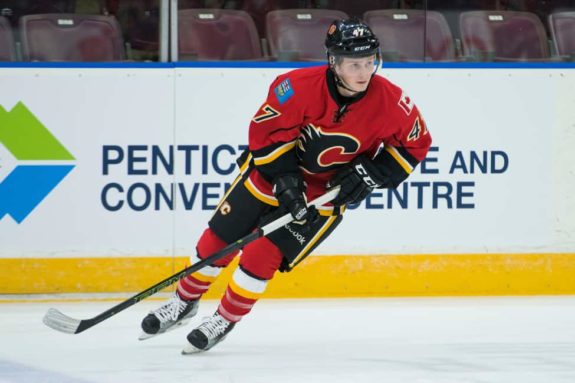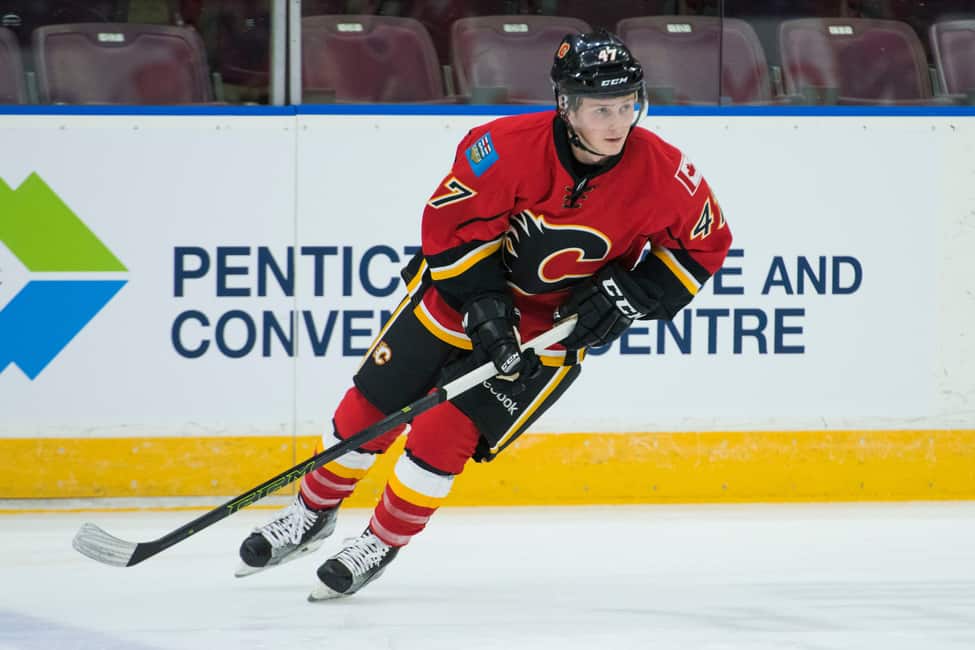 Lind has been something of a late-bloomer too, soaring up the draft rankings throughout last season. He was nearly a first-round pick — the second pick of the second round — and made an immediate impact for the Canucks at the Young Stars Classic prospects tournament in Penticton, debuting with a three-point performance — two primary assists and an empty-net goal — in a 4-2 win over the Winnipeg Jets on Sept. 8.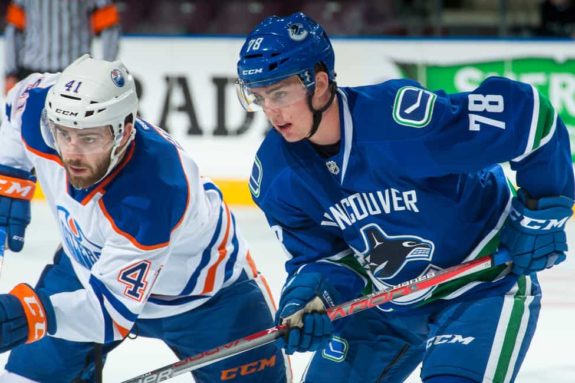 However, it was Jonah Gadjovich — the Canucks' later second-rounder (55th overall) — who made the cut for Team Canada, along with two of Lind's teammates from Kelowna, Dube and Cal Foote. As did both of Phillips' linemates from that August game against Finland, Brett Howden and returnee Michael McLeod.
Fuelling Their Fire
Disappointing as that must have been, Lind and Phillips haven't sulked or slumped since.
Quite the opposite, with both taking this setback in stride and continuing to tear up the WHL on a nightly basis.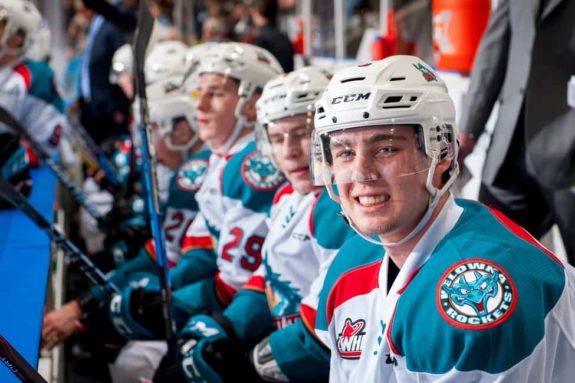 "That's something I've learned throughout lots of my hockey career, just to be a mentally tough guy and be able to get over things quickly, have a short memory, and use them for motivation more than anything," said Lind.
"It does no good to be bitter about it at all," added Phillips, who faced off against Lind this past Saturday in Kelowna, setting up Victoria's first goal, netting the third-period equalizer to force overtime, and scoring again in the shootout for third-star honours behind the two goaltenders as the Rockets prevailed 3-2 over the Royals in a first-place showdown.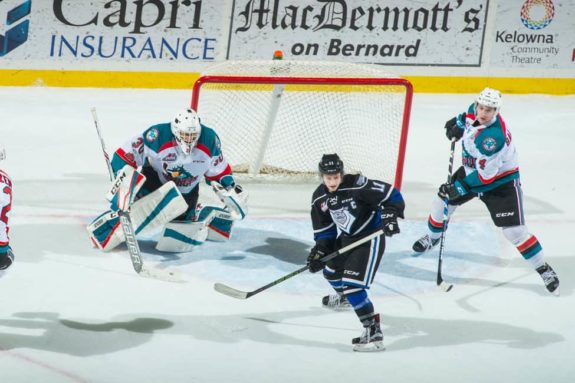 Lind was limited to one assist that night and was stopped as Kelowna's first shooter in the tiebreaker but still extended his point streak to five games since returning from Canada's selection camp. He's produced seven goals and five assists for 12 points over that span, sniping a hat trick in his first game back — a 7-3 win in Prince Albert, Sask., on Dec. 15 after flying across the country from Ontario that day — and then scoring all three goals in Kelowna's 3-0 blanking of the Blazers in Kamloops this past Friday.
Those were Lind's second and third career hat tricks in the WHL, and he's admittedly playing with a chip on his shoulder.
"Yeah, I definitely want to send a little bit of a message of what they're missing, and try to show what they might have needed out there," said Lind, who has overtaken Dube for the points lead in Kelowna while the latter has been busy captaining Canada into the semifinals against the Czech Republic thanks to Tuesday's 8-2 quarterfinal romp over Switzerland.
"Obviously they haven't had a problem with it so far, but maybe later in the tournament they'll kind of look back and maybe, hopefully, see what they were missing," added Lind, who has also taken on more of a leadership role with the Rockets in the absence of Foote, their captain, and Dube, an assistant captain in Kelowna.
Go Canada Go . . . On The Bandwagon
Refreshing honesty from Lind, but make no mistake, he's still rooting for Canada to bring home the gold. He has a vested interest, with two teammates on the roster, and still feels a bit of an attachment to the group as a whole.
"I'm still going to cheer for them, even though they cut me," Lind said without hesitation. "It's my country, right, so nothing against them, they're doing great and I hope they continue the success."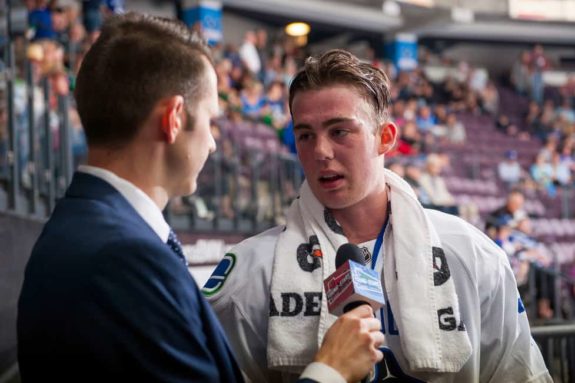 For some, who come so close to being there, it can be tough to watch the World Juniors.
That hasn't been the case for Lind, nor Phillips.
"I'm following it. I'm a fan like anyone else," said Phillips. "It's one of the best times of the year and it's really good hockey, so I'm watching pretty much all the games.
"Obviously I'd love to be there, just like most other kids, but I'm for sure cheering them on," he added. "I've played with a couple of those guys for longer than others and I'm pretty decent friends with a few of them. It's good to see them competing and playing on that stage. It's something not everyone gets to do, so you've got to wish them the best because it's a unique opportunity. It's good to see them doing well."
Lind shared all those sentiments.
"I'm watching it just like every other year, just trying to follow the games I can," said Lind. "We're still pretty busy out here, so I don't get to see too much, but usually the Canada games are on before our (WHL) games, so I get to catch a little bit of that at least."
How About That Outdoor Game?
They were both captivated by the marquee game of the preliminary round — the outdoor showcase between Canada and the United States that ended in déjà vu of last year's gold-medal game, with another shootout loss to the rival Americans.
Phillips and the rest of the Royals were watching on the bus ride from Victoria to Kelowna, while Lind had the game streaming on his cellphone during the shorter trek to Kamloops.
"It was pretty cool. I don't know if I'd love to be playing in that on a big stage because of how important the game was, but that would be a memory that you'd remember forever," said Phillips. "It's unique, it's different. They're trying it out, and if you don't try, you're never going to know. There's a lot of different opinions on it, but it's good for hockey I think. It got a lot of people to watch the game. Maybe not in a big group game, but now they know for sure."
One for the books. 🇺🇸🇨🇦 pic.twitter.com/2ZwFtfS1hT

— WJC 2018 in Buffalo (@WJCinBUF) December 30, 2017
Indeed, the stakes were high with first place on the line, but the players and an IIHF-record 44,592 spectators braved blizzarding conditions for that spectacle at New Era Field in Orchard Park, N.Y., home of the NFL's Buffalo Bills.
"It was quite interesting, it would have been tough to play for sure, but it's a once-in-a-lifetime experience and it would have been awesome," said Lind, who played his share of pond hockey in colder temperatures growing up in Saskatchewan. "I haven't done it in a while, but it's not easy hockey and it's not pretty hockey by no means. It just comes down to those grinder roles, and later in the game the States were a little bit tougher around the front of the net and that's how they found those late goals in the third (to force overtime)."
Lind felt that pain as Canada's two-goal lead slipped away and he's also felt joy in the shining moments, especially for his teammates — be it Foote's goal-line swiping save against Finland or Dube's bar-down snipe against the United States.
"They're doing awesome. I know they both wanted to contribute out there and they have both been doing their roles," said Lind. "They wanted Cal to be more of a defensive guy and they obviously want Dillon to be more of a guy that produces for the team. They're both doing great so far."
Oh my god what a save by Cal Foote pic.twitter.com/GzjXLTYmn7

— Pete Blackburn (@PeteBlackburn) December 26, 2017
Shifting Focus Back to WHL
Soon enough, by this time next week, everybody will be focused on the task at hand in the B.C. Division again, with the Rockets and Royals continuing to battle for top spot.
"The rivalry just keeps getting bigger and bigger," said Lind. "They're just a couple points behind us, and we've been doing pretty well lately. It all starts now, and regular-season games are going to start to turn into playoff games as the season goes on."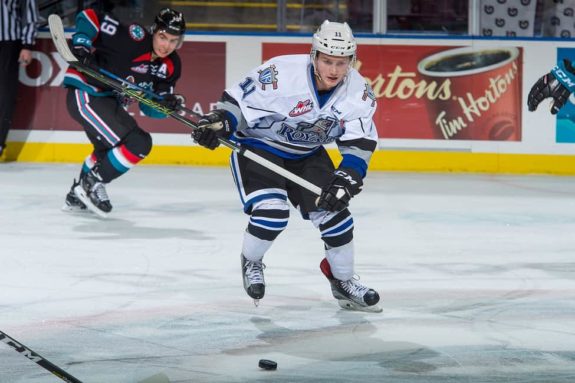 "We're excited. We kind of feel re-energized after the (holiday) break . . . overall, we're feeling pretty happy with where our game is at," Phillips said prior to Saturday's back-and-forth barnburner, adding: "We know this is a really important game, so we're going to be dialed in and treat it like a playoff game."
Larry Fisher is a senior writer and head scout for The Hockey Writers, having been an at-large contributor for THW since August 2014. Fisher covers both the NHL and the WHL, specializing in prospects and NHL draft content, including his annual mock drafts that date back to 2012. Fisher has also been a beat writer for the WHL's Kelowna Rockets since 2008, formerly working as a sports reporter/editor for The Daily Courier in Kelowna, British Columbia, Canada from 2008-2019. Follow him on Twitter: @LarryFisher_KDC.