Nikolay Goldobin is an extremely talented 22-year-old out of Moscow, Russia who can dangle, snipe and skate with the best. However, he has also been labeled as soft in the corners and on the wall, easy to knock off of the puck, and defensively non-existent. The question is – does the good outweigh the bad enough to keep investing in Goldobin?
Goldobin made his way to Vancouver from San Jose in the midst of the 2016-17 season and his arrival stirred up a fair amount of buzz. While rebuilding, why wouldn't you want to bring an extremely skilled player into the fold? Well, that's the thing about rebuilds, a lot of young talent comes into the fold and strong competition is created.
Goldobin's Competition
As I just stated, a lot of young talent comes into the mix during an NHL team's rebuild and the Canucks are no exception — their organization is riddled with young talent and the competition for roster spots will be fierce over the next few seasons.
Names like Elias Pettersson, Jonathan Dahlen, Kole Lind and Jonah Gadjovich are all players that are going to start encroaching on the Canucks' roster. Players like Lind and Gadjovich are two players who contribute around the same as Goldobin offensively and also play physically and defensively.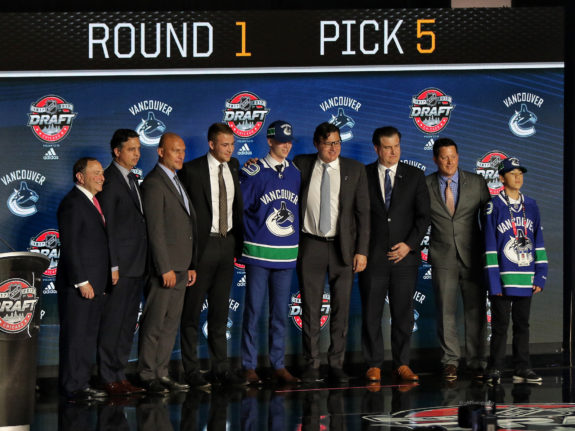 Looking up and down the Canucks' roster, physicality is a big necessity at this point, especially following the loss of Derek Dorsett. Not to say that offence isn't also a necessity, but with guys like Bo Horvat, Brock Boeser and (potentially) Pettersson carrying most of the weight, a player like Goldobin quickly becomes irrelevant if there are other better-rounded alternatives available.
So Far, So Average
So far, Goldobin has played in 22 games (over two seasons) for the Canucks and has contributed five goals and two assists while carrying a minus-nine rating. In the last five games alone, he has been a minus-four and registered no hits in 55:19 minutes of ice time. However, he did manage to chalk up an assist and a highlight-reel goal in that five-game stretch.
Game at a Glance, presented by @Bridgestone – Stecher, Goldobin and Dowd scored for the #Canucks, who end 2017 with a 4-3 loss to the Kings. pic.twitter.com/qnQl8ix1Kp

— Vancouver #Canucks (@Canucks) December 31, 2017
Looking back on his days with the Sarnia Sting of the OHL, Goldobin was an offensive powerhouse who, in two seasons, tallied 68 goals and 94 helpers in 135 games — that equates to 1.2 points per game. On the opposite end of the spectrum, however, he was collectively a minus-37 over the two seasons and was clearly a step behind in terms of physicality.
Jumping back to the NHL, Goldobin was only given a nine-game ride with the San Jose Sharks but did manage to play 60 games for their AHL affiliate where he notched 21 goals and 23 assists — again, he carried a poor rating of minus-nine.
A theme is reoccurring with Goldobin's game, and it's good offensive output with no defensive game and a borderline-apparent lack of a team mentality.
The Verdict
I've watched just about every game Goldobin has played for the Canucks, including a handful in person where I really watched him as an individual on the ice without the camera guiding my vision and it seems abundantly clear to me that Goldobin is, in fact, too soft for the NHL or at least the Canucks where he's at now.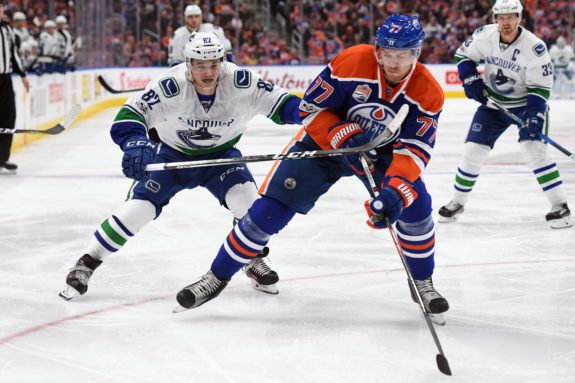 His effort is usually half-hearted until the puck is on his stick and once he gets it, he's usually dealt with quickly by the opposition or he makes an ill-advised pass resulting in a turnover. Sure, riding out his development is an option, but as previously stated, there's a lot of well-rounded talent on the way whose defensive play and physical presence isn't in question.
Goldobin is a very talented prospect and a valuable asset, don't get me wrong, but he's just a not a good fit for the Canucks. Much like the Sharks, I think the Canucks should realize this and trade him in the offseason. Goldobin, in tangent with another player, possibly a mid-level defenceman, could result in a solid pickup coming back across the table.
Matt is a longtime fan, player and student of the game of hockey. Broadcast and Online Journalism student at the British Columbia Institute of Technology.