The Ottawa Senators' annual skills competition couldn't have come at a better time. It looked like the Senators' ugly 5-0 loss to the Boston Bruins on Saturday night was going to spoil the team's fortuitous three-day break between New Year's Eve and Jan. 2, but the skills competition the next day gave the team a chance to direct their focus elsewhere.
However, with the Sens back in action against the Detroit Red Wings tonight, the team will have to once again face the dire realities of the 2017-18 season. It's no secret that general manager Pierre Dorion is looking to make a trade, and rumors once again began to swirl around some of the Senators' key players earlier this week. Postmedia's Bruce Garrioch has reported that teams are very interested in Jean-Gabriel Pageau, Zack Smith and Mike Hoffman. Other names of interest include veterans like Alex Burrows and Johnny Oduya, players a contending team might want to bring in to deepen their lineup.
A trade involving Hoffman or Pageau would make an already unhappy fan base even angrier — unless Dorion is able to fetch a very strong return. Based on the uncertainty surrounding Ottawa's current aspirations for the rest of the season, though, it's hard to say what the Senators would want in return.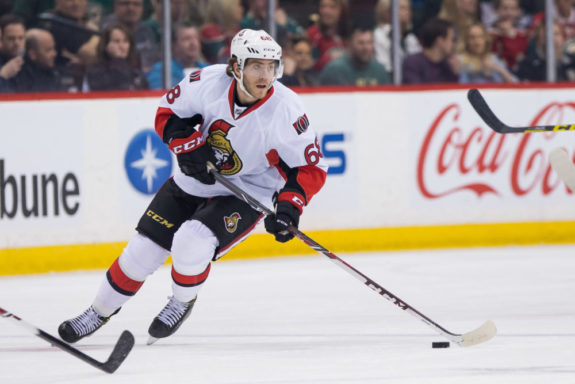 While both Hoffman and Pageau are very useful in their own different ways, Dorion might consider trading one of them to free up some extra cash to extend impending restricted free agent Mark Stone. However, since Hoffman is making pretty reasonable money for a three-time 25-goal scorer, it would be wise to look at trading away less productive players first.
Dorion knows as well as any general manager that trading a player as offensively gifted as Hoffman is a risky business. Both Mika Zibanejad and Kyle Turris have found great success with their new teams, and while Dorion got talented players in return for both of these forwards, as of now it would be hard to argue that he won either trade.
Special Teams Shakeup
Since head coach Guy Boucher's job is safe for the rest of the year, the Senators decided to make some other changes behind the bench. The Sens will be trying something new to improve the team's struggling power play and penalty kill.
Boucher says they've flipped responsibilites on special teams. Marc Crawford now coaches the PP and Martin Raymond coaches the PK.

— TSN 1200 (@TSN1200) January 2, 2018
This isn't the coaching shakeup many fans were hoping for, but at this point in the season, any kind of change is welcome. The biggest question is how different Raymond's and Crawford's strategies are from each other. While the two have worked together under Boucher since the summer of 2016, it's pretty unlikely they both have the exact same approach to special teams. Even though this coaching staff was brought in to fix Ottawa's special teams, the Senators have had a bottom-ten power play for both years under Boucher, so a move like this was inevitable.
Even if the change in results is minimal, the first adjustment Crawford has made is sure to get some fans excited. Rookie defenceman Thomas Chabot will join the team's first power play unit alongside Erik Karlsson. Putting two strong playmaking defenceman together could open things up for the Senators power play, as the opposition usually aggressively covers Karlsson. With Chabot showing elite potential on the point in the limited ice time he's been given, the Senators blueline could become a match-up nightmare for opposing penalty-killers.
World Juniors Update
Logan Brown's time at the World Juniors definitely hasn't gone as planned. The 19-year-old centre suffered a knee injury during USA's loss to Slovakia last week.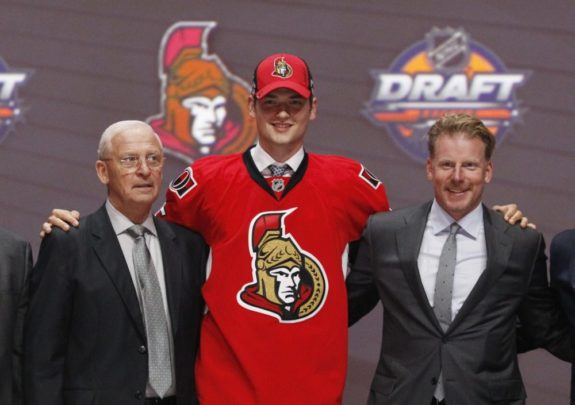 Brown's status is questionable, meaning that he could return to action before the tournament ends, but the injury still throws a wrench in any plans the Windsor Spitfires might have had to trade him. The Spitfires are in the midst of a rebuild, and if Brown's knee becomes a lingering problem, they will have a harder time getting a good return for their number-one centre.
While Brown may not be on the move, another Senators prospect will have a new home when he returns from Buffalo. The Cape Breton Screaming Eagles have traded Sens fourth-round pick Drake Batherson to the Blainville-Boisbriand Armada. The Armada are contenders in the QMJHL, so Batherson will now have the opportunity to make a deep run in the playoffs. Tuesday was a pretty big day for Batherson, who not only was traded but also scored twice in Team Canada's 8-2 win over Switzerland in the tournament's quarterfinals.
A Carleton University journalism graduate, Jacob joined The Hockey Writers in 2017. As an Ottawa native, Jacob has been following the Senators since the days of Radek Bonk. You can also find Jacob at ComicBookMovie.com.