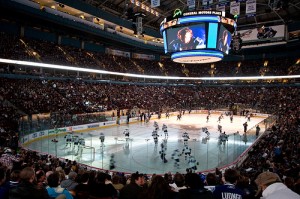 By Mike Miccoli, Special to NHL Trade Deadline
In a day that many hockey fans circle on their calendar each year, the trade deadline is the final opportunity for NHL clubs to shake up their rosters and build (or rebuild) for the upcoming games leading into the playoffs. There are plenty of names and rumors floating around but here, I'll be breaking down each official trade as they are reported by various media outlets such as TSN, NHL.com and ESPN. For even more up-to-the-minute reporting and commentary, follow along at twitter.com/bruinsmike.
4:00 pm: Looks like all of the trades are in–I'll repost any that come in very late but I'm thinking that's it. I'll be posting the biggest winners and losers of the trade deadline soon!
3:32 pm: Edmonton Oilers trade D Lubomir Visnovski to the Anaheim Ducks for D Ryan Whitney.
Here's a blockbuster for you. Edmonton FINALLY makes a move shipping Visnovski to Anaheim for Ryan Whitney. Interesting move and a win for Anaheim getting a big defender for an underperforming youngster. Whitney should be able to benefit from the young corps on the blue line and be paired with another young player in Tom Gilbert. The Toskala cap-freeing move made by Ducks GM Bob Murray can be credited to make this trade happen. Visnovski comes with a big price tag but might be the anchor on the blue line with Scott Niedermeyer to push Anaheim into the playoffs. Whitney will have to adjust in Edmonton, coming off a decent Olympic tournament.
3:15 pm: Carolina Hurricanes trade D Joe Corvo to the Washington Capitals for D Brian Pothier, C Oskar Osala and a 2010 2nd round pick.
Nice deal for both teams while Washington improves their defense by adding Corvo, one of their highly criticized weaknesses. It's going to be hard to bet against the Capitals once April hits because this is truly an elite NHL team built from top to bottom. Corvo could be the missing piece on defense needed to put them over the top. The Hurricanes have continued to trade away players but kept Ray Whitney, a highly touted player who was heavily picked to be traded during the deadline.
3:09 pm: Toronto Maple Leafs trade RW Lee Stempniak to the Phoenix Coyotes for a 2010 4th and 7th round pick.
The Coyotes are the clear cut winners on deadline day. Adding more depth in their offense (along with Wojtek Wolski) will continue to help Phoenix. Toronto got very little in return for this rental putting all the more pressure on Brian Burke and the Leafs in the upcoming years. Stempniak has 14 goals on the season and is probably the player that will be looked upon to replace injured Scottie Upshall.
3:00 pm: Officially, the trade deadline has passed. We could still see some trades trickle in as is usually the case but on the whole, a pretty poor deadline day with little deals. The biggest news were the non-moves with Tomas Kaberle, Ray Whitney, Tomas Vokoun and Daniel Hamhuis all staying put. No big superstars were moved but remember the major moves made before the trade deadline and the Olympic break.
2:23 pm: Columbus Blue Jackets trade LW Raffi Torres to the Buffalo Sabres for D Nathan Paetsch and a 2010 2nd round pick.
Sportsnet reporting…Torres will fit in well in Buffalo, no doubt, and provide a great amount of offense to a team that greatly needs it. Buffalo had begun to slip in the standings after such a great start and this shakeup should definitely help the Sabres. The price originally asked for from Columbus was a 1st rounder for Torres so, kudos to Buffalo for getting that pricepoint lowered. Tyler Myers is well on his way to being Buffalo's d-man of the future, the title Paetsch once held. Torres will be a big key in the playoffs for Buffalo as he was for Edmonton in 2006.
2:07 pm: Anaheim Ducks trade G Vesa Toskala to the Calgary Flames for G Curtis McElhinney.
Biggest head scratching move of the day reported by Darren Dreger in TSN. Why the Flames would need a $4 million backup goalie in Vesa Toskala is beyond me. The Flames have been extremely erratic in trading this year first getting rid of Dion Phaneuf and then acquiring a ton of salary from players returned. This is no different. Currently, the Flames have close to $10 million designated to goaltending. Even worse, Toskala has been playing poorly this season, hence his initial trade to the Ducks from Toronto earlier in February. Who knows what Miikka Kiprusoff could be thinking too now. After a shaky Olympic tournament, could Kiprusoff think that this move was made to light a fire under him? Could very well be. Good move by Anaheim GM Bob Murray shedding some salary and getting a true backup in McElhinnery. Big error on Flames GM Daryl Sutter's behalf.
1:56 pm: Tampa Bay Lightning trade C Jeff Halpern to the Los Angeles Kings for LW Ted Purcell and a 2010 3rd round pick.
Count me among those who do not like this trade for the Kings. Part of the success in LA is coming from the chemistry that has developed over the season. Purcell might not be an offensive force, but he's certainly a part of LA's power play, a unit that Halpern won't be apart of. Fans of the Kings have criticized Purcell's lack of aggression and grit before, but I think he may be able to find his game and improve with the Lightning. I think too that a 3rd round pick is way too high for Halpern. Plus, how many centers can this team carry? They already have a decent set of forwards down the middle anchored on top with Alexander Frolov and then continued with Jarret Stoll and Michal Handzus. Tough to give this one to the Kings just yet. This is definitely a 'wait and see' deal.
1:45 pm: Minnesota Wild trade C Eric Belanger to the Washington Capitals for a 2010 2nd round pick.
Another interesting trade for the Capitals as they become even deeper offensively. Belanger is a great faceoff specialist and penalty killer who will be great in Washington's system. The Wild get back a 2nd rounder that will be a pick in the high 50s overall. Not too major of a trade or a big surprise but a pretty good signal that the Wild are sellers. Any complaints about a lack of depth in the Washington system has pretty much been addressed today. Nothing to write home about but certainly a big addition of offense and specialities. Belanger's cap hit is just under $2 million and is an UFA at the end of the season. Certainly a rental, but a bit of an underrated one who could certainly help out the Caps.
1:24 pm: Vancouver Canucks trade D Mathieu Schneider to the Phoenix Coyotes for a 2011 conditional pick.
The Fourth Period breaks this one as Phoenix continues to go on a tear during today's deadline. Schneider is a decent pickup for the Coyotes giving the Phoenix team more depth and leadership on the blue line (Morris was acquired from the Bruins earlier) along with valuable postseason experience. It's evident that the Coyotes are gearing towards a playoff run and are actually very committed to get fans excited for hockey down in Arizona. This isn't a groundbreaking deal at all but the Coyotes continue to make a statement today that they're serious about hockey. That's what sticks out most to me.
12:43 pm: Colorado Avalanche trade LW Wojtek Wolski to the Phoenix Coyotes for C Peter Mueller and C Kevin Porter.
TSN reporting…Take a step back for a second and look up stats for these guys. Wolski has 17 goals and 30 assists this season while Mueller has only four goals and 13 assists. Wolski's cap hit is a bit higher than Mueller's and both players are due to be RFAs in July. This is a HUGE win for Phoenix adding another weapon to their offense as they continue to battle for a playoff spot. The issue is, the Avalanche are in the playoff hunt too. Adding Mueller is a definite step back for Colorado as Phoenix continues to improve.
12:28 pm: Carolina Hurricanes trade RW Scott Walker to the Washington Capitals for a 2010 7th round pick.
Bob McKenzie of TSN reporting…Interesting trade for Carolina since this might be the deal that actually KEEPS Ray Whitney with the Hurricanes. Credit GM Jim Rutherford for moving Ward's and Walker's salary freeing up space to possibly re-sign Whitney, one of their better players as they continue to win hockey games. The Capitals get a physical player not named Alex Ovechkin adding grit to the lineup who has won a Cup before and has great playoff experience. The return for Carolina is as much as a throwaway pick as you could imagine. Carolina wins if Whitney is kept and the Hurricanes keep winning, but for right now, this is a good pickup for Washington.
11:53 am: Carolina Hurricanes trade D Aaron Ward to the Anaheim Ducks for G Justin Pogge and a 2010 4th round pick.
Minor deal here reported first by Chip Alexander in Carolina. Ward has been rumored to be on his way of Carolina for weeks now–only a matter of time before someone took his line. Hurricanes get the same return pick as Derek Morris fetched plus a once-promising goaltender in Toronto's system in Pogge. I like this deal for Anaheim, adding more veteran presence on the blue line to go along with Scott Niedermeyer. Ward will be great mentoring guys like Ryan Whitney and James Wisniewski for the few games left in the season. Ward played a big part in developing the young guys in Boston last year such as Matt Hunwick and Dennis Wideman.
11:33 am: Florida Panthers trade D Dennis Seidenberg and D Matthew Bartowski to the Boston Bruins for RW Byron Bitz, C Craig Weller and a 2010 2nd round pick (TB).
From Bob McKenzie on TSN…and there's that puck-moving defenseman Bruins' writers have been talking so much about. I like this trade for both teams since the Bruins instantly bolster their blue line for a lower cap hit than Morris' and Florida gets a great return from Boston. Bitz was doing much in Boston with so many wingers and spending too much time up in the press box while Seidenberg is a number three or four defenseman with a left handed shot. The other prospects even out and the 2nd round pick sifts out the deal.
11:02 am: Toronto Maple Leafs trade D Martin Skoula to the New Jersey Devils for a 2010 5th round pick.
Reported by TSN, I think every fan saw this trade coming for Skoula. The Leafs already have way too many defensemen and found a perfect partner for trading, the Devils, who were already light with men on the blue line. Skoula is very far past his prime and can now be seen as a 5th or 6th d-man at the very best, but is the extra man needed for New Jersey. Fine trade for both teams as the Leafs get a pick.
10:34 am: Boston Bruins trade D Derek Morris to the Phoenix Coyotes for a 4th round draft pick in 2011.
Big win for the Coyotes here getting back a defenseman that could really help the team as they push for a playoff spot in a trade reported by Sportsnet. If you're a Bruins fan, you have to raise your eyebrows for a few reasons: 1) Morris was arguably Boston's best defenseman not named Zdeno Chara and 2) Suddenly his $3.3 million cap hit frees a pretty big space for Boston to make another trade for a much needed scorer. The trade also opens up more playing time for Johnny Boychuk who, up until now, was considered the number seven defender on the team even though he has been playing strong hockey. Strange that Bruins GM Peter Chiarelli could only muster a 4th rounder out of Phoenix when guys like Andy Sutton and Jordan Leopold go for a 2nd round pick. Still, I don't think the Bruins are sellers here but moreso making room for a trade to come.
10:08 am: First and foremost, welcome, and can I just say how much I love TSN's TradeCentre tracker? I'm listening, watching and reading all at once. If you're a hockey fan, there's not a more interesting day out there than the trade deadline. Well, with a few exceptions of course.
The biggest trade so far came last night when the struggling Toronto Maple Leafs traded winger Alex Ponikarovski to the Pittsburgh Penguins for prospect Luca Caputi and defenseman Martin Skoula. The Penguins get a much-needed winger for centerman Evgeni Malkin while the Leafs continue to their efforts to rebuild for next season with a decent prospect in Caputi and another defenseman added to their corps with Skoula who was placed in the deal as a salary dump for Pittsburgh. Ponikarovski is a rental set to become an UFA in July once his contract and $2.7 million cap hit expire. But GM Ray Shero knows a thing or two about trade deadline deals, adding an important piece or two for the past couple of years that have led the Penguins to the Stanley Cup finals (Marian Hossa in 2008, Chris Kunitz and Bill Guerin in 2009). Their biggest weakness was on the wing and Shero struck early snatching up one of the better scorers available. Pittsburgh wins this deal.
Mike Miccoli covers the Boston Bruins for The Hockey Writers and has been a credentialed member of the media for all Bruins' home games for the past five years. As a former player, coach and official, Miccoli has been around the game of hockey since the age of three. Along with his work on THW, Miccoli has also been published in the New England Hockey Journal, Improper Bostonian magazine and on BostInno.