Creative Couture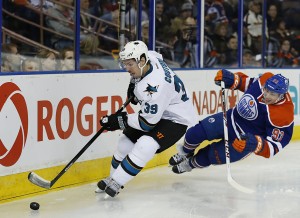 With seven goals and nine assists for 16 points in his first 16 games of the season, it would be wrong to say Logan Couture is set to shatter his career offensive totals. However, he is on pace to set significantly greater highs across the board. He's on pace for 36 goals, 46 assists for 82 points, which would eclipse his current highs of 32 goals in 2010-11 and 34 assists and 65 points in 2011-12. His 21 goals in the lockout shortened 2012-2013 season is actually a 36 goal pace over 82 games but alas being on pace doesn't count as an official total.
While Joe Thornton still leads the Sharks from a possession stand point and can control games with his size and strength along the boards, Couture is establishing himself as the most dynamic offensive threat on the roster. When it comes to play-making, goal scoring, and hockey sense, Couture is harder for defenders to read than Thornton or Patrick Marleau. The latter of which still has the blazing speed and terrific shot but both players are a tad more predictable in the offensive zone. While Marleau racks up the shot totals, he can be guilty of being too cute, passing too frequently on odd man rushes, and doesn't quite have the same one-on-one moves that Couture has up his sleeve.
Currently Couture is tied for the team lead in goals, tied for third in assists, tied first in points, tied second in shots, and of the six players with four goals or more, he leads all of them in shooting percentage at 13%. Oddly enough he is having an awful year in the faceoff circle thus far at 37%, but is 51.4% for his career. This year he is also second on the team in short-handed ice time per game amongst forwards, only behind fourth liner Adam Burish. He is tied for second in power-play goals, third in power-play points, he does it all in every situation. Did I mention his unpredictability on offense? Brent Burns scored the tying goal in Dallas on Saturday because of Couture's ridiculous deception. You may think the video below shows an easy 2-on-1 goal below but look closely. Couture cocks back into a shooting position and is staring dead straight at goaltender Anders Lindback the whole time, only to fire a no-look pass right on Burns' tape. Absolutely filthy. Goalies can cheat a bit with Thornton's pass first tendency in these situations but Couture is an equal shooter and passer. Not knowing which he will do gives Couture and his linemates a better chance at finishing when they do get opportunities. Burns has a gaping net to shoot at because of Couture's ability to freeze Lindback in place with the threat of a shot.
En Fuego
Not only is Couture tied for the team lead in points, but he had just one point in his first four games of the season. Since then, he has 15 points in his last 12, including all seven of his goals. Of course it is still early and 16 games isn't necessarily a predictor of the next 66, but right now the 25-year-old Couture is what they say south of the border, en fuego.
Andrew has been credentialed to cover the Sharks since 2010 and the 49ers since 2012. He graduated with his BA in Broadcast Electronic Communication Arts in 2013 from San Francisco State University.