I know what you're saying. "Calm down, big guy, it's the second month of the season and it's a little early to be spewing these hot takes this early, especially with this unpredictable team."
You're right, you'd be hard-pressed to find anyone who could've predicted that the London Knights would've only had one win in their first nine games of the season. They sat dead last in the league, and it was enormously confusing to everyone watching. In fact, it's a feat that's been unheard of in the Dale and Mark Hunter era, which is littered with winning teams since they took over in 2000.
On paper, this has always been a playoff team right from the get-go. Let's not forget that before the season started the Knights were ranked in the CHL top-10 rankings at No. 7 in the country. Why? Because they have a core group of proven leaders that's almost unmatched in the OHL. They just weren't performing as such right out of the gate for a plethora of reasons.
The London Knights have made it to the playoffs for 17 consecutive seasons with the Hunter brothers steering the ship, and it seems that an atrocious first month doesn't look like it'll be the anchor that stops the vessel. In classic Knights fashion, the front office started making moves as soon as the team was showing signs of under-performing.
Not Sitting Around
After just five games, the Knights quickly went out and addressed their early season problems head-on by making moves that filled the holes they needed to fill.
They acquired a few overagers with loads of junior hockey experience to help settle down the spiraling hockey team, and it seemed to work. They picked up center Tyler Rollo from the Peterborough Petes, then, they grabbed overage defencemen Shane Collins from the Barrie Colts for a conditional 14th rounder in 2018.
Perhaps what's looking to be the most impactful deal was getting goaltender Joesph Raaymakers from the Sault Ste. Marie Greyhounds, as he's been shutting the door and then some since dawning the green and gold.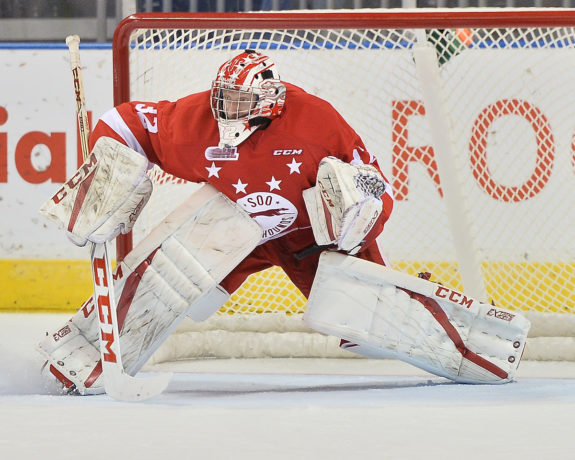 Through the first 12 games with his new club, Raaymakers has posted a 2.40 goals-against average (GAA) with a .920 save percentage and a 9-2 win/loss record. Combining that with the fact that he had the best numbers in the league during last year's playoffs, with a 1.95 GAA and a .942 save percentage in 10 playoff games, makes it seem like the Knights have found themselves a solid backbone.
Leadership Stepping Up
Since Oct. 20 when they boasted that 1-8-1 record, they've significantly turned around their season by winning 10 of their last 13 games, which brings us to today.
So, what's clicking now that was seemingly absent from the 10 games of the season? Apart from the small shakeup in new faces, it's pretty obvious. Leaders have to actually lead for a team to be successful, and that just wasn't happening during the first month of the season.
First of all, through the first 10 games, defenceman Evan Bouchard led the team in points with eight, which shouldn't happen considering the kind of firepower that's upfront. That's not a hit against Bouchard, who's stepped up nicely as the quarterback of the team's back end with a ton of offensive upside. He's also projected to be a first-rounder heading into this year's NHL draft, and deservingly so.
St. Louis Blues 2017  first-round-pick Robert Thomas has found his stride and is now sixth in OHL scoring with 31 points (15 goals and 16 assists) in 19 games. Buffalo Sabres second-rounder Cliff Pu has rebounded from his slow start and has put up 27 pts in 21 games, while both Bouchard and Sam Miletic have tallied 25 of their own.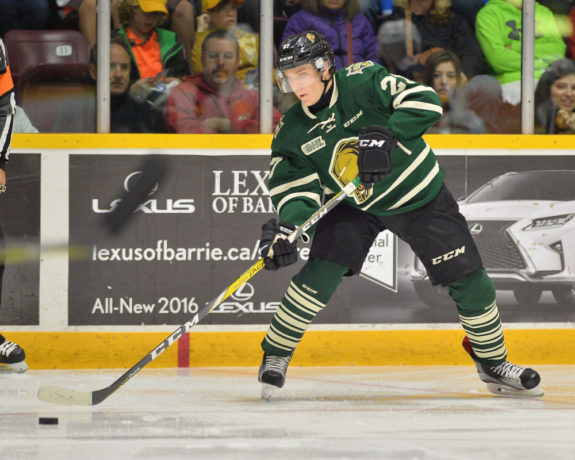 If this leadership core, along with Alex Formenton and Max Jones, can keep producing at the pace they are recently, it's going to be tough for any team to suffocate this offense.
Battled And Beat The Best
There's no doubt it's an uphill climb for this team, but they've proven they can beat the best in the league. The Knights have topped every team that sits ahead of them in the Western Conference except for the Sarnia Sting, who they have yet to play, and the Sault Ste. Marie Greyhounds, who beat them in the third game of the season.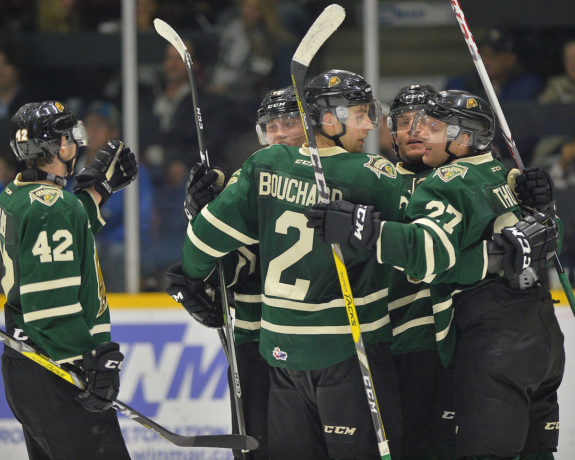 That includes a few blowout wins against Western Conference powerhouses like the Kitchener Rangers—who they beat 5-1—and the Windsor Spitfires, who they dominated in a 4-0 win very recently.
Right now they sit at an even 10-10-2 record, which puts them seventh in the Western Conference, but those stats don't do this team justice. They're built for a long playoff run with guys who have proven to show up after the regular season ends and the grueling playoff schedule begins.
They have a front office that refuses to lose and will make the moves necessary to bring a winning team to London. Along with that, they have a fan base whose passion, energy, and loyalty to the team is unmatched in the CHL.
Mark my words, this team will make a long run for the J. Ross Robertson Cup. It may surprise a lot of people reading this right now, but it won't when you see how this team performs going forward.