Going into Game 5 against the Pittsburgh Penguins, Washington Capitals winger Alex Ovechkin found himself in unfamiliar territory: demoted to the third line.
The Capitals' captain has not looked like himself these playoffs and has five goals and eight points through 11 postseason games. His numbers have been inconsistent, and at times when his team is struggling, it's hard to tell if he'll step up. Of late, his play has been plagued with a lack of effort or drive, as well as inconsistency.
Ovechkin's Inferno
The Russian winger has appeared lost and sluggish at times and does not show too much drive or determination in his game. Not to mention, Ovechkin does not always show up when the team needs him to and somewhat lacks the will to win. Additionally, when things go wrong, he appears shaken and does not have a bounce-back attitude or mentality.
Another issue with Ovechkin is that his play has become recognizable, as well as uncomfortably routine. He sits in the left circle and waits for the puck, and at times, he will just simply stand and wait for an opportunity to come to him. While he has proven to have plenty of success from his "office," there must be more mobility and willingness to get involved in the play. If he just stands there, he is not making anything happen; when he's moving his feet, more opportunities are bound to come.
Overall, this is not the Ovechkin the fanbase has come to know and love over the years. There's no fight or push from him, and it's not often we see him enter "beast mode." Considering Ovechkin has fallen into this constant pattern of early playoff exits that has turned into a tradition, one has to wonder if too much pressure is falling on his shoulders.
This is the third consecutive game where the 'Great 8' has just reduced his name to Average 8. This is not a great player that we're watching here. This is a player that can't find his way, looks to be totally consumed by his own thoughts. … This is not good enough from Alex Ovechkin, and some of it comes from a lack of effort. Maybe he's overthinking, but he's running out of time. – Mike Milbury
Unfortunately, Milbury speaks the truth. Ovechkin has been playing like he has been overcome by his demons. He has his eyes set on the Cup, but there is part of him that has become so desirous of winning a championship that he does not put in the effort game-by-game. Instead, it seems that part of him relies on his teammates to help him reach that point, and when things go south, he doesn't step up but displays his frustration.
Another flaw in Ovechkin's game is that he gets wrapped up in his emotions during games. He is a passionate player and knows what he wants, but he needs to take things game-by-game and give effort each night. In addition, he cannot let negativity get the best of him.
Despite the fact that the Capitals found themselves entering Game 5 at a 3-1 series deficit, Ovechkin took the time to bust out and step up when the going got tough.
Breaking Out
In Game 5, Ovechkin showed flashes of his true ability and stepped up when his team needed him. A spark ignited, and he came flying into the zone with a head full of steam and stayed with the puck, ripping it past Marc-Andre Fleury for his fifth goal of the playoffs. It was a play that not only gave his team a wider lead but also energized the Capitals and the entire building.
He is the center of the Capitals franchise and someone who the entire team looks to when the going gets tough. While it can be frustrating going through the same disappointing scenario year after year, only Ovechkin can push himself forward to break out of the cycle.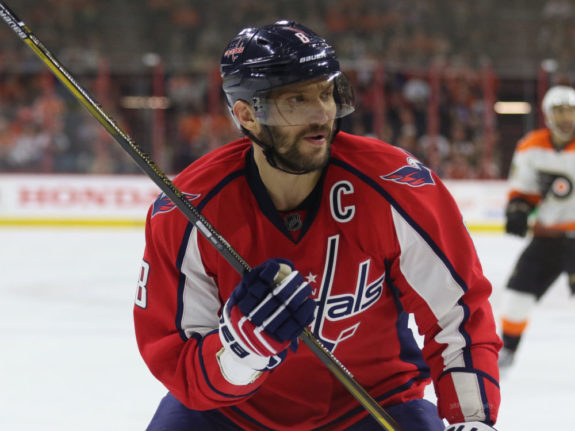 Ovechkin must keep his foot on the pedal if he wants to escape this series and head to the Eastern Conference Final. He has tremendous speed and ability, and surely he still has a lot of gas left in the tank. There can be no more nights off for Ovechkin, and he knows that moving forward.
Head coach Barry Trotz even discussed how Ovechkin's resurgence helped the team, and believes it triggered a chain reaction and energized the rest of the team.
"When your top guys make a difference, it motivates everybody to want to go to the next level, as far as their game," Trotz told Yahoo! Sports. "You're sitting next to a guy who elevated his game, you better elevate your game. That's what good leadership does. Our leaders led."
As the Capitals continue to push forward and avoid yet another disappointing second-round elimination, their captain must lead them above and beyond. He needs to continue to force drive and determination into his game. Ovechkin clearly has the dedication to his team when it comes to capturing the Cup, but now, he has to show it.