The last team we looked at on our rundown of players that fans of the Vegas Golden Knights should know was the New Jersey Devils. Suffice it to say, the player the Knights pick up from that squad will not be particularly exciting. This week we'll look at the New York Islanders, and the narrative could not be more different.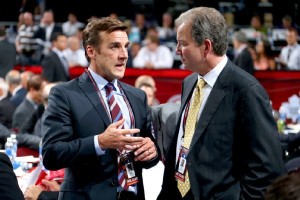 If nothing changes between now and the third week in June, Vegas is going to be able to pluck a quality player from Doug Weight's squad. That's if the Islanders are unable to strike a deal with the Golden Knights involving draft picks that will allow them to protect some of those players that would otherwise be exposed.
Adding to the intrigue is the resume of Vegas general manager George McPhee. He knows the Islanders and knows them well. For a year, before making his way to Vegas, he worked as a special advisor under New York GM Garth Snow.
Does that make it easier to get a deal done? Who knows. What we do know though, is that the Islanders have more quality players than protected spots. That alone works to McPhee's benefit. Educate yourself on these guys. If none of them end up in Vegas, at least you know New York Islanders hockey just a little better than you did before. Here are four Islanders Vegas fans should know.
Calvin de Haan
Calvin de Haan put in a career year this season in New York. Not enough to earn himself a spot on the Islanders' protected list, but certainly enough to create some expansion draft buzz.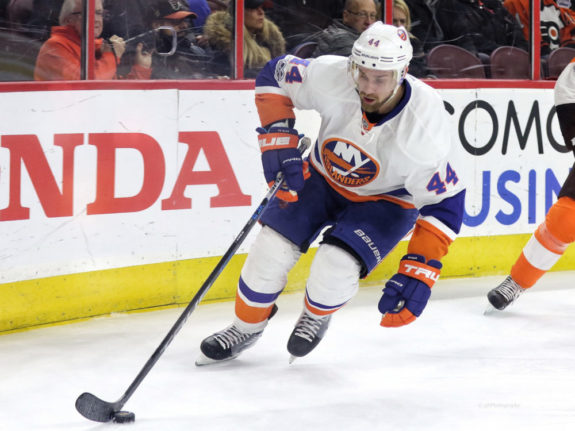 His five goals and 20 assists were both career highs. He lacks flash, and certainly, there are more physical blueliners, but de Haan represents a very sensible option with some upside for the inaugural Vegas squad.
He'll turn 25 this week, and the $2 million cap hit is certainly agreeable if McPhee thinks the former first-round pick can continue to grow his game at the rate he has across the last three seasons.
Thomas Hickey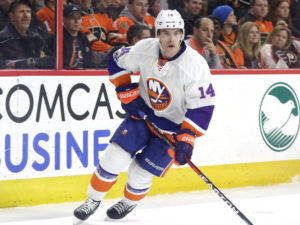 If de Haan elevated his game to new levels this season, Hickey regressed, or at best plateaued. Scratch that, regressed. It was fair for New York fans to elevate their expectations for Hickey after his playoff performances against the Florida Panthers and Tampa Bay Lightning in 2016. It's also fair for them to want his contract off the books for 2017-18.
Offensively, Hickey contributed at roughly the same rate he did the previous three seasons. Defensively, he was routinely exploited, going from asset to liability quicker than anyone expected.
Why is he on this list? Hickey's best is still better than de Haan's best. That said, if he's going to wind up in Vegas, McPhee's going to have to dismiss injury concerns and convince himself that a return to 2016 playoff form is in the cards.
Ryan Pulock
The Golden Knights know few players better than Ryan Pulock. He's a Brandon Wheat Kings alum, the Western Hockey League team for which current Knights assistant GM Kelly McCrimmon once held every job imaginable. Pulock was with the Wheat Kings for four seasons, from 2010-14.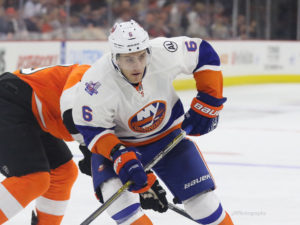 In total, he's appeared in 15 games for the Islanders. This season was mostly spent with the Bridgeport Sound Tigers of the American Hockey League. In 55 games he racked up 15 goals and 31 assists.
Pulock is on a contract that will pay him under $900K next season. In that way, he represents a low-risk, high-reward option for Vegas. One could argue that it's a moderate risk because by picking Pulock the Golden Knights would be leaving a surer bet on the table with their Islanders pick. I'd be willing to take that risk. Our own Larry Fisher picked Pulock for Vegas if a deal is not made before the expansion draft. That's a move I'd be happy with.
Jaroslav Halak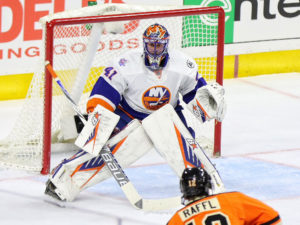 Speaking of risk versus reward, you know I had to include Jaroslav Halak, right? A deal for the Islanders' sometimes first, sometimes second, sometimes third netminder didn't happen at the trade deadline, so we've got to consider the possibility his future is as a Golden Knight.
He has one year left on a deal that will represent a $4.5 million cap hit next season. This year he split his time between New York and Bridgeport, earning a call-up to finish the season with the Islanders. From March 24 until the end of the season, he was the league's top goalie, sporting a lean 1.58 goals-against average across his final seven games.
Still, we can't forget that there's a reason Halak was reassigned to begin with. You can chalk it up to whatever you like, whether it be poor performance or injuries. The options in net for Vegas are not so slim that they need to reach on a player with an injury history like Halak. For McPhee to take him off Snow's hands would be doing the Islanders a favor. Vegas might do a favor. For a draft pick.