The San Jose Sharks eliminated the Los Angeles Kings out of the NHL Stanley Cup Playoffs in the first round on Friday night. The Sharks defeated the Kings by a score of 6-3 in Game 5 and won the best-of-seven series thus ending the Kings 2015-16 regular season.
With the Kings season ending, there is nowhere else to look other than forward. There are pivotal points during the offseason that can have drastic to little effect on a team's roster the following season. Whether it is with the draft, a trade (or multiple trades) and/or free agency signings, NHL teams can and must use this time in the offseason to manage assets accordingly in order to both put a winning product on the ice and stay within the cap.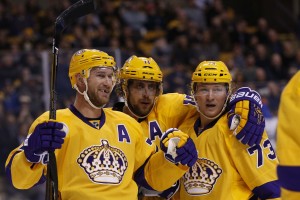 The Kings have the majority of their core locked up for the next three years. The forward group of Anze Kopitar, Jeff Carter, Dustin Brown and Marian Gaborik will be together until the 2020-2021 season when Gaborik's contract expires. Tyler Toffoli and Tanner Pearson both signed two-year contract extensions last year, Kyle Clifford is signed to the 2019-2020 season, Jordan Nolan is signed for the next two years and forwards Dwight King, Nick Shore and Andy Andreoff are all signed until the end of next year.
The Kings top three defensemen: Drew Doughty, Jake Muzzin and Alec Martinez are all signed through the 2018-19 season together. Defenseman Rob Scuderi is signed for another year with Chicago retaining 50 percent of his salary and Matt Greene, who underwent shoulder surgery in December, a procedure on his elbow in March and was placed on the Kings long-term injured reserved list since Dec. 15, 2015, is signed for two more years with a cap hit of $2.5 million.
With a projected $8 million in cap space next season and an estimated $74 million salary cap and have a little over $65 million allotted to 20 players next season according to CapFriendly.com. They have eight pending unrestricted free agents.
Pending Unrestricted Free Agent Forwards
The most notable pending unrestricted free agent the Kings have is Milan Lucic. The former Boston Bruin was acquired on draft day last year for a first round pick (the No. 13 pick in the 2015 draft in which Boston had selected Jakub Zorbil with), defenseman Colin Miller and goalie Martin Jones. The Boston Bruins retained $2.7 million of Lucic's contract.
Lucic was traded while on the last year of a three-year/$18 million contract he signed with the Bruins in 2012 and is set to become an unrestricted free agent on July 1. Lucic has expressed his desire to stay with Los Angeles and he and his agent Gerry Johannson have discussed numbers with Los Angeles Kings General Manager Dean Lombardi.
Few of us just chatted w Lombardi
Of note, team continuing contract talks w Lucic and some strong stuff supporting Doughty for Norris

— lisa dillman (@reallisa) April 12, 2016
In his 81 games with the Kings this season, Lucic scored 20 goals and 55 points with a plus-26 rating. He appeared in all five of the Kings playoff games this season and recorded three assists and four penalty minutes.
Another forward who is on the last year of his contract is Trevor Lewis. Lewis has won the Stanley Cup both times Kings, can play all three forward positions and is reliable defensively.
This year, he was limited to five goals and 11 points, but had a Corsi for per 60 minutes of 57.51 at 5v5 even strength according to war-on-ice. While not the best on the team, still a plus-11.80 percent differential to that of his Corsi against per 60 minutes during the regular season. He ranked third in Kings forwards for average ice time per game while shorthanded before the end of the season and was tied for the goal-scoring league with Kopitar and Carter during the Kings' short stint in the playoffs.
The last pending free agent forward that was on the Kings roster this season was trade deadline acquisition Kris Versteeg. After the trade, the two-time Stanley Cup Champion played 14 games with the Kings during the regular season and played in all five games of the playoffs.
Versteeg finished the season with 15 goals and 38 points splitting time between the Carolina Hurricanes and the Kings and missed time due to an upper-body injury sustained on March 5 and a foot injury sustained while blocking a shot by Boston Bruin's defenseman Dennis Seidenberg later that month. He counted for $2.2 million against the Kings' cap hit.
Another deal on the trade deadline day was for Darryl Sutter's eldest son Brett Sutter. Sutter was acquired in a deal that sent forward Scott Sabourin to the Minnesota Wild. Sutter has an annual average value of $600,000 while playing with the Ontario Reign.
Pending Unrestricted Free Agent Defensemen
The Kings currently have three pending unrestricted free agents on defense: Luke Schenn, Jamie McBain and Jeff Schultz. Schenn was acquired along with Vincent Lecavalier from the Philadelphia Flyers for a 2016 third-round draft pick and Jordan Weal on Jan. 6 and congealed into the Kings defensive mold as a physical presence that could replace an injured Greene.
Schenn played 43 games for the Kings (in addition to 29 games he had previously played with the Flyers) and scored four goals and 16 points and a minus-2 in 72 games during the regular season.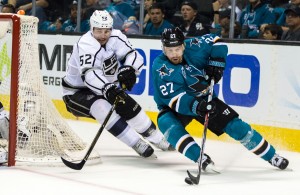 He had two points and a plus-1 rating in the playoffs against San Jose, registered 20 hits in those five games and had taken the most penalties by any Kings defensemen in the playoffs with three. Schenn was on the last year of a five-year/$18 million deal he signed with the Toronto Maple Leafs in 2011.
McBain and the Kings agreed to a one-year extension on July 4 last year for $600,00. The right-handed defenseman that played in relief for Alec Martinez in games two through five in the series against San Jose, played in 44 games for the Kings throughout the regular season. He scored two goals and nine points in those 44 games and had zero points in the playoffs.
Schultz played one game for the Kings this season. In that single game, Schultz had a minus-1 rating and registered one shot in 18 minutes and 15 seconds of ice time. Schultz signed a two-year/$1.7 million contract with the Kings in 2014 and was earning $850,000 while playing with the Kings AHL affiliate Ontario Reign.
Who Will Be the Kings Backup Goalie Next Season?
The last pending unrestricted free agent the Kings have is backup goalie Jhonas Enroth. Enroth signed a one-year deal with the Kings on the first day of free agency in 2015 worth $1.25 million.
Enroth appeared in 16 games with the Kings with a 0.922 save percentage and a 2.17 goals against average with two shutouts. The 27-year-old goalie has a total of 147 games of NHL experience with the Buffalo Sabres, Dallas Stars and Kings.
Cole R. Querry resides in Southern California. Having played hockey through college and a background in science and math, he promises to bring an objective analysis to the team and sport he loves.