It is finally August, and the Nashville Predators, like many teams in the NHL, essentially have its roster set for training camp in September. Though the summer was more eventful than once thought for the Predators, re-signing Gabriel Bourque, Mike Fisher, Calle Jarnkrok, Mike Ribeiro, Craig Smith, Austin Watson and Colin Wilson, while adding forward Cody Hodgson and defenseman Barret Jackman, next summer is going to be even more entertaining for the organization.
At the end of the 2015-16 season, Victor Bartley, Paul Gaustad, Carter Hutton and Steve Moses become unrestricted free agents, and Bourque, Mattias Ekholm, Filip Forsberg, Hodgson, Jarnkrok, Seth Jones, Miikka Salomaki and Colton Sissons will be restricted free agents.
Clearly, it be the year of the RFA for the Preds.
According to CapFriendly.com, Nashville will have $23.5 million in cap space for that summer, which is plenty of money to re-sign the three most important players of that bunch — Ekholm, Forsberg and Jones.
Filip Forsberg
Without a doubt, Forsberg is going to get a well-deserved pay raise, but the question is, how much?
The 20-year old led Nashville in scoring as a rookie last season with 63 points (26 goals, 37 assists) in 82 games and broke team rookie records for games played, goals, assists, points, power-play points (6 g, 13 a — 19p) and shots (237).
While still impressive, if Forsberg really wants to get paid, he will have to avoid the illfated "sophomore slump."  That does not seem to be likely since the Swede possesses dazzling hands topped off by a wicked wrist shot. If Forsberg were to have a similar — or better — season in 2015-16, he should receive approximately $6.5 million per year in salary, making him the highest paid forward on the roster.
Seth Jones
The organization was incredibly fortunate to see Jones fall to its lap at fourth overall at the 2013 NHL Draft. Two seasons have gone by since then, and of the top five selected in that class, Jones has arguably been the best to perform in the NHL.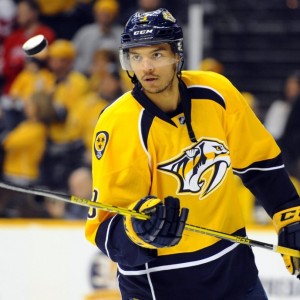 Jones, 20, had 27 points (8 g, 19 a) in 82 games and saw a rise in plus/minus from minus-23 in his rookie year to plus-3 last season. As an elite skater and a natural puck mover, Jones appeared comfortable in head coach Peter Laviolette's system, which allows defensemen to take it from end-to-end. Many teams in the league would kill to have Jones on their top pair, but in Nashville, he is on the second pairing behind Roman Josi and Shea Weber.
This season is an important one for Jones and the future of the Preds. If he improves, it would make it easier to deal Weber, if Poile so desires.
Seeing as how Josi has a $4 million cap hit until the end of the 2019-20 season — which is an absolute bargain — Jones will likely be offered a similar, if not an exact, contract.
Mattias Ekholm
Ekholm is a hidden gem on Nashville's stacked defense corps. If you are a fan of fancy stats, then Ekholm is your guy. Last season, the 25-year old led all Preds and tied-for-fifth among all NHLers in shot attempts (282) with New York Islanders defenseman Nick Leddy, in addition to scoring 18 points (7 g, 11 a) in 80 games.
Ekholm is an efficient puck mover like Jones and plays his best when keeping the game simple.
Re-signing Ekholm is important in order for the Preds to continue its depth at the blue line. Currently making $1.03 million, look for the Swede to make $2 million in his next deal.
---
With an estimated total of $12 million tied up in those three players, the Predators would have approximately $11.5 million to spend on the remaining free agents. That is not ideal for this historically frugal franchise, which makes for an interesting summer of 2016.
Colin Fitts is a Nashville Predators staff writer for The Hockey Writers. You can follow him on Twitter, @FittsTHW.