This weekend, the University of North Dakota Fighting Hawks (20-3-3, 11-21 NCHC) travel to Kalamazoo, Michigan, to take on the Western Michigan University Broncos (7-14-1, 4-9-1 NCHC) in an important two-game conference series.
The Fighting Hawks have two games in hand on the first-place St. Cloud State Huskies and they'll need to sweep the Broncos if they want to remain in the running for another Penrose Cup.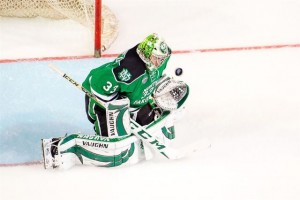 Expect a Close Game
Since the inception of the National  Collegiate Hockey Conference, there have been seven games between WMU and UND.
While UND holds a 6-1-0 record in the series, most of the games  have been close, hard-fought games. In seven games, UND has outscored WMU 21-9.
Breaking it down further, four of the six games have been settled by one goal. All-time, UND leads the series 11-2-1 against the Broncos. Here are the results of the previous seven games between UND and WMU:
12-06-13 Kalamazoo W, 3-2
12-07-13 Kalamazoo W, 3-2
03-07-14 Grand Forks W, 3-0
03-08-14 Grand Forks L, 1-2
03-22-14 Minneapolis W, 5-0 NCHC Frozen Faceoff
02-20-15 Kalamazoo W, 3-1
02-21-15 Kalamazoo (O.T.) W, 3-2
Points Are at a Premium
When WMU and UND faceoff, points are at a premium. There's hasn't been a lot of scoring. Of the current UND players, junior forward Luke Johnson is leading scorer against the Broncos. In seven games, Johnson has scored (3g-4a—7pts). Second, is junior defenseman Paul LaDue with (3g-2a—5pts). Senior forward Drake Caggiula is third with (2g-1a-3pts). Three other UND players have two points.
Huskies Take Bite out of Broncos
This past weekend, the St. Cloud State Huskies swept the Broncos (8-2 W, 7-3 W). During their four games against the Broncos, the Huskies outscored them 31-9. The Broncos aren't going to be in a great mood when they faceoff against the Fighting Hawks.
This season, the Broncos are 6-2-1 at Lawson Arena, this includes a 4-2-0 record in conference play. On the road, the Broncos are 1-12-2, including a 0-7-0 record in conference play.
In three games against the Huskies, Broncos starting goalie Lukas Hafner has given up 16 goals on 45 shots (.355). In 17 games this season, Hafner is (5-9-3, 3.49 GAA, .901 save percentage).
In four games against UND, Hafner has been solid (1-2-0, 2.00 GAA, .930 save percentage). None of UND's goalies have played against the Broncos.
Bryn Chyzyk on Hot Streak
In his last six games, senior forward Bryn Chyzyk has scored (3g-4-a—7pts). Last Friday, the senior forward from Virden, Manitoba, paced the Fighting Hawks with a three-point game against the Colorado College Tigers. That was the first three-point game of his collegiate career.