With their significant (more on that word later on) off-season moves in the rear-view mirror and training camp slated to begin in just over a month, it's time to take a look at the probable fortunes of the Los Angeles Kings for the upcoming NHL season.
Before we begin, let's state the obvious: the Kings are a solid team still in the middle of their Stanley Cup window. If one were to build a team around a single asset in each significant facet of the game, you'd be hard-pressed to do much better than Anze Kopitar (offense), Drew Doughty (defense), Jonathan Quick (goaltending) and Darryl Sutter (coaching). That fact that Kopitar won the Selke Trophy, Doughty collected the Norris Trophy, Jonathan Quick was a Vezina finalist and Sutter finished eighth in the Jack Adams voting only reinforces that narrative.
With that said, teams fortunes are invariably more than the sum of their parts. The Kings were in prime position to capture the Pacific Division last year and yet coughed up a ten-point lead over the Ducks, entering the playoffs with precious little momentum. The San Jose Sharks took advantage of that and ousted Los Angeles 4-1 in the first round of the 2015-16 playoffs.
Changes in the Air
Following the team's unceremonious exit, Kings' brain trust decided that change was in order. Longtime team captain Dustin Brown lost his captaincy to Anze Kopitar. In a departure (for which he should be applauded) from previous practices, general manager Dean Lombardi reportedly did not offer power forward Milan Lucic the seven-year deal he wanted, leading to his signing with the Edmonton Oilers. Within the limited resources available under a tight salary cap, the Kings made moves to become a quicker, more versatile team.
Parsing the word "significant" is contextually important here. As is generally the case with recent Cup-winning franchises, the Kings have been up against the salary cap for several years. Losing Milan Lucic may have been partially mitigated with the signing of Ted Purcell, but there is no question they took a full step or two back with that exchange. The Kings simply don't have the financial resources or farm team assets at this time to make bigger moves without tearing up large swathes of the core. That's just not in the cards right now.
Kings Preview
Will all the pieces fit together to make a real run toward the Stanley Cup this year? There are too many variables in play to know, but the following are summaries of the team's projected strengths and weaknesses in each of the following key areas: offense, defense, goaltending and coaching.
Offense
Under Darryl Sutter's defense-first systems, Los Angeles is never going to be known as a high-octane offense. With all the hitting, backchecking, cycling, puck possession and a conservative dump-and-chase style, it's just not going to happen.
There's nothing wrong with that. The Kings won two Cups with bottom-ten offenses, and even though they finished fourteenth in the league last year in goals scored, their signature trait is still their third-ranked defense.
L.A.'s offense begins with star center Anze Kopitar, who now has the added responsibility of being team captain. After a sub-par 2014-15, he bounced back with a solid 25/49/74 season, tying his career high with a plus-34 +/-. Still just 28-years old, Kopitar is smack dab in the middle of his prime and poised for another strong season.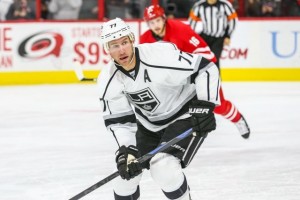 Jeff Carter (24/38/62) and Tyler Toffoli (31/27/58) are the team's other big guns, with Teddy Purcell (14/29/43) a reasonably good complimentary piece. Tanner Pearson (15/21/36) is on the rise and poised for a breakout campaign, while it's possible that Marian Gaborik (12/10/22) may have one more solid season left in the tank. Hopes have faded that Dustin Brown (11/17/28) will return to his previous form.
Strengths: The big three is formidable.
Weaknesses: Too many overpaid veterans and bottom-six contributors.
Outlook: With the loss of Milan Lucic and lacking reliable scoring prowess outside of Kopitar, Carter and Toffoli, look for a lot of 2-1 games this year. What else is new?
Defense
The defense may have had its problems at times last year — especially during the playoffs — but without question, it remains the strength of the team.
Even though a few defensemen had bigger numbers, Drew Doughty's Norris Trophy was well deserved. Not only did he finish with the second-best statistics of his career (14/37/51, plus-24), but he was top-three in ATOI and twelfth overall in iCorsi.
There are other seasoned horses in the stable, including the perpetually underrated Jake Muzzin (8/32/40), Alec Martinez (10/21/31), Brayden McNabb (2/12/14), Matt Greene (injured last year), Rob Scuderi (0/10/10) and the newly acquired Tom Gilbert (1/1/2).
Strengths: Star power, depth and experience.
Weaknesses: Speed, advancing age.
Outlook: Anything can happen, but it's a good bet that the Kings defense will finish in the top five of the league once again this season.
Goaltending
He may not always have the best stats, but when pundits are asked to list the top goalies in the league, Jonathan Quick's name is always in the discussion.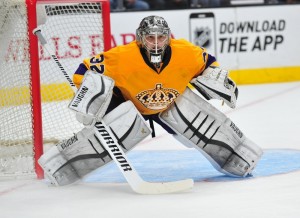 And for good reason: Quick has two Cups (and a third deep run in the playoffs) under his belt and is a two-time Vezina finalist, including this past season. He hasn't won yet, but at just 30 years old, there's still plenty of time.
The backup goaltending slot may still be in a state of flux. At of this writing, Jeff Zatkoff and Peter Budaj will battle it out for second fiddle to Quick.
Strengths: Top-five starting goaltender
Weaknesses: Uncertainty at the backup position.
Outlook: Quick has an incredible glove and lateral speed, with the ability to log 70 games if required. Expect to see him at his best this season.
Coaching
With head coach Darryl Sutter locked up for at least two more seasons (with an option for a third year), the Kings coaching situation is extremely stable. Under Sutter, the team has made the playoffs four out of five years, winning the Cup twice. He's universally considered one of the best in the business.
Sutter's assistant coaches deserve their share of the credit for the rise of the Kings. John Stevens has been an assistant head coach since 2010, while Davis Payne and Bill Ranford are also long-time assistants.
Conclusion
For obvious reasons, it's always dicey to predict record and order of finish during the summer. Some would argue the Kings will be especially motivated after two disappointing seasons and with new blood atop the leadership caste, their fortunes should rise. Others worry that they didn't adequately replace Milan Lucic and don't have the talent — or the cap flexibility — to supplant the likes of Anaheim or San Jose.
It's likely the Kings will wind up in the middle of the Western Conference once again this season, and that's probably good enough. Even with the flame-out against San Jose in the books, nobody wants to play Los Angeles in the playoffs.
Walter McLaughlin is a Los Angeles Kings correspondent for The Hockey Writers. He is an avid sports fan, having followed the Kings since living in L.A. in the mid-1970's, as well as suffering through Seattle sports teams' general futility. He has a Bachelor's degree in Finance and has worked in community banking for over 25 years, specializing in SBA loans. He is married and has two daughters.