Mark Scheifele was the first player ever selected by the current version of the Winnipeg Jets. He is also the first player in this version of the Jets to sign a contract for the maximum length possible, eight years for $49 million.
Chevy locks up Mark Scheifele for $6.125 over 8 yrs ($49 M), keeps salary #nhljets structure in order. Great deal for player and club #tsn

— gary lawless (@garylawless) July 8, 2016

Only a select few players are signed for eight years, and all of them are stars of their team (including PK Subban, Vladimir Tarasenko, Jamie Benn and Steven Stamkos). It's obvious that Kevin Cheveldayoff and the Winnipeg Jets believe that Scheifele will be their man for the foreseeable future.
While Scheifele has proved that he will be a good hockey player for the entire eight years of that contract, does he really belong on the Winnipeg Jets first line?
A Look at the Stats
Scheifele has been in the league for three years. While injuries have caused him to miss a few games over the years, the upward progression is clear. And it's not just his points that are up, but his plus/minus has increased every year.

Compared to other center's around the league, Scheifele finished 17th in points, and could have been closer to the top ten had he not been injured. While the point increase is important to note, even better could be the massive increase in goal scoring, as he was able to find his shot this year, like this early season goal against the New Jersey Devils.
Quick Comparison
It truly wouldn't be the NHL if we didn't compare Scheifele to another NHL center. In this instance, we are going to look at Winnipeg's own Jonathan Toews, a player that has developed into one of the best centers in the National Hockey League. Both players were picked in the first round, with Toews going third in the 2006 draft, and Scheifele going seventh in the 2011 draft.

Toews has already established himself as one of the best two-way forwards in the game, and Scheifele is trending in that direction. Toews has more points in his first few seasons but was also playing with Patrick Kane and Patrick Sharp as regular linemates. But if we look at the Corsi%, where in close games, Scheifele had 54.12% and Toews was at 48.88%, we will see that, despite Toews being on the better team, was worse at possessing the puck than Winnipeg Jet's Mark Scheifele.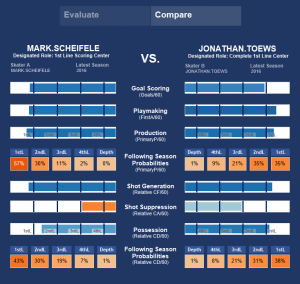 Besides the stats and Coris%, we can also look at a side-by-side comparison of the two centers. What this reveals is that, other than one category, Mark Scheifele was on par with a bonafide NHL first line center in Jonathan Toews.
While fancy stats are becoming quite important in today's NHL, the eye test still holds a lot of weight. The good news for Scheifele is that he passed both. This past season, he seemed much stronger on the puck, better on the backcheck, and his shot also improved by leaps and bounds.
Final Thoughts
At 23 years old, the sky is the limit. But when you are sitting in the top thirty in Corsi%, points, and plus/minus, you are definitely heading in the right direction. Add to that the growing pool of talented wingers on the Winnipeg Jets , with guys like Nicholas Ehlers and Patrik Laine, Scheifele's stats will continue to climb. It's hard to predict his ceiling, but we could be looking at a 30-goal, 80-point player.
Nobody expects Scheifele to become the next Sidney Crosby. But the Winnipeg Jets expect him to anchor the first line for years to come, and it looks like Cheveldayoff has made the right choice.
Now the next big decision comes – is Mark Scheifele the Jets next captain?
Judson Rempel was born and raised in the Great White North, skating on ponds and watching hockey every Saturday night in small town Manitoba. When he's not watching hockey, he's playing hockey with his son and daughter, and trying to convince his wife to let him watch more hockey.