SAN JOSE, Calif. — Ilya Kovalchuk scored in overtime in his return from an ankle injury to lift the Los Angeles Kings over the San Jose Sharks 3-2 on Saturday.
Kovalchuk also scored in the first period, and Alex Iafallo had a goal and an assist. Kovalchuk had missed 10 games after having an ankle bursectomy. Jonathan Quick made 29 saves.
Joe Pavelski scored a tying goal with 30 seconds left in the third period. Martin Jones stopped 28 shots for San Jose, and Lukas Radil also scored.
Kovalchuk scored on a power play at 4:28 of the first period, and Iafallo's scored at 5:15 of the third period and gave the Kings a 2-0 lead.
Kovalchuk hadn't recorded a point in his previous 11 games before the procedure in his first year since signing with Los Angeles as a free agent in the off-season. The 35-year-old is back in the NHL after playing five years in his native Russia.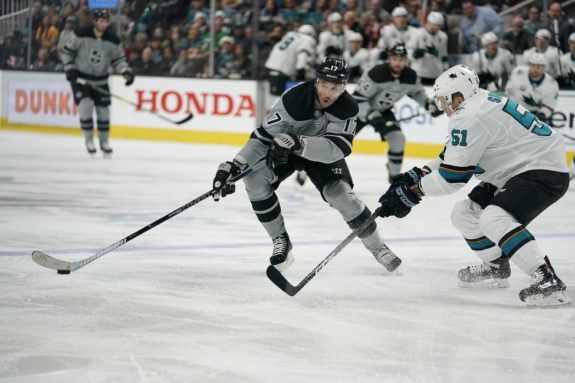 San Jose lost its second straight after winning a season-high five consecutive games.
Erik Karlsson extended his assist streak to eight games with two helpers for San Jose.
A Kings goal midway through the second period was overturned on a coach's challenge. Kings forward Dustin Brown was called for interference on what would have been Oscar Fantenberg's first goal of the season in 24 games.
NOTES: Kings F Austin Wagner left the game early in the second period after getting taken down by Karlsson on a hard hit near centre ice. After getting back on his feet, Wagner's legs came out from under him. No penalty was called. … Kings D Dion Phaneuf was placed on the injured reserve with an upper-body injury. He had missed the last three games. The Kings snapped a six-game road losing streak. Their last win away from Staples Center since Nov. 27 at Vancouver. … Iafallo extended his point streak to six games. He has eight points (three goals and five assists) over that stretch. … The Kings are 10-1-2 when leading after two periods.
UP NEXT
Kings: Play at Vegas on Sunday.
Sharks: Host Arizona on Sunday.
___
More AP NHL: https://apnews.com/NHL and https://twitter.com/AP_Sports
Gideon Rubin, The Associated Press