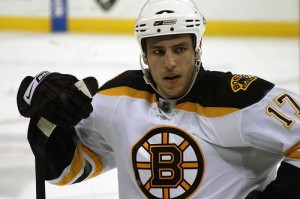 There has been a lot of discussion regarding Milan Lucic's open-ice check of Ryan Miller during Saturday night's Buffalo-Boston game, won by the Bruins, 6-2. In my opinion, anyone who defends Lucic's hit is dead wrong, as it was yet another in a long line of bad decisions/cheap shots in Lucic's recent career.
Saturday's hit was not only uncalled for, it was downright dirty. Lucic had plenty of time to avoid the hit, which is shown below, and broke both an unwritten code of the game and a long-standing rule that players do not purposefully target a goaltender who is out of his crease. Despite what hard-headed fans say, a goalie is not fair game outside of the crease and have not been for many, many years.
According to the NHL rule book: "61.2 Penalty – In all cases in which an attacking player initiates intentional or deliberate contact with a goalkeeper, whether or not the goalkeeper is inside or outside the goal crease, and whether or not a goal is scored, the attacking player will receive a penalty (minor or major, as the Referee deems appropriate). In all cases where the infraction being imposed is to the attacking player for hindering the goalkeeper's ability to move freely in his goal crease, the penalty to be assessed is for goalkeeper interference.
In exercising his judgment, the Referee should give more significant consideration to the degree and nature of the contact with the goalkeeper than to the exact location of the goalkeeper at the time of the contact."
Milan Lucic drills Ryan Miller
Lucic clearly knew Miller was out of his crease. He claims he had his "head down" but a look at the replay shows he was looking at the puck and must have seen Miller playing it. Instead of avoiding contact, which even the slow-footed Lucic could have done, the 6-foot-4, 220-pound tough guy decided it would be better to barrel over the 175-pound Miller, who had absolutely every reason to feel like he would not be hit seeing as NHL players have generally respected the code as well as the rulebook when it comes to goalies.
Not Lucic. He has made bad decision after bad decision through his career, sucker punching Victor Hedman at the end of Game 1 of the Eastern Conference finals and delivered a sucker punch to Atlanta's Freddy Meyer two days before Christmas in 2010. In addition, he had a "Do you know who I am?" moment with the Boston police after an incident with his girlfriend just before the season started.
Lucic wants to be known as a tough guy, but is he really tough? He has consistently ducked fights with the game's biggest tough guys, instead bullying smaller guys he knows he can handle. The only real tough guys he has fought — Colton Orr, Jared Boll, and Eric Boulton — have destroyed him. In the Orr fight, Orr gives Lucic a beating before Lucic releases and hides behind the linesman.
It's time the league cracks down on Lucic. Send him to the press box for a game or two – not just for this hit, but as a culmination of cheap shots and bad decisions over the past few months. Or make him fight one of the league's true tough guys instead of fighting the Mike Komisareks, Nick Boytnons and Brendan Witts of the world.