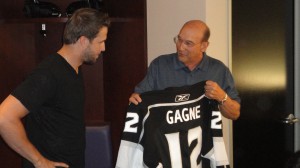 Mention the name Ilya Kovalchuk within earshot of a Los Angeles Kings fan and get ready to run for cover.  More likely (since it's L.A., after all), an icy stare over a Gibson Martini.
Last year's melodramatic on-again, off-again courtship of the supremely talented, yet enigmatic forward left a bitter taste in the mouths of Kings fans.  Viewed as the perfect answer to a longstanding problem position (left wing) in Los Angeles, Kovalchuk ultimately spurned the team's best offer and signed with the New Jersey Devils.  The drawn-out process cost the Kings a shot at a viable alternative in free agency, leaving them undermanned throughout the year until the late-season acquisition of Dustin Penner — whom many would say left them even more undermanned, given his meager 2G, 4A output in 19 games and tepid start to the 2011-12 campaign.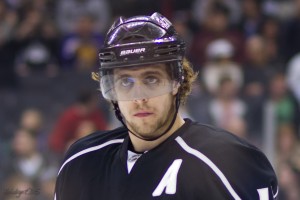 With the offseason salary dump of Ryan Smyth, the arduous re-signing process of Drew Doughty, and the Kovalchuk-esque failed attempt to land Brad Richards, the last thing the Kings needed was another utter swing and miss at the left wing slot during the 2011-12 campaign.  They already had one of the league's best young play-making centers in Anze Kopitar, the 300 hit/57 point power forward Dustin Brown, a wily Cup-winning veteran right winger in Justin Williams, and had just completed a monster trade for one of the league's elite 2nd line centermen in Mike Richards.  The center and right sides of the top-six were complete.  The only thing missing was sniper fire from the left.
Enter Simon Gagne.
Gagne had spent the previous season in Tampa Bay, playing with the likes of Vinny Lecavalier, Martin St. Louis, Steve Downie, Ryan Malone, Teddy Purcell, and — oh yeah — some guy named Stamkos.  The sheer array of offensive firepower helped lift the Lightning to the upper echelon of the NHL's Eastern conference, where they made it all the way to the conference finals before losing to the eventual-champion Boston Bruins.
Despite the collective success, Gagne was unable to approach the individual statistics he had achieved during his first nine seasons with the Philadelphia Flyers.  Despite missing 132 games over that span, he nevertheless notched 20 more more goals seven times, including back-to-back 40+ goal seasons in 2005-06 and 2006-07.  Plagued by a recurring history of concussions, groin and other injuries, the concern was that the 31-year old Gagne was finally feeling the ravages of time.  Even during his final season in Philadelphia he seemed a step behind his normal self, scoring just 17 goals in 58 games.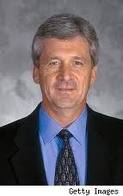 The injury history and depletion of his production likely limited the amount of suitors Gagne had when free agency arrived in the summer of 2011.  Nevertheless, the natural fit with a young Kings team that badly needed his scoring ability was certainly an attraction, and with that, Gagne and the team ultimately agreed to a two-year, $7 million deal.  Regarding his chances for success in a system devised by a coach he was extremely familiar with from his time in Philadelphia, Gagne said, "Coming back to the system that I'm used to playing, Murph [Terry Murray] was the coach for defensemen when he was in Philly, and his system is a little different than Guy Boucher.  So going back to that system that I think I had a lot more success, maybe offensively, that might be something I'm looking forward to, to getting back to that.  I know I had success with that, personally.  So I'm really excited about that."
Excited, too, are the Kings with the early-season results put up by their shiny new left winger.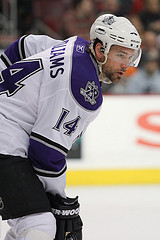 Although initially slated to play on the team's second line with Mike Richards and Dustin Brown, Gagne found his way onto the top line with Kopitar and Williams and hasn't relinquished the slot since.  Kopitar is off to one of the best starts of his career with eight goals and 13 assists, with Justin Williams tallying three goals and 11 assists to date.  After last night's goal and assist in the Kings' 5-2 drubbing of the Minnesota Wild, Gagne now has six goals and five assists, which projects to yet another potential 30 goal campaign if he can remain healthy.
The operative word in that last sentence is if, as Gagne has only managed to miss fewer than ten games in just five of his previous seasons.  However, his last concussion was over three years ago and his last groin injury was in 2009; those appear to be the only recurring significant injury types in a potpourri of otherwise-nagging one-off ailments.  Furthermore, rule changes along with the league's crackdown on head shots may extend his chances to make it through the season relatively unscathed.
All in all, the doctor has pronounced Gagne healthy this year, and with that, the Kings' chances to ascend in the West are as healthy as ever before.  Meanwhile, L.A. fans can't help snickering over Ilya Kovalchuk's misfortunes since joining New Jersey.  Pour us another Gibson Martini, barkeep.