Mack Shields THW Close-Up
Date of Birth: February 13, 1995
Place of Birth: Saskatoon, SK
Ht: 6'3" Wt: 190 lbs
Catches: Left
Position: Goaltender
NHL Draft Eligibility: 2013
One of the challenges in projecting goaltenders is seeing how they have adjusted to increases in competition level in the past and guessing how they'll do so in the future. As such, there's a debate within scouting communities regarding how many games you need to see a goaltender in a new level of hockey before you can conclude how "good" he is.
Mack Shields is ranked 25th among North American goaltenders by NHL's Central Scouting. He only played 21 games during his rookie season in the WHL, although he played on a good team and played behind established WHL starter Chris Driedger, who's also an NHL draftee. In limited duty, he went 10-7-1 with 2 shutouts, a 3.10 goals against average and an .890 save percentage. By his numbers alone, he should probably be four or five spots higher in the Central Scouting rankings.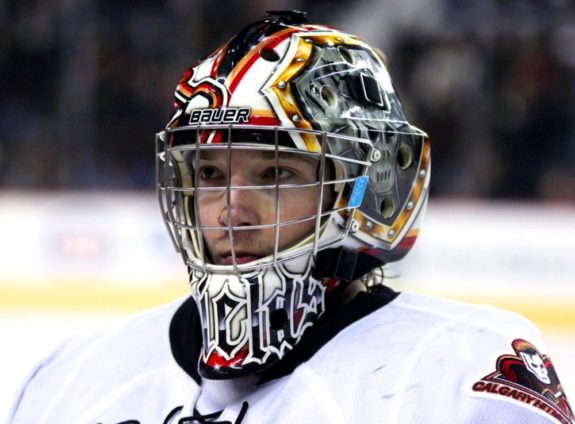 Aside from his numbers, the big question is this: do NHL teams feel that they know more about his game based on limited WHL experience than other players who may be in arguably lower levels of hockey like the USHL or the NAHL?
When he played, Shields showed promise. He's an aggressive goalie with good positioning and he's adept at using his big frame efficiently. He struggles a bit with consistency at times – both in-game and between games – but that may be a product of playing on a good team that often blew out the opposition (and left their goalie standing around for awhile) and a product of playing so infrequently.
As of today, Mack Shields is a capable back-up goaltender on a good WHL team. He'll probably get more starts this coming season as the Hitmen begin to prepare for Chris Driedger's eventual departure. NHL teams will probably have a better handle on Shields after next season, but that may not stop one of them from taking a gamble and snapping up his rights in this year's draft. His numbers are good but not incredible, but he's shown a great deal of promise when he has played. That promise may trigger a team to roll the dice, so to speak.
Scout's Honour:
"Shields is very raw but has a big frame with quick pads and is great at cutting down the angles. Has been very solid in limited game action and would be pushing for more ice time if Driedger hadn't been so strong all season." – Kyle Woodlief, Red Line Report
Statistics:
Bio/Interview(s)/Link(s):
International Tournaments:
Shields represented Team Western Canada at the 2012 World Under-17 Challenge. He didn't have a great tournament, posting a goals-against average of 5.50 and an .845 save percentage.
ETA:
3-4 years
Risk-Reward Analysis:
Risk 1/5, Reward 3/5
NHL Potential:
Back-up NHL goaltender.
Strengths:
Good positioning
Good aggression
Great glove hand
He's physically large and uses his size well
Flaws/Aspects He Needs To Work On:
Needs to get more playing time to continue to adapt to speed of WHL
Needs to improve his consistency
Relies a bit more on his size to make saves than on technique
Fantasy Hockey Potential:
Goaltender 7/10
NHL Player(s) Comparison:
The career trajectory of late-round Minnesota Wild draft pick Matt Kuemper may be something for Shields to aspire towards. In terms of more established netminders, he could end up being someone along the lines of Ben Bishop – a goaltender who bounces between the AHL and NHL.
When He'll Go In June:
Based on where he's ranked and how much he's played, if Shields get chosen this season, he'll likely be taken in the seventh round.
Ryan Pike has covered the Calgary Flames and the NHL Draft extensively since 2010 as a Senior Writer for The Hockey Writers and Senior Contributing Editor of FlamesNation.ca. A member of the Professional Hockey Writers Association, he lives in Calgary.