Two years ago in a galaxy far, far away. During a long period of goaltending woes, Ed Snider, demanding the best available goalie, won the victory of free agency to land Russian stopper Ilya Bryzgalov.
The Ilya Bryzgalov saga, unlike that of Star Wars, has been drawn out way too long. At this point, despite being just two years removed from signing with the Philadelphia Flyers, Bryzgalov has overstayed his welcome.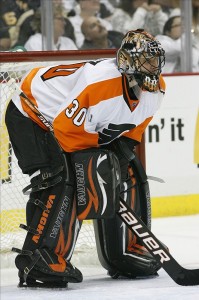 The majority of fans feel this way. Even some experts are in agreement. Heck, it even appears Bryzgalov wants out.
What does ownership think, though?
The answer to that question has been answered rather vaguely. Actually, ownership has been nothing but a contradiction when discussing Bryzgalov. Why is that?
Well, unfortunately, no one in the front office wants to take blame for the Bryz-aster because the repercussions could be costly. Who knows what the backlash could be from frustrated Flyers fans.
Looking back on the signing, it's a really cloudy situation as to who played the biggest part in bringing in the former Phoenix Coyote. Originally, Ed Snider appeared to be the ring leader behind the move. In a story published by Frank Seravelli in The Daily News, Snider goes on the record as to saying, "I was part of making it happen." The article also notes that Snider personally sent his private jet to pick up Bryzgalov before meeting with the free agent. In that meeting, Snider apparently felt the Russian "was intelligent, fun to be around."
Yet, recently Snider has backtracked and is apparently trying to cover his tracks. In an interview published in The Courier Post, Snider made a very interesting remark as he seeks to keep his spotless image intact.
"First of all, I didn't pick Bryz. That's not my job," he told Randy Miller.
Hmm.
So he either was the catalyst in bringing Brzygalov to Philly. Or he wasn't. That seems like a, for lack of a better term, "humongous big" lie.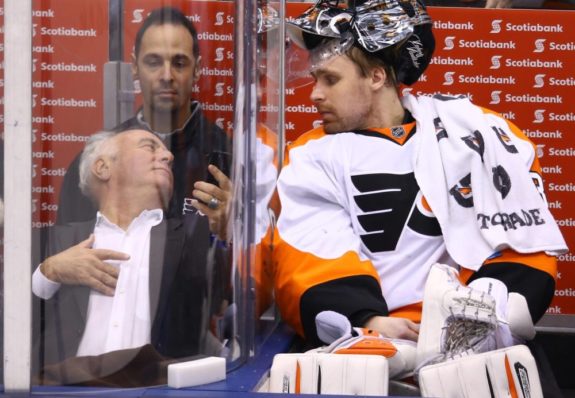 Read it however you want, but it seems what happened is that Snider was, indeed, the driver behind the wheel in the negotiations two years ago. He was so jubilated in finally bringing a prized goaltender to Philadelphia so he wanted everyone to know it was him, not Paul Holmgren, who made the call on Bryzgalov. When you bring in one of the best goalies in the West and the biggest free agent that offseason, nothing can go wrong (or so they thought). So why wouldn't Snider want to put himself out there as the engineer behind it all?
Things went downhill in a flash. From his 24/7 comedic relief to his underachieving play all the way to his postgame comments, Bryzgalov became the scapegoat for their struggles.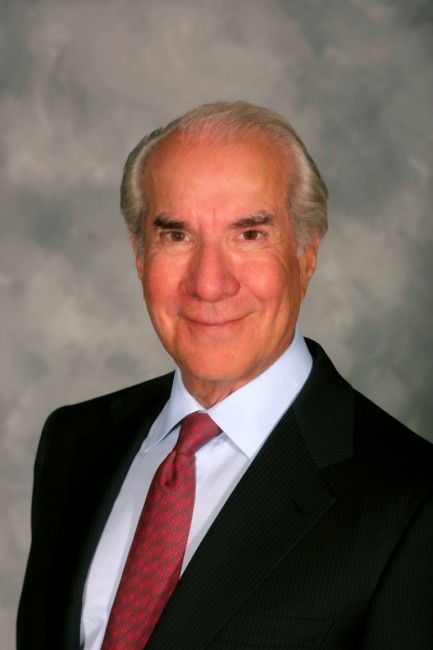 When all of that came to fruition, Snider had no choice but to play it cool and tell the reporters he had nothing to do with bringing in Bryz. He chose to redirect the fire back at everyone else, thinking fans would have forgotten his remarks from two years ago.
Yet, his words have come back to bite him.
At the time, not many fans questioned Snider for reeling in Bryzgalov. He was the best option and the Flyers went out and threw the biggest dollar figure his way. In hindsight, it wasn't a smart signing.
But that's not the problem with this situation. It's how management, specifically Snider, doesn't own up to his miscue.
Snider has skated through his tenure in Philadelphia fairly unscathed, becoming a hero to many Flyers fans in the process. That shouldn't hide the fact that he – and his staff – botched their scouting of the Russian netminder and didn't do their homework on the free agent.
The least he could do is take responsibility for his actions.