One of the great strengths for the Boston Bruins during their 2011 Stanley Cup run – and in the time since – has been their ability to consistently and effectively roll out four lines on any given night.
This strength was on display once again in Game 3 vs the New York Rangers on Tuesday night, as both goals in the Bruins 2-1 victory came with their so-called 4th (or Merlot) line on the ice.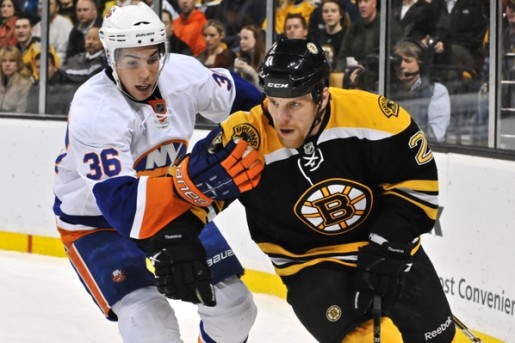 Down 1-0 going into the 3rd, Boston struck early in the final period on the strength of an aggressive forecheck by Gregory Campbell, Shawn Thornton and Daniel Paille, which led to a Johnny Boychuk wrist shot that managed to find its way behind Henrik Lundqvist.
The Bruins then took the lead late in the 3rd on an opportunity manufactured off a Thornton faceoff win that led to a Paille goal after the puck bounced off the goal line and landed in front of a befuddled Lundqvist.
When it was all said and done, Thornton ended up with two assists and a plus-2 rating in 6:42 of ice time, Campbell logged 11:45 and chipped in with an assist and was plus-2, and Paille added an assist to his game-winning goal and was plus-2 in 11:10 of ice time.
Two goals (5 total points) from the 4th line to give the Bruins a 3-0 series lead and inspire tweets like this:
Who else has a 4th line like the #Bruins? Nobody.

— Jim Lang (@JimLangSports) May 22, 2013
What most people already know, however, is that the designations between Bruins lines can often be quite blurry. While most consider the line of David Krejci, Milan Lucic and Nathan Horton to be Boston's top line, it was the trio of Patrice Bergeron, Brad Marchand and Tyler Seguin that rose up to steal that designation while doing much of the heavy offensive lifting during the regular season.
Conversely, it was 17-46-18 that stood out in the first round vs the Toronto Maple Leafs, combining for 29 points in 7 games, while Marchand and Seguin were scoreless in that series and Bergeron waited until literally the last possible moment to make a major offensive impact.
Within the group of bottom 6 forwards, the argument can easily be made that Paille, Campbell and Thornton are more effective night in and night out over the line of Jaromir Jagr, Rich Peverley and Chris Kelly. A quick look at Behind The Net shows us that the more offensively minded forwards do drive the bus in terms of shots for and TOI, but the Merlot line has the uncanny ability to coming up with these incredibly aggressive offensive zones shifts that slow down the pace of the game and, every so often, will lead to a goal or two.
It's a great luxury for the Bruins to have (as Claude Julien alludes to in the tweet below), and one that has proven to greatly impact their ability to succeed in today's NHL.
https://twitter.com/MikeGiardi/status/337035528157413377
If the Bruins are able to go on an extended run in this year's playoffs, it will be because of games like this. With Boston out shooting New York 34-24, Henrik Lundqvist was poised to steal this one for the Rangers. With the usual offensive suspects unable to find the back of the net (some with increasing irregularity), the Bruins were able to manufacture goals in opportune if not unflashy ways en route to securing a stranglehold on the series.
If the Bruins lines remain blurred on any given night, it bodes well for their potential success in these playoffs. One has to think that the likes of Tyler Seguin and Jaromir Jagr will begin producing goals at some point, that the "3rd" line might chip along the way as well, and that the top guns will continue to do what they do.
But if the 4th line can chip in like this every now and again, then the Bruins have a great shot at winning their second Stanley Cup in three years.
Game 4 of this series goes Thursday night in New York.
Follow Ian on Twitter for more hockey updates and commentary.