Linus Arnesson THW Close Up:
Date of birth: 09/21/1994
Place of birth: Stockholm, Sweden
Ht: 6'2″ Wt: 190 lbs
Shoots: Left
Position: Defense
NHL Draft Eligibility: 2013
THW Rankings: 54 (April edition)
Other Rankings:
Consensus Rankings Aggregate: 67
Button: 74
Click here for Notes Up Front for various topics covered below in the live updated NHL 2013 Entry Draft Guide – The Next Ones home page – your quintessential draft resource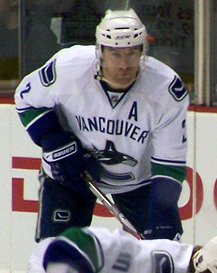 Linus Arnesson isn't a high profile prospect in terms of being selected in the first two rounds of the 2013 NHL Entry Draft. However, he is the sort of prospect that it is worth betting will be a pretty serviceable defenseman in the NHL one day.
Arnesson has pretty good size and has already started growing into a pretty big frame. He uses his body effectively and has the makings of a solid shutdown defenseman. He doesn't lay out big hits, but he is physical enough to compete effectively as a shutdown blue liner at senior hockey level in Sweden.
Besides a decent defensive game, Arnesson's greatest asset is a strong all-round skating game. He has good backward and lateral movement and can get up the ice as well. His skating offers hope for a little bit of offensive upside, or at least hope for a player that can be more involved in an effective transition game and in the offensive end of the ice.
Arnesson has upside in the range of fellow Swedes Douglas Murray and Mattias Ohlund. He is unlikely to reach the heights of Ohlund's fantastic NHL career and he won't be a big hitter in the mold of Murray. However, he compares as a player who has upside somewhere between the two both in terms of effectiveness and playing style.
The maturity and well-rounded, developed nature of Arnesson's game should make him an effective player. He could do with adding a little extra snarl to the physical element of his game and any offensive development will only be a bonus to the team that drafts him. However, there really are no obvious flaws to the prospects game.
Where he will end up in June: Arnesson should be picked up in the early part of the third round, but he definitely won't drop any lower than the mid-fourth round.
Scout's Honor:
'A solid and well-rounded defenseman with good wheels. Projected as a mid-to-late round pick.'
Brendan Ross – Dobber Prospects
'A highly mobile defensive defenseman, Arnesson has a smoothness and maturity to his game that could lead to him rising up the charts. He hasn't produced much by way of offense, but he seems to have some good puck-moving skills. He isn't always noticeable, but he plays a very effective brand of defense.'
Chris Peter – CBS sports
'Big skilled Swede defender already playing in the Super-elite league. Tremedous upside based on toughness skill, smarts and feet. Maintains gaps as his four way skating abilty let's him close down quickly. Sees the ice well,plays mistake-free,and is an excellent touch passer. Solid two way defender who thinks defense first and despite limited offensive upside and little snarl to his defensive game is an excellent prospect.'
Bill Placzek – Draft Site
'He is a big, mobile D-man that just shuts down the opposition. He is not overly gifted in the offensive zone, yet plays smart with the puck, makes good breakout passes, and tough to beat on the defensive side.'
Russ Bitely – Examiner.com
Statistics:
International Tournaments:
-Arnesson has represented Sweden at junior level several times over the past two seasons. In 2012 he competed in both the U-18 World championship and the U-19 WJAC.
-This year he played six games in the World Junior championships picking up six PIMs.
ETA = 3-4 years
Risk-Reward Analysis: Risk = 2/5 Reward 4/5
NHL Potential: Top four defenseman
Strengths:
Defensive smarts
Size/strength
First pass breakout
Defensive positioning
Active stick in defensive end
Shutdown ability
Conditioning
All-round skating
Flaws/aspects he needs to work on:
Physicality/'snarl'
Offensive play
Fantasy Hockey Potential: Offensive = 4/10 Defensive = 8/10
NHL Player Comparison:
Douglas Murray
Mattias Ohlund
Follow Sebastian Egerton-Read on twitter @SebEread
THW's The Next Ones prospect profile template design architect: Chris Ralph
Seb has been writing about the NHL and ice hockey online for over a decade. A long-time passionate Bruins fan, it's a dream of his to be writing about this team, but don't expect him to hold back from telling some hard truths when necessary. Follow him on twitter @seberead