The Hershey Bears once hopeful playoff run came to a crashing halt in their first round series against the Providence Bruins. Washington's AHL affiliate grabbed a 2-0 lead on the road in the best of five series, but lost the final three games to Providence ending their season far earlier than they wanted to.
However, there were numerous positives to Hershey's season. Bears' fans saw the emergence of second year grinding forward Garrett Mitchell and the arrival of the physical Michael Latta, the center who came to Washington in the Martin Erat trade in exchange for Capitals 2012 first round pick Filip Forsberg.
| Prospect | PPG | Goals | Assists | Shot % | PIM/G | Role |
| --- | --- | --- | --- | --- | --- | --- |
| Michael Latta | 0.5 | 10 | 28 | 0.27 | 2.61 | 3rd Line Center |
| Garrett Mitchell | 0.4 | 15 | 15 | 0.14 | 1.25 | 3rd Line Winger/PK Specialist |
| Nicolas Deschamps | 0.35 | 10 | 13 | 0.098 | 0.42 | 3rd Line Winger |
| Tomas Kundratek | 0.63 | 16 | 15 | 0.18 | 0.53 | 2nd Pair Defenseman, PP Specialist |
| Chay Genoway | 0.38 | 5 | 20 | 0.057 | 0.75 | Puck Moving Defenseman |
| Dmitry Orlov | 0.55 | 3 | 14 | 0.06 | 0.65 | Two Way Defenseman |
| Cameron Schilling | 0.23 | 7 | 9 | 0.08 | 0.87 | Shutdown Defenseman, PK Specialist |
| Nate Schmidt | 0.5 | 1 | 3 | 0.06 | 0.25 | Two Way Defenseman, Puck Mover |
Hershey also reaped the benefits of defensive prospects including Dmitry Orlov, Tomas Kundratek, Chay Genoway and college free agent signee Nate Schmidt. Orlov and Kundratek both have NHL experience and should receive invites to Capitals training camp come next season. Schmidt has solid puck moving skills and was one of the top college free agents available this spring. He attended the University of Minnesota and totaled 32 points in 40 games in his final season with the Gophers.
Bears' fans also saw the emergence of starting goalie Philipp Grubauer, who began the season in the ECHL, playing for the Reading Royals during the NHL lockout. Once the lockout was lifted and Braden Holtby was back playing in Washington, Grubauer took the starting job in stride, playing alongside veteran net minder Dany Sabourin. He posted a 15-9-2 record in 28 regular season games, including a 2.25 goals against average along with a .191 save percentage and two shutouts.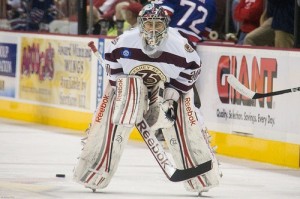 Grubauer is all but a lock to be the starting goalie in Hershey next season with Michal Neuvirth signed for two more seasons in Washington. Dany Sabourin is set to become an unrestricted free agent this summer, but could return on an AHL deal to backup Grubauer.
"Michael's a very physical player," former Hershey Bears head coach Mark French said during the playoffs. "When Washington made the deal for Martin Erat he was a big part of the deal and you can see why. He's a player that when you get into the playoffs certainly you understand his value."
Latta totaled 38 points during the AHL season, and played a third line role with Capitals forward prospect Garrett Mitchell. He brought high energy to a veteran Hershey Bears' roster and could slide into the second center position next season in his first full year with Washington's AHL affiliate.
Washington's top prospect in Hershey is unquestionably goaltender Philipp Grubauer, but he is at least one year away from the NHL. Mitchell and Latta should etch out bottom six roles in the NHL for sure.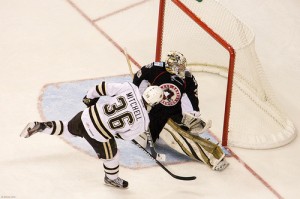 "He's obviously demonstrating more offensive confidence this year, which is probably reasonable to assume with his development," said French during the regular season. "He's going to play in the NHL; I've got no doubt about it. If he continues to blossom, a pretty important player for the organization."
Hershey could also see Capitals forward prospect Stanislav Gailev full time next season. Gailev played the majority of the season for the Reading Royals, the ECHL affiliate of the Washington Capitals.
Washington should look to build through the draft and add some top six forward skill, especially at the center position. Their minor league system includes depth on the blue line, but only third line skill in the forwards groups with the exception of a few.
Stay tuned for more Capitals prospect updates on The Hockey Writers in the coming days.
You can follow Matthew on twitter @m_speck.
Matthew Speck covers the Washington Capitals organization for The Hockey Writers. He provides coverage of both Washington at the NHL level and prospect related content. Matthew also covers local sports for the Lebanon Daily News in Central Pennsylvania. You can email him at mspeck21@yahoo.com with any questions or comments.