Well, Ray Shero certainly didn't waste any time getting a jump on what could be a difficult summer for the Pittsburgh GM.  After extending Dan Bylsma's contract earlier this week, it was announced on Thursday that Shero had agreed to terms with superstar Evgeni Malkin on an eight year, $76 million contract extension.  Less than a week after the Penguins' season came to a shocking end, Ray answered the question about who will be behind the Pittsburgh bench next season and insured that Malkin will share the ice with Sidney Crosby for nearly another decade.  And, with as exciting as that is for Pens' fans, it very well may signal the end of Kris Letang's time with the club.  At least, it should.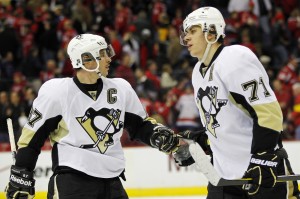 Letang has one year left on his current contract but, like Malkin, became eligible for an extension following the 2013 season.  It is believed that Kris hopes to, at minimum, double his $3.5 million dollar salary and desires a long-term deal, at least five years in term.  While Shero has publicly stated that he'd love to keep "Tanger" beyond the coming season, it's something that simply doesn't make sense in this salary cap era.  Because, despite what Milan Lucic will tell you, the Pittsburgh Penguins are not the Miami Heat and this isn't the NBA – you can't build a squad that will contend year in and year out around a "Big Three".  But signing Letang to an extension would essentially provide the Penguins with just that.  Think about it: if Crosby's $8.7 million and Malkin's $9.5 million cap hits are combined, the total will constitute 28.3% of the $64.3 million salary cap for the coming season.  Now, Malkin's hit won't go into effect until the following year when the cap will almost assuredly rise but the extra funds won't be enough to keep Letang's potential $7 million salary from combining with Crosby and Malkin's to comprise roughly a third of the Penguins' cap space.
Clearly, that doesn't leave a lot of wiggle room to build the balance of a hockey club.  So, what option does Shero have but to trade his Norris Trophy nominated defenseman?  Because you can rest assured that the savvy Pittsburgh GM won't let Letang walk without getting something in return.  Just ask Jordan Staal.
Trade Deadline Deal
If Shero truly believes he has a shot at retaining Letang, he could hold onto him for the time being given that Kris, as mentioned above, has one more year on his deal.  If an extension isn't imminent as the season begins to wind down, Shero could always move the smooth skating blue liner at the trade deadline.  That would both buy Shero some time in hopes of selling Letang on staying and, worst case scenario, prevent Kris from walking without Pittsburgh getting something in return.  But there are a couple of problems with that plan.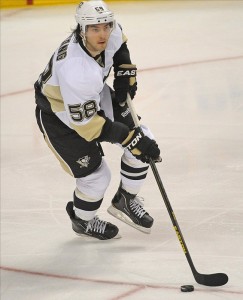 First, imagine you are Dan Bylsma.  All season, you've had a thoroughbred eating up nearly 30 minutes a game on your blue line, logging more time on the ice than anyone else on the club.  He plays against the opponents top players, kills penalties and logs power play time on the first unit.  Now, as the squad prepares for the home stretch, he's gone.  Traded.  How do you replace that?  Hope the deal brings a suitable replacement?  Fill the role by committee and start using one of the many defensive prospects that has waited patiently but still lacks experience?  Clearly, it's not an ideal spot for a coach to be in as such a significant move would leave the club with little time to adjust to such a major change to the lineup.
What's more, in putting the deal off, Shero runs the risk of lessening his return on Letang.  While there are very few clubs that would sneeze at acquiring Kris, some may view a deadline deal for him as a rental in order to make a run at the Cup or, at the very least, worry about their chances of preventing the star from testing free agency.  That being the case, clubs might be willing to give up less to obtain him.  While it may turn out to ultimately be an non-issue, it's certainly a possibility.  Simply put, the longer Shero waits, the greater chance he has of painting himself into a corner.
NHL Draft Day Deal
Despite the sting that dealing a Norris Trophy finalist this summer would cause the organization, it's probably the best thing for the club's long-term future.  While no one player will replace Letang or the minutes he eats up, Paul Martin will ease the pain after taking great strides toward becoming the player Shero envisioned when he brought him to Pittsburgh.  Furthermore, the Penguins have a plethora of young talent along the blue line, some of which may contribute at the highest level next year.  And the club looks to be ready to give at least a few of those kids a shot, as illustrated by Bylsma's surprise endorsement of Simon Depres as a top-four defenseman for next season.  Add in the fact that Robert Bortuzzo will be given a chance to crack the top-six while Brian Dumoulin appears close to a promotion and one may conclude that the Penguins may just be capable of getting by without Letang.  But, to be successful, those prospects need a shot; they need to adjust to the rigors of a full NHL campaign, not to be thrown to the wolves in the latter parts of the season should Letang be moved at, say the trade deadline.  If they can grow and mature in Pittsburgh for an entire season, the have a much better opportunity to be successful.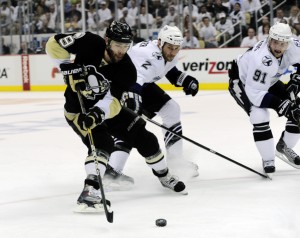 Perhaps more importantly, dealing Letang may provide an opportunity for Shero to retain arguably his most versatile player.  Pascal Dupuis is a tenacious winger, an incredible penalty killer, has evolved into a consistent 20 goal scorer…and is line for a huge raise.  The free agent, coming off a deal that paid him $1.5 million, could reportedly command $5 million on the open market, a number that Shero may have difficulty matching.  But with Dupuis indicating how much he and his family would like to remain in the Penguins' family and Pittsburgh community, he may be willing to give the Pens a hometown discount.  So, depending on the return on a potential Letang deal, shedding his $3.5 million salary could provide that little bit extra Shero needs to keep Dupuis on Sidney Crosby's wing.
The greatest reason to move Letang sooner rather than later, though, comes from what the Penguins have to look forward to at the 2013 draft: not much.  That's because Pittsburgh doesn't own a selection in the first two rounds of what is considered to be a very special class:
"When I look at these players, I see elite No. 1 centers, top-end scoring wingers and solid No. 2 centers.  That doesn't end in the first round. It goes right through the second."- TSN scout, Craig Button
That has to be very enticing for Shero given that the Pens are as thin in the pipeline at the forward position as they are deep along the blue line.  Indeed, outside of Beau Bennett, the Penguins don't have any new blood on the verge of making an impact as a forward at the NHL level.  Combine that with the fact that the Penguins only have six players under contract after the coming season and it's easy to see why Shero may be eager to restock the cupboard.  And any return on a deal involving Letang would provide Ray with that very opportunity.
Yes, in the short-term, moving Kris Letang will be painful for the Penguins and the club's fan base.  He is a world-class talent and will likely bring home a Norris Trophy as the league's best defenseman at some point, if not this year.  But, at the same time, the Penguins blue line is likely the deepest aspect of their club; they have more pressing needs than retaining Kris.  Rather than financially handcuffing the club by extending the contract of the last of "The Big Three", Shero needs to move "Tanger"  at the draft in order to set the club up for the immediate and long-term future.  Maybe, then, Ray can finally relax and take a vacation.
Sean Griffin is a lead writer for the Pittsburgh Penguins at The Hockey Writers. He can be contacted at psgrif27@gmail.com.