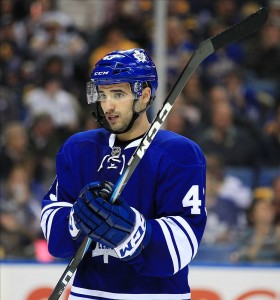 The Toronto Maple Leafs will need to make a decision or 22 on re-signing players this summer.
In part one of this two-part series we looked at seven of the most noticeable members of the Blue and White currently playing out the final year of their contract. Now we it's time to look at the other seven and whether general manager Dave Nonis should keep them in Toronto for next season or let them walk for a different NHL city.
Nazem Kadri*- Stay
Heading into 2013 training camp, no one expected Kadri to lead the Leafs in scoring at any point during this shortened season. He has proved all of his critics wrong, however, and is now tied for the team lead in points (40) and holds the team lead in goals (17) as well as plus/minus (plus-17). Although his contract will be tough to negotiate, Nonis would be silly to let go of Kadri.
Ryan O'Byrne – Go
The Maple Leafs' abundance of defenceman has been well-documented this season, making their decision to bring in O'Byrne, a middle of the pack stay-at-home blue liner, a questionable one. Making the situation even more confusing is that the O'Byrne acquisition will likely continue to push Jake Gardiner out of a playing spot. A sometimes unnoticeable defenceman, it wouldn't be the biggest blow to the team if the Maple Leafs let O'Byrne walk.
Leo Komarov* – Stay
Komarov may not be the most offensively talented player on the ice but that doesn't mean the Leafs should let him go. With hard hits and his agitating abilities being shown night in and night out, Komarov would be dearly missed in Toronto should the Leafs allow him to walk. As it just so happens, with only 14 penalty minutes this season, Komarov also happens to be one of the team's most discipline players. A physical presence that counts while hardly sitting in the box is a rarity in a player and it's something that must be held on to.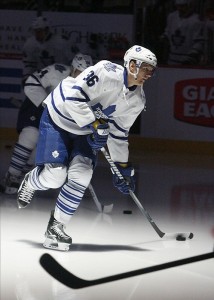 Carl Gunnarsson* – Stay
Gunnarsson's play has declined this season but it hasn't reached the point where he should be sitting out games. He remains a defender the Leafs can count on in most situations, one that would be noticeably missed if he was no longer with the team. Assuming his cap hit remains relatively close to the $1.325 million hit he currently comes with, sign him.
Mike Kostka – Go
Kostka was an early-season surprise after impressing with the Marlies and making the Leafs' roster out of camp. He played relatively well at the beginning of the season but his play has since spun off and he now finds himself as an occasional healthy scratch. Despite that, his impressive play early on was enough to show that he has potential, which will allow him to negotiate a contract worth more money than he should be paid. The Leafs are better off letting him do that with a different team given the plethora of defencemen they already have.
Mark Fraser* – Go
You must keep in mind that Morgan Rielly will be fighting for a roster spot next season, as will Jesse Blacker and Korbinian Holzer. Fraser will be a RFA, meaning Toronto would likely receive compensation for him if he were to sign with another team and Nonis didn't match the offer. Let him go and receive the compensation. With Fraser, Kostka and O'Byrne all departed, a spot would be open on defence for Rielly, Blacker and Holzer to fight for.
Ryan Hamilton – Stay
Hamilton has seen limited action in the NHL this season but he has seen plenty of time as captain of the Toronto Marlies. In 56 AHL games this season, the Oshawa-born forward has 30 goals and 18 assists. Since he is such an important player for the Marlies, the team leader and a nice depth guy for the Maple Leafs to have, Nonis' best option is to keep Hamilton around.
Twitter: @LukasHardonk | Email: lukas.hardonk@gmail.com | Lukas' archive