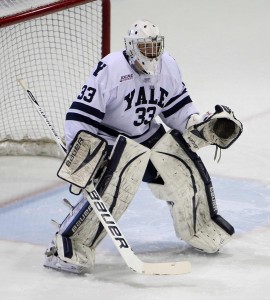 PITTSBURGH — No NCAA Championship game since 1968 has gone scoreless through two periods.  Yale and Quinnipiac came close.
They played 39 minutes and 56 seconds of entertaining, yet scoreless hockey before Yale's Clinton Bourbonais finally tipped a puck through Eric Hartzell's five hole for a lead they would never relinquish, winning the game 4-0.
Hartzell and Yale goaltender Jeff Malcolm put on a show for most of the first two periods.  Each goalie made acrobatic saves, breakaway stops, and endured their fair share of punishment as both teams crashed the goal hard all night trying to net their team a national championship.
Only a handful of teams have had any luck beating Hartzell this season.  Since November 12, Quinnipiac had allowed two or more goals just four times, but on Saturday night Yale discovered that the Hartzell's five hole was a weakness he could no longer hide.
Bourbonais' goal was the result of a screen-and-tip strategy Yale had employed the entire night.  With a center-ice faceoff and just 14 seconds left in the second period, some fans started leaving their seats to get a quick jump on the concession lines.  They didn't realize the game was about to turn in Yale's favor.
A faceoff win and a quick dump into the zone forced Hartzell out of his net to play the puck.  He passed the puck up the boards to kill the rest of the period but Yale defenseman Gus Young quickly fired the puck back on net.  Bourbonais tipped the shot and Yale took a 1-0 lead and a wave of momentum into the locker room at the second intermission.
"I think it was a huge swing," said Yale Coach Allain.  "Particularly that we didn't score on Quinnipiac the last game that we played them.  Now we're getting into two periods here where we had some chances and the puck didn't go into the net.  That's one of the of the reasons we stress if you don't have a player in front of you, put the puck on the net, because oftentimes those are the ones that surprise people and go in."
"It changed our mindset going into the third period because we had the lead.  And I think it changed their mindset going into the third because now they had to fight from behind, and that allowed us to get some of the other goals."
Yale certainly didn't let up in the third period.  Freshman Charles Orzetti scored his second goal of the season through Hartzell's five hole and captain Andrew Miller did the same on a breakaway with nine minutes left.  Pittsburgh native Jesse Root finished off the game with an empty-netter when Quinnipiac pulled their goalie in a desperation move and Yale won their first national championship in school history.
Goaltender Malcolm was certainly the shining star for Yale, finishing the game with 36 saves and a shutout on his 24th birthday.  He robbed Matthew Peca on a breakaway early in the second period and his confidence seemed to rise from there.
"The guys do a heck of a job in front of me," Malcolm said after the game. "Our D corps is amazing. Coach has been stressing defense leads to offense, and you saw that tonight."
Yale's unsung heroes on the night were defensemen Gus Young and Rob O'Gara.  On the national stage, Young showed why the Colorado Avalanche snatched him in the seventh round of the 2009 draft.  His long reach and gritty play in front of Malcolm never allowed Quinnipiac to get second chance opportunities.  He and O'Gara also played critical roles in killing a number of Bulldog penalties in the second period.
"Those five on three kills have been pretty crucial for us all year," Malcolm said. "[Dan Muse, assistant coach] usually does a heck of a job with our penalty kill. I mean, the guys just got the puck out for me and they let me see shots. It's been like that all year."
Yale's victory was their first in four tries against ECAC and state rival Quinnipiac this season.  Quinnipiac head coach Rand Pecknold said on Friday that his biggest concern heading into the championship was how hard it is to beat a team four times in a single season.  Yale made sure his worst fears came true.
"I think you can look at Yale throughout the whole tournament and say that their forechecking was a huge part of their success," Quinnipiac's Zack Currie said after the game.  "It seemed that they recommitted to it, and they were working extremely hard there getting in on us pretty good there.  You know, give credit to them.  They worked hard, and I think it was definitely a big part of their success."
The Bulldogs ability to score multiple times on Hartzell was even more surprising when considering that Yale failed to score a goal on the weekend of March 22 at the ECAC playoffs against Union and Quinnipiac.
They entered the NCAA tournament as the 16th and final seed.
Quinnipiac's coach said he still felt his team was the "best in college hockey this season."
On Saturday night in Pittsburgh, none of that mattered.
"To win a national title is an absolute team effort," said Andrew Miller, the captain. "Everyone played their hardest and competed their hardest. To bring a National Championship back to Yale is unbelievable."