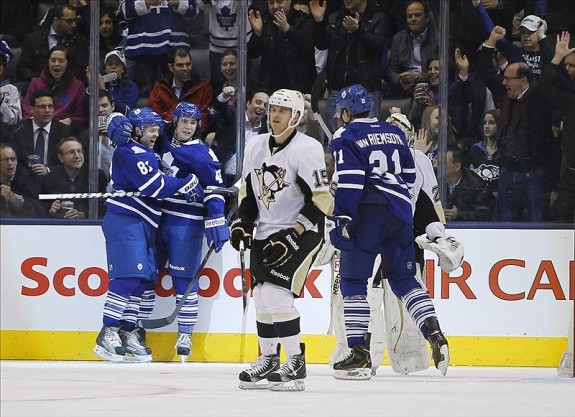 The Toronto Maple Leafs have a lot of planning to do this summer. With a combination of the post-season and expiring contracts, not only do they have a lot of planning to do, but they also have a lot of tough decisions to make.
Most teams don't like to negotiate new contracts with players until the season is over. This is especially true during the playoffs, a time of year in which the Maple Leafs will likely play hockey rather than golf in 2013. That's great news for a team that hasn't played beyond the regular season since 2004 but it's also somewhat disappointing considering GM Dave Nonis has 22 players ─ count them, 22 players ─ to re-sign between the Maple Leafs and Toronto Marlies prior to July 5 assuming he wants to bring everyone back.
Of course it would be next to impossible to re-sign 22 players, a handful of whom are key NHL contributors, nor would it make any sense given the team will need to retool before training camps open in the fall in order to go deeper into the playoffs next season.
Below are seven of the 14 most notable players on that list of 22. The other seven will run in part two of this two-part series on April 14 at The Hockey Writers. Restricted free agents are marked with an asterisk.
Clarke MacArthur – Stay
Since being a depth signing from the now defunct Atlanta Thrashers a few summers ago, MacArthur has been nothing but a solid top-six forward for the Maple Leafs. This season is no different; although his scoring is down slightly, MacArthur continues to have a large impact in Toronto both offensively and defensively. So much, in fact, that it would be a shame to let him walk.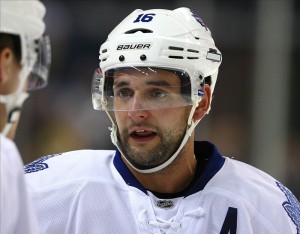 Joe Colborne* – Go
It was a day that many Leafs fans rejoiced on: the day Tomas Kaberle was traded to the Boston Bruins. Colborne was part of that trade and made his way to the Maple Leafs organization where he has struggled to stick in the NHL. Many fans will look at him as another failed prospect. If that's the case, it's time to let him go. The news isn't all bad, though; the Maple Leafs would receive compensation for Colborne given his restricted free agent status.
Tyler Bozak – Go
Nonis and company elected to keep Bozak around at the deadline, meaning it's sign or let him walk in the off-season. It would be tough to allow Bozak to walk; with 25 points, he is one of the Leafs' top offensive players. However, "top offensive player" is deceiving given that Bozak really holds the talents of a regular third line guy. Instead, given the Leafs' lack of a top line centre, he has been playing top-six minutes that will allow him to demand money that would be better spent elsewhere in free agency.
Colton Orr – Stay
Colton Orr has been doing that for years in Toronto. With 136 penalty minutes this season he certainly hasn't slowed down in the fight department. Toughness and strength are part of the Leafs' identity this season and it's helped get them quite far in the standings. With that, it only makes sense for Nonis to keep his team's top fighter around.
Frazer McLaren* – Go
McLaren was a wavier pickup from the San Jose Sharks earlier this season and has since provided a physical presence. However, even a team like the Maple Leafs ─ one that has proven to throw their weight around ─ needs only one fighter. Given the compensation if McLaren signs with another team in the off-season, it should be him to go over Orr.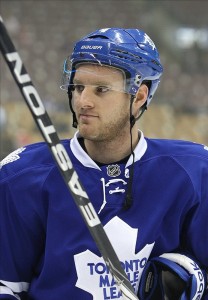 Cody Franson* – Stay
After leaving everyone curious as to whether he would even return in 2013, Franson has significantly improved his play compared to last season. He has become a regular in the lineup and has even managed 22 points and a plus-seven rating in 37 games from the back-end. Franson has the potential to become a key contributor to the Maple Leafs for years.
Jussi Rynnas* – Stay
The decision to keep or let go of Rynnas will be a tricky one for the Maple Leafs; it all depends on how serious they are about bringing in a goaltender from outside the organization to support James Reimer. If that were to happen, Ben Scrivens would be pushed down, making him and Drew MacIntyre the Marlies' one-two punch. However, the best situation for the Maple Leafs would be to keep Reimer and Scrivens ─ both of whom have played well ─ in the NHL and allow Rynnas to battle for the number one job with the Marlies.
In total, six players would be headed out of town while eight would remain, creating the opportunity for Nonis and his staff to sign new players and swing a trade or to, not to mention the potential for training camp battles that would be created among the youngsters.
No matter what happens, the off-season is sure to shape up to be an interesting one in Toronto.
Return for part two April 14 at The Hockey Writers.
Twitter: @LukasHardonk | Email: lukas.hardonk@gmail.com | Lukas' archive
Check out Maple Leafs Central, a THW Network site.