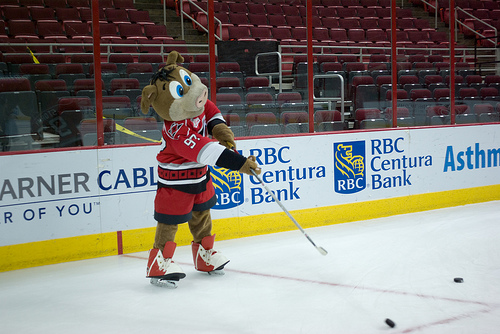 Hello everyone! Welcome to something that truly happens only once a year. The fantasy hockey world needs to be put in its place and humbled a bit. Add in a birthday and things escalate just that little bit. Since there will be no column Saturday night, it just seems right that we do this. First off, let's take on something that I saw tonight that just made people scream in New Jersey.
Henrique, he's bleeding?
No, that was not quite the case but it was close enough. The New Jersey Devils outshot Ottawa 33-11. That is not a misprint. They still lost 2-0 as Craig Anderson pitched the shutout. However, New Jersey fans are not going to remember his fantasy daring do but they are going to remember the following high stick on Adam Henrique. Let's watch this one. Shall we?
Ouch! "Awww, he can't do that, can he?" (Chico Resch). That will be one of the classic lines I hear during a hockey game for a long while. The hockey gods have cursed New Jersey and fantasy owners galore. There is futility and bad luck then the frustrations of a team that really finds new ways not to finish. Maybe it is best to stay away from Devils players and all of them for at least the next little while. Do not worry, we did not forget the feature presentation this time.
The Fantasy F-U Award:
Nashville Predators — Team Honors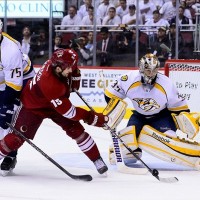 A little bit of a smile was cracked when we saw the out of town scoreboard and realized that at one point Dallas had four goals on eleven shots. However, the box score does not lie in this case. Keep in mind, this was a Nashville team that had just 15 shots against St. Louis the other night. There is feeble and futile and then there is the Predators. Fantasy owners run from Nashville aside from Pekka Rinne and even then, that has become an iffy proposition. When your leader in points has only 23 in 41 games, this is a sign that it has not gone well, it will not go well, and it will never finish well. David Legwand has 11 goals and 12 assists but only four power play points. Patric Hornqvist, probably the player with the biggest upside, has only stayed healthy for 23 contests. The situation is just heading toward a merciful and sad ending where the Predators are fantasy irrelevant almost as a group. Not even a clone or several clones of Shea Weber and Pekka Rinne could save this time. In the shortened season, there are just built wrong. That is the cold bottom line. I wouldn't even start Rinne right now unless I absolutely had to. It is that horrid in the land of country.

The Final Shot
We did not save the best for last but on this birthday of birthdays there is a growing sense that something will happen Saturday that will just amaze so many. What will it be? Nobody knows that quite yet. It is a meaty eleven game schedule. The 11 seems to be a popular number this week. There is even a game with a 11pm ET start. So there will be hockey on approaching the 2:00 hour on an early Sunday morning. Think about that for a second with two rivalries facing off on opposite coasts. Something tells me the endless opportunities for ugly fantasy hockey numbers will be abundant across the board.
As always you can follow me on Twitter @ChrisWasselTHW. Thanks again for reading and enjoy your hockey Saturday ladies and gentlemen. Finally, a special thanks for all of the birthday wishes.