To say the Toronto Maple Leafs have been hot as of late would be an understatement. In fact, the team's won their past six games and has a 10-1-1 record in their last 12 since losing 9-2 at home to the Nashville Predators.
Sure, they've had their hiccups with some rough periods during that stretch, but they've found ways to score when they need it. Even better, the team's received scoring from all four lines – especially when the Bozak-Kessel-van Reimsdyk line finds themselves in a lull. But what if I told you that this isn't the best the Maple Leafs have in the tank? What if I told you that they still haven't iced their top roster for a single game this season? It's shocking, right?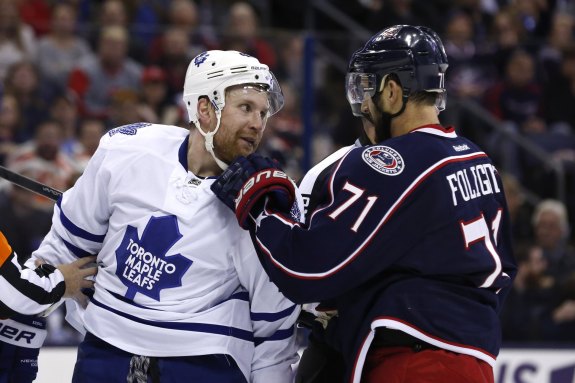 Injuries Keeping the Best in the Bag
To start the season, the Leafs found themselves without David Booth – a cheap offseason acquisition that was supposed to add depth to a team that was looking to run with four lines. It wasn't long into the season that Toronto saw a familiar scene – with Joffrey Lupul going down with an injured hand.
Still, the Maple Leafs found a way to come out clinging to an Eastern Conference wildcard spot – only a few points out of the race. But as these two players found themselves ready to return, two other offseason acquisitions found themselves on their way to the Leafs doctor.
Leo Komarov
Arguably one of the most interesting – and effective – acquisitions the Leafs made this past offseason, Leo Komarov has now missed eight games since suffering a head injury on a hit by Capitals superstar Alexander Ovechkin.
The hit was reviewed by the league and there was no supplemental discipline. But the loss of Komarov has been noticeable for the Leafs.
Now two weeks since Leo Komarov was concussed by Ovechkin. Komarov didn't skate again today and has done so just once since the injury.

— Jonas Siegel (@jonassiegel) December 13, 2014
Handed more ice-time by head coach Randy Carlyle, Komarov's seen an increase in his productivity in his second NHL season including a career high in points with 16 (4g-12a) in just 23 games.
As for his influence on the penalty kill, Komarov averaged three minutes per game killing penalties for the Leafs before being injured – ranking him fourth on the team in that category and among the top 30 in the NHL.
But his impact doesn't stop there. In fact, prior to his injury, Komarov ranked among the league's best when it comes to hits. And he plays that physical game within the rules of the game. With only four penalty minutes and nearly 100 hits, it's indisputable how effective his physical presence is on the ice – a big reason for why the Leafs miss him in the lineup.
Roman Polak
Like Komarov, Roman Polak was acquired by the Leafs in the offseason and has made his presence felt throughout his first season in blue and white. He's second on the team in ice time per game behind only Dion Phaneuf and ranks second on the Leafs in shorthanded ice time behind Daniel Winnik.
Polak recorded five points (3g-2a) in his first 21 games and was on pace for his best offensive season since 2009-10 with the St. Louis Blues. But while his offensive output isn't the staple of his game, his physicality is. Up until he was injured, Polak recorded 83 hits and only 10 penalty minutes. He gave the Maple Leafs a big, defensive presence on their blue line and gave them an intimidating presence in their own end.
Maple Leafs Have More to Offer
A year after finding themselves in the bottom three for penalty kill percentage, the Leafs have turned it around this season – currently ranked ninth in the NHL. But imagine they had two of their best penalty killers back in the lineup. With Komarov and Polak on the ice, the Leafs could have the potential to finish among the top five in that category. Only two percentage points from the top five, it's easy to see the wholes left by these two players on their penalty kill.
Roman Polak, among players taking part in Leafs practice today. Eligible to return to the lineup tomorrow should they choose to use him.

— David Alter (@dalter) December 17, 2014
Assuming the rest of the Maple Leafs are able to stay healthy, the Leafs could finally have their full roster on the ice when Komarov and Polak find their way back into the lineup. It would mark the first time Toronto would have their expected opening day lineup together. The unfortunate part is that Korbinian Holzer and Trevor Smith would likely be the odd men out – filling in quite well for their wounded comrades.
While the streak has been fun to watch, Leaf fans should be excited for what's to come. It's hard not to be overly optimistic knowing that two impact players are missing from a lineup that has won 10 of its last 12 games. Still, containing the optimism is key to stopping the jersey tossing in Toronto. But there is a lot to look forward to with the depth and chemistry of the 2014-15 Toronto Maple Leafs.
For more, follow Andrew on Twitter at @AndrewGForbes or his THW column at @Tape2TapeTHW.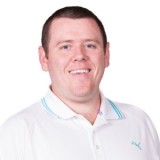 Andrew is in his 8th year reporting for The Hockey Writers covering the Toronto Maple Leafs. He began his broadcasting with CBC's Hockey Night in Canada team as well as being part of their coverage of the 2014 Winter Olympic Games in Sochi. He's the former play-by-play voice of the London Jr. Knights for Rogers TV and currently hosts the Sticks in the 6ix podcast. You can follow him on Twitter at @AndrewGForbes.