Much has been made of Calgary Flames' defenseman Mark Giordano's start to the season and rightfully so. The Flames' captain leads NHL defensemen in scoring to the tune of 31 points in 33 games.
Giordano's running mate T.J. Brodie, however, isn't nearly as talked about even though the 24 year old sits fifth in scoring among NHL defensemen. The two form the top pairing for Calgary and arguably the best defense pairing in the NHL. But hockey is a team sport and, on defense especially, it takes two guys who can play well off each other in order to create an effective pairing.
Turning Defense into Offense
T.J. Brodie has 23 points in 33 games and boasts a plus 15. Those are very stellar numbers but his style of play also shows why he is as effective in the offensive zone as his numbers suggest.
The above video is a great indication of Brodie's ability to move the puck from his own end into the offensive zone in the blink of an eye. The video also showcases Brodie's great backhand.
But the significant aspect of those plays is that he isn't wasting time in the neutral zone. Brodie consistently picks out the open guy, much like a switch play in soccer, in order to take advantage of the numbers the Flames may have on the opposite side of the rink, which creates mismatches in the offensive zone.
On a team such as Calgary, which boasts a paltry 5 on 5 Corsi for of 44.8% and faces off in their defensive zone 34.9% of the time, T.J. Brodie's ability to make a good first pass out of his own zone is paramount.
To further Brodie's importance in getting his team going north and south, Brodie starts 40% of his shifts in the defensive zone, 0.9% higher than linemate Mark Giordano. These fancy stat numbers suggest that Head Coach Bob Hartley relies heavily on T.J. Brodie's ability to get his team out of sticky situations and into positive offensive opportunities. Brodie's hockey IQ and ability allows him to play in every situation and make up for his team's weaknesses.
T.J. Brodie: Round 4 Steal and Still Developing
T.J. Brodie was drafted 114th overall in the 2008 NHL entry draft after the likes of Justin Schultz and Yann Sauve.  2008 was a very good draft year for defensemen, but Calgary found a gem in the later rounds.
None of this so far is to say Brodie is perfect. Against the Buffalo Sabres, the defenseman probably had his worst game of the season.
Flames fall 4-3 in Buffalo, a game TJ Brodie would rather forget. Video highlights here: http://t.co/j1OZRjbFS9 pic.twitter.com/dNVdwRn64X

— Calgary Sun Sports (@SUNSports) December 12, 2014
As Wes Gilberston of The Calgary Sun suggests, Brodie was victimized on Buffalo's first goal by being outmuscled by Tyler Ennis. Yes, five foot nine Tyler Ennis. Brodie did get hit from behind on the play and may have lost his balance, but the defenseman nonetheless should have been able to take a shot from the small Buffalo forward.
That goal is indicative of the fact that Brodie does lack NHL shut down defenseman size, as he is only 6'1 and weighs 182 pounds. Physicality isn't necessarily part of Brodie's game, rather just a weak spot the 24 year old can develop from offseason weight training going forward.
Brodie's perceived weakness isn't concerning because while his offensive game has developed nicely, the young defenseman still has plenty of time and room to grow physically. He was only just drafted in 2008 mind you.
Thinking about a budding superstar with ample room to develop an all around game is a scary prospect for other NHL teams.
Robin to Mark Giordano's Batman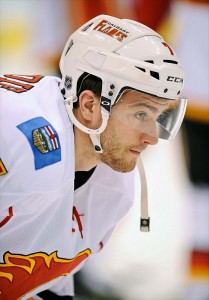 Mark Giordano is a special player but T.J. Brodie compliments his style of play so well that the two have created a formidable partnership. Brodie just signed a five-year extension with the Flames and Mark Giordano is staying Calgary until at least next season.
Brodie's emergence gives General Manager Brad Treliving some flexibility in that Brodie can take over Giordano's role as top defenseman on the Flames if Giordano leaves or Treliving can shore up his top pairing for years to come by signing Giordano until the end of his career. Obviously the latter situation is the best outcome.
Nonetheless, T.J. Brodie is an integral part in making Mark Giordano as effective as he is as well as a key cog in the Flames' rebuilding efforts.
Andrew Jow is an English student at Simon Fraser University where he covered the SFU Men's Hockey team. Andrew is a Vancouver native and covers all things NHL for The Hockey Writers. Follow him on Twitter @MadJowDisease