Kyle Dubas was hired as the 17th general manager of the Toronto Maple Leafs last week, a promotion from his previous position as assistant GM. The choice to hire him over fellow assistant GM, Mark Hunter, surprised many but it was not only the planned choice, it was the right one.
Kyle Dubas Was Shanahan's Guy from Beginning
Since joining the Maple Leafs organization Shanahan and others have spoken of the plan in place for the team to become perennial contenders. Many call it the "Shana-plan." At every point in Shanahan's tenure, he and those he assembled to lead the team have appeared to stick with it, even when the team's rapid rise could have easily derailed the plan.
People may forget, but of the members of Maple Leafs' management that Shanahan hired, Dubas is the longest-serving, hired back in July 2014. Dubas served as assistant general manager under Dave Nonis until Lou Lamoriello was brought in a year later.
The Dubas hiring was over-shadowed by Lamoriello coming on because Lamoriello's name garners a spotlight, but looking back, Shanahan actually brought in his "future" guy first. Signing the seasoned veteran to steady the ship until the wonder-kid was ready, made sense. The move, in theory, would give Dubas time to grow within the organization, which it appears he has. When it was announced that Lamoriello would not be returning as general manager of the Maples Leafs, Shanahan stated that moving Lamoriello to an advisory role after three seasons was always part of the plan, he was just sticking to it.
"Three years ago, Lou and I agreed on a contract that would see him serve as general manager of the Maple Leafs for three years and then transition to senior adviser," said team president Brendan Shanahan in a release. "I informed Lou that I was not going to deviate from that course of action."
Over the past few years, Shanahan has been able to watch Dubas work within the team, under Lou's direction, and see how he's handled the Toronto Marlies. Toronto Sun Columnist Steve Simmons and TSN's Scott MacArthur discussed who they felt would be the next GM back in April. The Maple Leafs had their best season to date and the team has improved each year since Lamoriello took over. Simmons felt moving Lamoriello into a role as a senior advisor didn't make sense at this point unless promoting Dubas after three years was Shanahan's plan from the beginning.
Kyle Dubas' Background in Hockey
Kyle Dubas is young, but age is just a number. Young or not, he's been working in hockey and making hockey moves for a long time. Let this sink in for a moment — Dubas had a role at the rink at age 11. Yes, it was as a dressing room attendant, but by 14, he was a hockey operations assistant.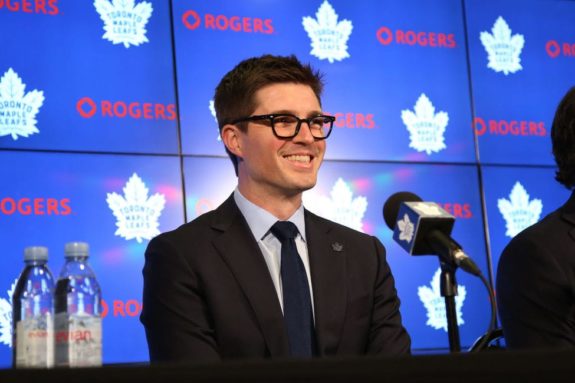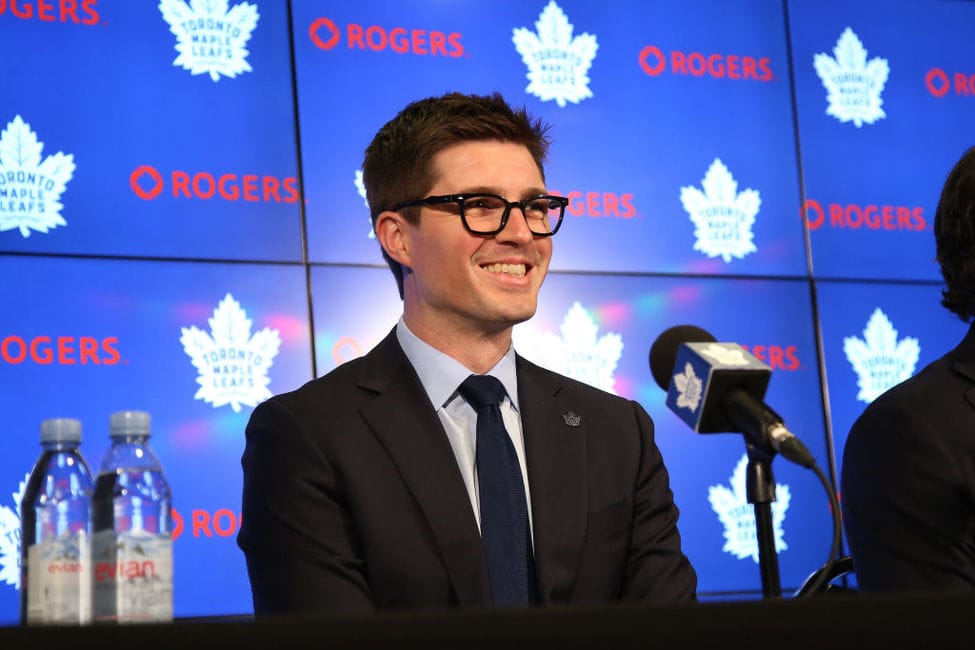 He became a scout for the OHL's Sault Ste. Marie Greyhounds, who his grandfather, Walter Dubas, coached in the 1960s. In doing so, he became the youngest person to ever be certified by the National Hockey League Players' Association as an agent.
While attending Brock University, he scouted for the team. At 25, he became the Greyhounds' general manager. During his tenure with the Greyhounds, the team went 107-76-7-12. In 2013-14, his final season, they were West Division champs. Quite a resume for someone under 30.
Marlies Success with Dubas as GM
As assistant GM for the Maple Leafs, his main job was to run the Marlies as their GM and develop players. In his four seasons at the helm, the Marlies amassed a record of 190-90-20-4 for a winning percentage of 0.625. This season, they were regular season champions with the most wins (54), their second time winning the Macgregor Kilpatrick Trophy in the past three seasons. They also set a league record for road wins in a season (30). They are also about to kick off their conference final series against the Lehigh Valley Phantoms this Saturday.
He's still very young at age 31, and his team is still winning. One move in particular to highlight is Dubas bringing on Sheldon Keefe to coach the Marlies, which has not only helped the club win consistently and develop players, but it may help Keefe's opportunities too.
Some insight from players is a good take on Dubas and his ability to lead the ship as well. TSN's Mark Masters reported on Saturday that he spoke with Keefe and some players, including Marlies defenseman, Travis Dermott and winger Andreas Johnsson who spoke about the support Dubas provided them through their time on the team and how he's helped with their individual development.
"He kind of, I don't want to say put me under his wing, but we had an understanding that any help I wanted to get he would help me," " said Dermott.
Dubas' Relationship with Babcock
Praise from the coach and players is one thing. Getting similar praise and success at the NHL level is another. Much of Dubas' success and legacy will be in how he's able to work with seasoned coach Mike Babcock, who is nearly twice his age.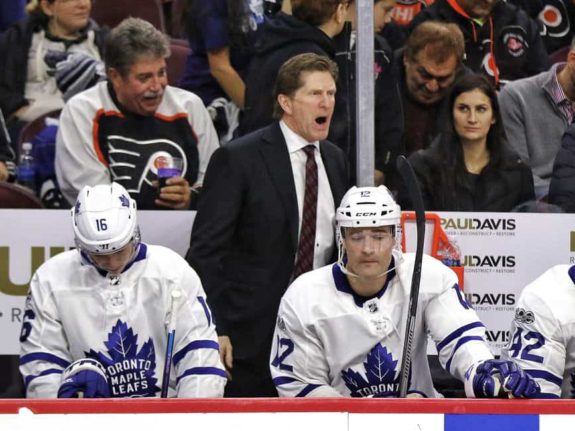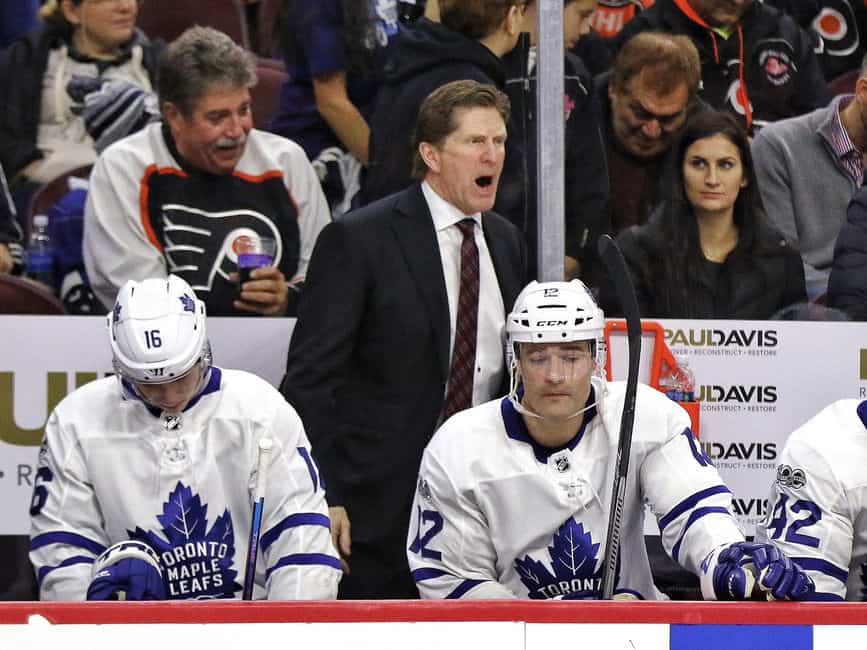 The Maple Leafs have used numerous players from the Marlies this season to help when needed, including Dermott and Johnsson towards the end of the year and into the playoffs, so Babcock and Dubas have certainly worked together before. How Dubas deals with Babcock could make or break him. Dubas has shown the ability to work with elders below him, as Keefe is 37-years-old, but Babcock will be a true test for him.
Risk of Losing Dubas to Other Teams
Sure, the Maple Leafs will most likely lose Mark Hunter to another team because of the decision to hire the younger Dubas, but to Shanahan, the thought of losing Dubas was probably more of a concern. When the Leafs granted the Colorado Avalanche permission to speak to Dubas about their open general manager position, Shanahan and company knew the Avalanche would be interested in hiring him, which they were, and knew they'd have to block the move to keep him.
Logic would suggest, if the team blocks another club from making an offer to their employee, they probably have bigger plans for that individual. This also wasn't the first team interested in Dubas' services. The Buffalo Sabres and Arizona Coyotes have also been linked to Dubas at some point since he was hired by the Maple Leafs. He said he wasn't ready to be a general manager then, but he is now.
Mark Hunter Was the Safer Choice
Hunter has more experience developing NHL-bound players and running hockey clubs than Dubas, no one is denying that. He would have been the safer choice, but the right choice? That's to be determined.
It's Stanley Cup or bust for the Maple Leafs. There is no other successful outcome for their rebuild. The team isn't fighting to stay afloat or needs a competitive team to put butts in the seats. They want a team on the ice that can contend year after year, but the ultimate goal is to win a Cup.
When push comes to shove, the safest choice isn't always the right one. You need to take chances to win it all. The Maple Leafs are taking a chance on Dubas and his "lack" of experience because of the potential for what it could bring — the franchise's first Cup in over 50 years (fans have stopped counting).
What is there to lose at this point? If it doesn't work, luckily, we won't know what choosing Hunter over Dubas would have done — he'll be long gone before the future comes to fruition. If you're Shanahan, maybe this was the plan all along. It was just another check off the list. Promote Dubas, let him find a stud defenseman, win the Cup. Done.