One doesn't have to be suiting up and skating with the team to play a key role in the success of a franchise during the playoffs. Just look at the role Jake Muzzin has embraced when it comes to the Toronto Maple Leafs. Out with an injury, and potentially done as an NHL'er, Muzzin has become quite a pivotal player, particularly when it comes to forward Michael Bunting.
How Are These Two Players Connected?
Beyond being teammates, Bunting acknowledged that he's relied a great deal on Muzzin for mental and emotional support as he deals with not playing for the Maple Leafs in the first round of their 2023 playoff series with the Tampa Bay Lightning. Bunting was suspended for three games following an elbow to Erik Cernak and it was learned that even though he's eligible to get back into the games and his suspension is over, the Leafs are choosing not to insert him back into the lineup for Game 5.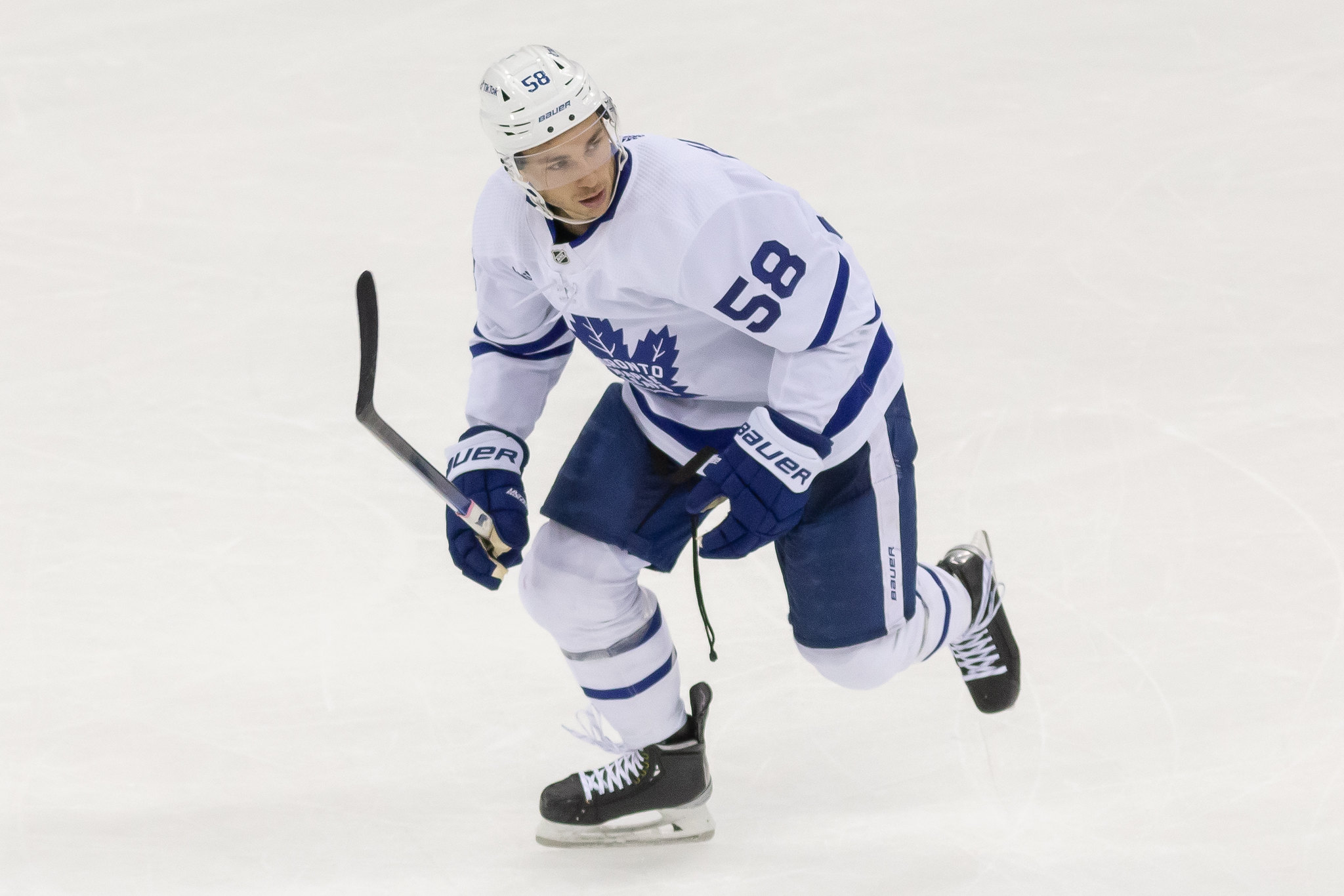 As much as it might make sense to keep him on the sidelines while the team is on a roll, it's got to be a hard pill to swallow when you want to get out there and help your club win. Bunting badly wants to be a positive factor in the success of the franchise, he'd like to be a part of the team finally getting out of the first round, and selfishly, he needs to have a good playoff run to secure the best possible deal for himself as a pending free agent. Muzzin knows what it feels like to sit on the sidelines and deal with the stress that comes with not being an impact player.
Related: NHL Rumors: Maple Leafs, Flames, Oilers, Stars, Penguins
Muzzin's season ended after a serious neck cut things short, but he remains with the team, traveling and being a leader. Back in February, he was ruled out for the rest of the 2022-23 regular season and playoffs as he recovers from a cervical spine injury.
Bunting Says Muzzin Has Been Instrumental
According to Mark Masters, "Michael Bunting is leaning on Jake Muzzin right now: "He's been with me through this whole way. He's been the voice in my head & just the way he's been talking me through it, I can't thank him enough." While their situations are a bit different, they have in common the feeling that they can't be out there when they want to be.
---
Latest News & Highlight
---
Bunting has to realize that he's walked himself into this situation, but that doesn't mean Muzzin won't have sound advice or positive messaging to send to the forward as he comes to terms with the fact he just needs to be patient. The key for Bunting — an already overly emotional player — is to not fly off the handle. He could be mad that he's being scratched and he could tell himself that he's done with this team and will move on a free agent in the summer if he's that bitter about being overlooked after providing the amount of offense he has. Instead, Muzzin is probably helping keep him calm and reminding him that he will likely get back into a game, especially if the Leafs move on. He's too good a player to be sitting out an entire playoff run. Having someone tell him that is probably key to staying positive.
Bunting Has Been Very Positive With the Other Guys
Whatever Muzzin is saying to Bunting seems to be working. William Nylander noted that Bunting hasn't been a downer, nor has he complained about his current situation. Nylander notes, "He's been pumping the boys up. He's had great energy around the guys." Understanding that it's got to be tough to sit out, Nylander added, "You'll have to ask him how he feels about not playing tomorrow, but it is what it is &, I mean, we've won three games in a row so there's not too much you can do there."
Bunting himself said, "I'm just trying to be a great teammate, cheer the boys on, and not be a distraction." That's the right attitude to have and when his shot comes again, it will be up to him to make the most of it. Should he do that, his attitude and taking something positive out of his suspension could go a long way to determining how much of a factor he is in the postseason moving forward.