The Toronto Maple Leafs came out of the 2023 Trade Deadline with more roster pieces than anybody likely expected them to. They set the stage early on with the deal for Ryan O'Reilly and Noel Acciari, and after they followed it up with a similar blockbuster for Jake McCabe and Sam Lafferty, followed by solo deals for Erik Gustafsson and Luke Schenn, they ended up with the current group of Maple Leafs players that we see today.
As a result of this abundance of players, which currently features 12 regular forwards (not including Matthew Knies, who will likely join the team at the end of the season) and a whopping nine defensemen, head coach Sheldon Keefe has been doing a ton of experimenting in recent days. They've frequently adopted the 11 forwards-seven defensemen format, an experiment that's had its highs and lows, and one that's seen a bunch of new looks and combinations.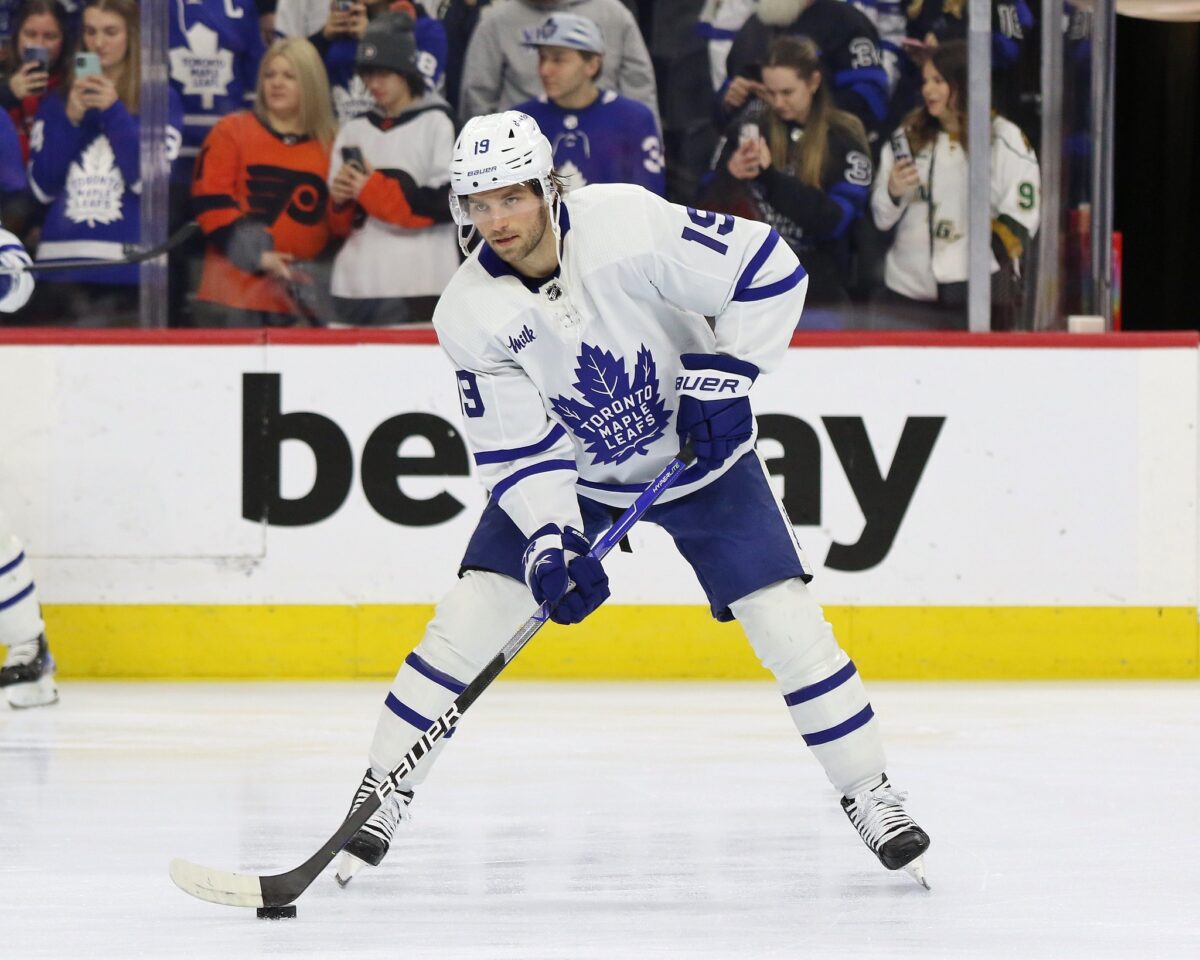 One player who's settled into his new role, and ramped it up in recent games, is Calle Jarnkrok. The 31-year-old Swede was signed by the Maple Leafs to a four-year contract worth $2.1 million annually this past offseason, and in light of injuries he's been asked to step into a bigger role than he's being paid to do, sliding onto the first line with Auston Matthews. And, in Matthews' own words, it seems to be working out. 
Matthews "Felt Strongly" About Continuing to Play With Jarnkrok
After running with Alex Kerfoot alongside Matthews and Mitch Marner for a couple of games, the Maple Leafs promoted Jarnkrok to the top line Friday night against the Carolina Hurricanes. Since they went with the 11-7 format, he didn't stick with Matthews all game, but he still rose to the occasion, tallying an assist on Zach Aston-Reese's first goal of the game and Morgan Rielly's marker to extend their lead to 5-2.
The next night, under the 12-6 format on the road against the Ottawa Senators, Jarnkrok made a great effort to show why Keefe made a good decision to stick him with Matthews. He scored two goals, both assisted by Matthews, and he remained noticeable with and without the puck. His performance was so impressive that his new linemate raved to Keefe about it following the game, indicating that he wanted to play with him more often. 
Related: 7 Cool Things About Auston Matthews
---
Latest News & Highlights
---
Matthews doesn't just go out of his way to praise somebody like that, indicating how strong of a fit they were in the back-to-back this past weekend. He specifically took note of Jarnkrok's shot, calling his release "one of the prettiest I've ever seen, really fun watching him get the puck off". Of course, if there's one thing Matthews is known for, it's his shot, specifically his release, so that's some pretty high praise from somebody who has one of the best shots in the game today. 
Career Highs For Calle in 2022-23 
I wrote an article back when the Maple Leafs originally signed Jarnkrok, comparing it to the contract the Vancouver Canucks signed former Leaf Ilya Mikheyev to. My argument was that they made out better by signing Jarnkrok despite him being older than Mikheyev, given the cap hit. He currently makes $4.75 million for three more years after this season, whereas Jarnkrok is making $2.1 million for the same length. I'm not going to keep comparing the two players, since the former was shut down with an ACL injury on Jan. 28. But, suffice it to say, the Maple Leafs have gotten tons of value out of their signing. 
Jarnkrok is not a player you should expect to score 25 goals or tally upwards of 50 points, but if you look at his season-by-season stat line, he's remarkably consistent. He's played at a 30-40 point pace just about every year he's been in the league, and he's generally good for around 15 goals. His second goal of Saturday's game, his 17th of the season, set a new career high for goals in a season, and with 18 assists and 35 points, he needs one more of each to hit career highs in each of those categories too. 
You may also like:
While I'm sure the Maple Leafs hoped he could keep his consistency alive, to see him set career highs at 31 years old is a pleasant surprise and one that could be crucial to the club's success down the stretch. He's done a lot of bouncing around the lineup, and while I'm sure they would ideally like to have him in a third-line role for the playoffs, his production in recent games has made a strong case for him to stick in the top-six, given his effectiveness in that role compared to players like Alex Kerfoot. 
Maple Leafs Will Continue to Juggle Lines Until Playoffs
If you're a Maple Leafs fan and tend to have knee-jerk reactions to line combinations in practice, I would say now is probably not the time to do so. As I said off the top, they have an abundance of players both up front and on the back end, and it's important to get new players like Luke Schenn and Erik Gustafsson into the lineup while keeping players like Justin Holl and Mark Giordano fresh. 
You May Also Like
While there are pros and cons to having so many players to work with, one of the pros is that Keefe has lots of time to find optimal line combinations for the playoffs, which is necessary considering the stakes involved with this series. If any injuries happen, they may need to run with the 11/7 format, and you want your players to be used to that system instead of going in cold turkey. We'll likely see the juggling continue for the rest of the season, but if Jarnkrok keeps playing the way he has been, his job might be safer than others.