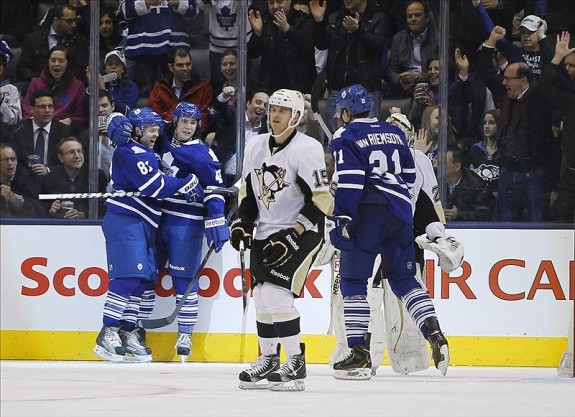 There is something special about to happen in the NHL. Not on-ice but rather away from the rink up in the press boxes and executive offices. It only happens once every four seasons and 2013-2014 is one of them: a double trade deadline.
Consider this:
NHL players, whether in Sochi or at a poolside bar, get paid on Feb. 15, right in the middle of a stretch with no games played.

The season is 195 days (Oct. 1 to April 13), with 16 of them during the freeze [Feb. 7-23]. Sixteen into 195 is a little above eight per cent. So let's say you have a $5-million skater available for trade. He's going to collect $410,000 during the freeze. How much does your owner care about that? Some won't, not at all. But some will, affecting both buyers and sellers.

Let's say your owner does care. If he's got a tradable commodity, does he push the general manager to get something done? "Hey, if we're going to deal him anyway, why don't we do it now? Let the new team handle this."
It's unlikely this "double trade deadline" will affect the Maple Leafs based on the above; they are the richest team in the league and $410,000 is pocket change to Maple Leaf Sports and Entertainment. But as we know, the actions of other general managers, directly or indirectly, can affect what their counterparts do. Leafs GM Dave Nonis is no exception.
There's no doubt the Maple Leafs will look to improve at the deadline; whether Nonis makes a push for a trade or not doesn't really matter. The point is that he is at the helm of a potentially playoff bound team and any move he makes must be for the betterment of its immediate future. Except there's one problem with any plans Nonis has to improve: there's essentially no one on his NHL roster to use as trade bait.
Untouchables
Let's clear this up right off the bat. Dave Nonis has publicly stated in the past that he doesn't believe in the word "untouchable," leaving everyone up to be used as trade bait.
"I think it's a foolish word in pro sports: untouchable. Very few players, I think, around the league are untouchable. There has to be a price tag for everybody."
But that doesn't necessarily mean there is a good enough possibility for star players to be moved that fans should be concerned. While the likes of Dion Phaneuf and Phil Kessel could technically be moved before the deadline, the chances sit somewhere around 0.1 percent (see below). Much has also been made about Jake Gardiner and Jonathan Bernier, both of whom seem to figure into the Leafs' future and should be just about as close to untouchable as you can get.
Who Won't Go
No one can be officially listed as untouchable but there are many players we can feel confident enough about to say they won't be going anywhere. Dion Phaneuf and Phil Kessel, as mentioned above, are two of those players and perhaps the best examples the Maple Leafs have for proving this theory. They both signed long-term extensions somewhat recently, are the core of the team and will be for years to come. That's that.
Tyler Bozak, Joffrey Lupul and James van Riemsdyk can all be thrown into the same boat for the time being. While each may be shopped in the future, van Riemsdyk to a lesser extent, none will be used as trade bait this season.
Bozak may not be a top line centre on most teams but scoring at a .84 point-per-game pace he is the best the Maple Leafs have. Lupul has struggled with consistency this season but he has provided scoring and a veteran leadership presence, something Nonis is rumoured to be in search of. van Riemsdyk has clicked with Kessel and is signed through 2017-2018 at a more than reasonable $4.25 million. Like Phaneuf and Kessel it looks like James van Riemsdyk will be a Leaf for a while.
Then there is the highly-debated duo of Jake Gardiner and Nazem Kadri. Both are key pieces to the Leafs' future and have had a roller coaster season. Gardiner has always seemed to struggle under Randy Carlyle after a promising rookie campaign with ex-Leaf coach Ron Wilson behind the bench. Kadri, currently enjoying an on-ice high, has been up and down all season.
Since the Lupul-Kadri-Kulemin line was reunited against MTL on Jan 18, Nazem Kadri has 3 goals and 6 assists in those 7 games.

— David Alter (@dalter) January 29, 2014
Trade rumours abound have pegged Nazem Kadri going to many different teams. Dave Nonis recently shot those rumours down, saying, "we wouldn't say we would 'never trade him,' but we're not anywhere near trading him at this point." Similar rumours have Gardiner on his way to teams all across the league but Nonis hasn't said anything about the team shopping him either.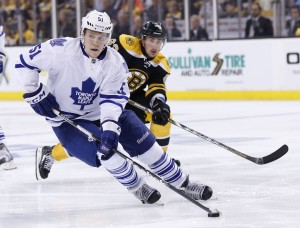 The argument against trading Kadri and Gardiner is quite simple. Kadri is a scoring centre with potential, something we are led to believe the Leafs are interested in acquiring. Gardiner hasn't exactly had his best days under Carlyle and Nonis should know as well as anyone that if this team continues to play the way the are, winning or not, Carlyle's job is in jeopardy this summer. And how do you trade your most promising defender when you may be about to fire the coach he's seemingly lost all confidence under?
Finally there is Jonathan Bernier whose .925 save percentage has impressed media, coaches, fans and management alike, earning him the No. 1 role in net. Nothing more needs to be said.
Trade Bait Possibilities
With all of the players who appear to be safe this season the Maple Leafs are left with just three trade bait options and even that number is debatable.
Nikolai Kulemin hasn't exactly been producing well offensively over the last few campaigns — seven goals and a .48 PPG average last season, on pace for 11 goals and a .34 PPG average this season — but that doesn't mean he has little value. Kulemin is relied upon in defensive situations that require consistency and strong defensive ability in his regular third line role. He even sees second line time here and there, recently being reunited with Joffrey Lupul and Nazem Kadri.
Despite the positives that Kulemin brings to the Leafs' lineup, though, he is dispensable. He and David Clarkson, who we all know won't be going anywhere given his contract and the organization's admiration for him, play a similar role. It's unlikely the Leafs will re-sign Kulemin at season's end (he's at the end of two-year, $5.6 million contract), especially if they can put that extra cap space ($2.8 million) towards defensive stability or a top-line centre.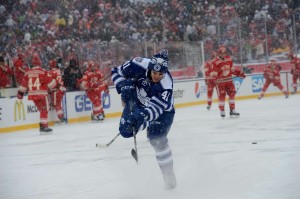 The other two options are where the debate beings.
James Reimer has made up 1/2 of what has become the strongest goaltending duo in the NHL. His free agent status following this season is restricted meaning the Leafs aren't under any sort of contract-inflicted pressure. Although the Leafs would be wise to use Reimer as trade bait, it's unlikely to happen. Reimer has saved a game or two while Jonathan Bernier has taken the night off, planned or not.
Of course there is the same option every team has: trade fourth line guys, prospects or draft picks. There are two problems with this, however; what are fourth line players going to get you in the trade market and why throw away your future when it's looking bright? Toronto has been burned in the past by using its future as trade bait and there's no sense in doing it now.
If David Nonis and his staff are presented with a block-buster trade, they must be careful not to jeopardize the franchise's future or current standing. That can be said for any trade but the Maple Leafs are in a particularly interesting situation as the team appears to be on the up-and-up for the first time in nearly a decade.
Perhaps big moves are best suited for the off-season, because right now, the Toronto Maple Leafs simply don't have the trade bait.
Follow Lukas (@LukasHardonk) on Twitter for more Maple Leafs coverage.
'Like' THW Maple Leafs on Facebook 
Follow @THW_MapleLeafs on Twitter

Lukas, a student at the University of Ottawa, covers the Toronto Maple Leafs on a part-time basis for The Hockey Writers. Contact Lukas at lukas.hardonk@gmail.com or follow him on Twitter, @LukasHardonk.