Going into the 2014 Winter Olympic, there are several young prospects who will be given the opportunity to represent their country. While most of the leading nations have built star-studded casts, the rest of the world will have to bank on some of the NHL's up-and-coming players to help capture gold.  Here is a look at some of the best young prospects who will be looking to make a difference in Sochi.
Czech Republic
Ondrej Palat
In the absence of Steven Stamkos, Palat has become an effective part of the Tampa Bay Lightning's first scoring unit. In just his second season of professional hockey last year, he tore up the AHL by scoring 13 goals and 39 assists in 56 games. His performance got him the call-up and he scored two goals and two assists in 14 NHL games.
Maintaining his rookie eligibility, Palat has been one of the most reliable players on the Lightning squad this year. In 53 games thus far, Palat ha scored 11 goals and 18 assists. Even more impressive, Palat has maintained a plus-22 rating so far this season, which is quite good for a rookie. In his last five games, Palat is riding a four-game point streak and has scored seven points in that span. To say he has become an integral part of Tampa Bay's offense would be an understatement, and he seems poised to help the Czechs find success at the Olympics.
Radko Gudas
Another prospect of the Lightning, Gudas has proved to be a solid blueliner with all-around ability. On nights when his point production is down, he makes his presence felt with incredible physical play. At just 6'0″, Gudas play like a seven-footer and leaves everything on the ice. His 184 hits and 94 blocks shows that Gudas is poised to become a reliable defensive defenseman in the NHL. With a downgrade in physical play, the Olympics will be a great time for the him to improve his offensive play and become a truly well-rounded NHL player.
Finland
Aleksander Barkov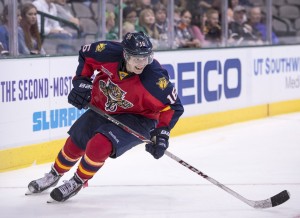 The Florida Panthers passed on some highly-touted youths to take Barkov second overall in the last entry draft. With very few consistent scorers, and a horrendously slumping Jonathan Huberdeau, Barkov has picked up the offensive slack and has been great for the Panthers this year. In 50 games, Barkov has scored eight goals and 16 assists while becoming a solid powerplay threat. He has scored a quarter of his points with the man advantage and has dazzling skill and size which makes him a threat at any time.
Barkov went down with a knee injury in late January but is set to resume NHL play this coming weekend. If he can pick up where he left off, Barkov should be a solid player for the Finnish team as they try to ride their success from the World Junior Championship into the Olympics.
Mikael Granlund
Many have known about the Finnish star's skill, but it has taken him some time to get used to the North American style of hockey in the NHL. He was an absolute beast in the SM-liiga  and carried that same skill into the AHL. In one season with the Houston Aeros, Granlund scored 10 goals and 18 assists in 29 games before getting the call-up in 2012-13. While his NHL number were nothing special last year, this season has been a true breakout year for the highly-skilled center. In 42 games, Granlund has scored four goals and 20 assists while spending most of his time moving between lines. He has now developed chemistry with the top two scoring units in Minnesota and seems to be a mainstay moving forward. The Olympics will be a great time for Granlund, as it gives him the opportunity to show what made him a superstar on international ice.
Olli Maatta
Due to significant injures on the Pittsburgh Penguins' blueline, Maatta made his presence felt and has never looked back. Though he's been hot and cold offenively, Maatta has had very little issues getting used to the North American game. Playing two seasons with the London Knights of the OHL clearly helped, as Maatta seems NHL-ready for the most part. The biggest concern from an NHL standpoint is the crowded blueline in Pittsburgh, but needless to say, he probably has a spot locked up for the near future. In 52 games played this year, Maatta has scored five goals and 14 assists, maintained a plus-10 rating, and has shown solid physical play for an offensively-minded defenseman. The Finnish team will be happy to have his services come Olympic time.
Sami Vatanen
A prospect of the Anaheim Ducks, Vatanen made his presence felt early in the season and became a solid blueliner for one of the NHL's best teams. He is a solid all-around defenseman and can throw the body when necessary. Playing for the AHL's Norfolk Admirals last year, Vatanen scored nine goals and 36 assists in 62 games, proving he has all the ability in the world to play in North America. He has played in 39 NHL game this year but was sent down to the AHL to get more playing time and give the Ducks some space for their one-way contracts. In those 39 game, Vatanen scored six goals and eight assists. Getting back to the international ice will be like Vatanen's second home, so don't be surprised if the he gets the call-up once the Olympics conclude.
Latvia
Zemgus Girgensons
Girgensons is a USHL product and the lone NHL representative on the Latvian squad. Though his NHL career has had a tough start, the skills of the young center has been witnessed in the past. If there is any player who could make a difference for the Latvians, it's this kid. His four goals and 10 assists in 51 might not the best evidence of this, but it's on the Buffalo Sabres for rushing their prospects this season. Hopefully the Olympics will give Girgensons a much needed break and a chance to breakout as a solid offensive producer.
Russia
Valeri Nichushkin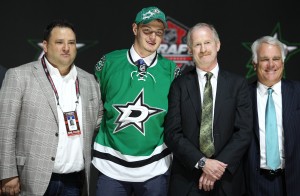 One of the most highly-touted and skilled prospects in the NHL today, Nichushkin has been talked about ever since his WJC heroics. Overshadowed by names like Nathan MacKinnon and Jonathan Drouin, Valeri fell all the way to the 10th pick where the Dallas Stars made an easy decision. He has the size, the skating and the hands to become a dominant force in the NHL.  Not to mention, playing with NHL superstars in their home country will give him a priceless experience to excel and become a major part of Russian hockey. He has become a mainstay on Dallas' top scoring unit and has scored 11 goals and 14 assists in 50 games this season.
Slovakia
Tomas Jurco
An extremely productive junior player for the Saint John Sea Dogs, Jurco carried his success into the AHL with ease. By his second season, Jurco became a point-per-game player and his now playing for the Detroit Red Wings. He started the 2013-14 campaign with 32 points in 32 games before getting the call-up, and has scored two goals and three assists in 14 NHL games. A bit of an older prospect in comparison to his fellow youths, Jurco fits extremely well in the Red Wings' development system and seems poised to become a full-time NHL player moving forward. Playing for a very-skilled Slovakian team will give him an added bonus before taking the ice for the second half of NHL competition.
Tomas Tatar
Another Red Wings prospect hidden in the AHL, Tatar has been a highly-talked about prospect and has been given the opportunity to excel this season. Tatar is your typical Detroit prospect who has spent a significant amount of time playing for the Grand Rapids Griffins and saw just 27 NHL games since 2010-11. Detroit's slow-and-steady approach to prospect development has worked in the past and Tatar has taken these experiences in stride. Finally given a chance this season, Tatar has scored 12 goals and 10 assists in 44 NHL games. He is one of Detroit's prized possessions and should continue to see consistent NHL playing time moving forward. Proving himself at the Olympics will only fortify the Red Wings' belief that the young Slovakian is ready to hit the big show.
Martin Marincin
Not your typical point producer, Marincin is your by-the-book stay home defenseman and has been trying to help the Edmonton Oilers become a better team. Though he has just one assist in 18 games, his plus-3 rating is impressive simply based on his age and the team he plays for. Being a defensive prospect in Edmonton is not easy, but Marincin has taken the opportunity with open arms and seems to be a major part of the Oilers' future. Playing for the Slovakian team will be a huge breath of fresh air, as the open ice and better teammates will help him concentrate on all facets of the game, which could make him a much better player for the second half of NHL play.
Sweden
Jakob Silfverberg
Due to injury problems, Silfverberg has had some trouble this season. However, his professional experiences at just  23 years old is something to consider, especially as a player representing the Swedish powerhouse. He played the full shortened season for the Ottawa Senators and had a solid rookie campaign. He scored 10 goals and nine assists in all 48 games, but maintained a plus-9 rating and had just 12 penalty minutes. His discipline for his age is unquestionable, especially with his 20 total penalty minutes in 77 career NHL games. The most important part of Silfverberg's game is his NHL playoff experience. He played in two games for the Senators in 2011-12, but was a much more effective part of the team in 2012-13. In 10 games last year, Silfverberg scored two goals and two assists with just one penalty. He might not be the most important player for Sweden, but he will surely make the most of the time he's given.
Switzerland
Nino Niederreiter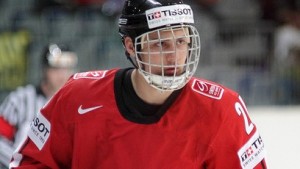 A solid power forward in the making, Niederreiter had a tough time after getting drafted by the New York Islanders. He was rushed at the wrong time, and sent down to the AHL at an even worse time. After spending all season in the AHL last season, Niederreiter requested a trade from the Islanders and was sent to the Minnesota Wild. Since then, Niederreiter has made the most of his playing time and has become a solid asset for the team. In 55 games played this season; Niederreiter has scored nine goals and 17 assists, maintained a plus-11 rating, and has a whopping 129 hits. His combination of size and skill is his biggest asset, and his ability to perform on the international stage will come in handy for the Swiss underdogs.