In this edition of Toronto Maple Leafs News & Rumors, I'll take a look at some of the news emerging from Week 1 of the team's training camp. First, I'll report the good news that the team's been granted approval from the Province of Ontario to play home games.
Related: Maple Leafs News & Rumors: Perry, Holl, Dermott & Seattle Kraken
Second, I'll share a number of items that impact the Maple Leafs' star forward Auston Matthews, including the announcement that he's likely to play on the team's penalty kill this season. Third, I'll report that defenseman Joseph Duszak's been added to the Maple Leafs' training camp roster; and, finally, I'll share what Joe Thornton says about playing with his young line mates Matthews and Mitch Marner.
Item One: Ontario Agrees to Allow the Toronto Maple Leafs to Play at Home
The Province of Ontario has given the Toronto Maple Leafs and the Ottawa Senators the green light to host home games during the upcoming 2020-21 season. Lisa MacLeod, Ontario's Heritage, Sport, Tourism and Culture Minister, made that announcement Thursday afternoon.
As it stands right now, only the Province of Manitoba has not officially approved NHL home games for the 2020-21 Winnipeg Jets' season. Ontario has now joined British Columbia, Alberta, and Quebec as provinces that have signed off on the plan the NHL has proposed.
Item Two: Auston Matthews Will Play on Penalty Kill this Season
According to a Kevin McGran article yesterday in the Toronto Star, Auston Matthews is expected to see time on the penalty kill this season. The team will be working on special-team plays over the next few days of training camp, and part of that play includes Matthews and Jason Spezza taking some turns on the penalty-kill. The other usual suspects – including Mitch Marner, Zach Hyman, and Ilya Mikheyev – also play that role. Alexander Kerfoot is out so until he returns, he obviously won't be participating.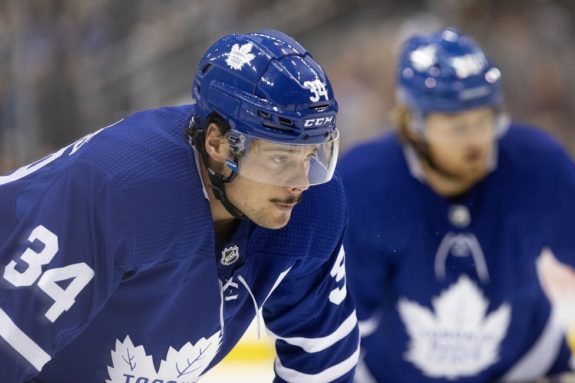 As head coach Sheldon Keefe noted on Thursday, it's something that Matthews hasn't done.
Keefe added that "I don't expect it to be any sort of full-time role or responsibility, but on a part-time basis as needed. We wanted to start getting him comfortable with those situations. Faceoffs in particular, he can bring a lot to us on the left side. And we've seen so much growth as a defensive player that we believe that he'd bring a lot to the penalty kill, and obviously the offensive threat when he is on the ice is a nice addition. So, we're going to start to get him some minutes, in that regard."  (from Auston Matthews to kill penalties for the Maple Leafs," Kevin McGran, Toronto Star, 07/01/21).
Item Three: Pierre Engvall Steps into Alexander Kerfoot's Place During Practice
The last word about Kerfoot was that he's day-to-day after being injured during Tuesday's practice. Because Kerfoot wasn't on the ice for Wednesday's session, Pierre Engvall took his place between Zach Hyman and Ilya Mikheyev during the team's scrimmage.
Item Four: Joseph Duszak Has Been Added to Maple Leafs' Training Camp Roster
Yesterday, Joseph Duszak was added to Toronto's training camp roster. Duszak scored three goals and 15 assists (for 18 points) in 23 games with the Maple Leafs' AHL affiliate Toronto Marlies last season. The 23-year-old defenseman also added nine goals and 26 assists (for 35 points) in 34 games with the ECHL's Newfoundland Growlers in 2019-20. 
Item Five: Joe Thornton Admits to Feeling Youthful with the Maple Leafs
The Maple Leafs have to believe that, even if the Joe Thornton experiment with the team works splendidly, it will likely be for a good time and not a long time. As a result, the team's task is to maximize the skills – both in leadership and in play-making – Jumbo Joe brings to the team. Thornton has been, for more than 20 seasons, one of the NHL's most talented players.
Related: Flames Need More Women in Leadership
In fact, he'll quickly be elected to the Hockey Hall of Fame when he retires. Although immediately placing Thornton with partners Matthews and Mitch Marner on the team's top line might have been a bit of a surprise, it isn't without logic.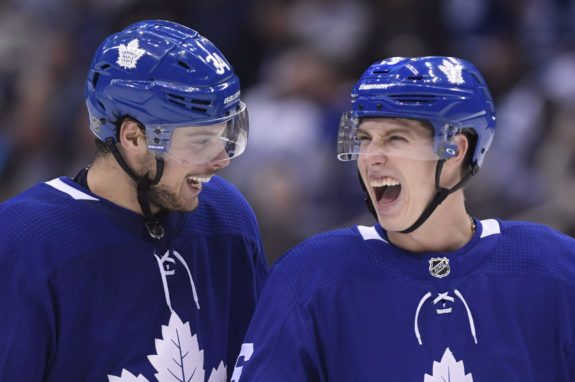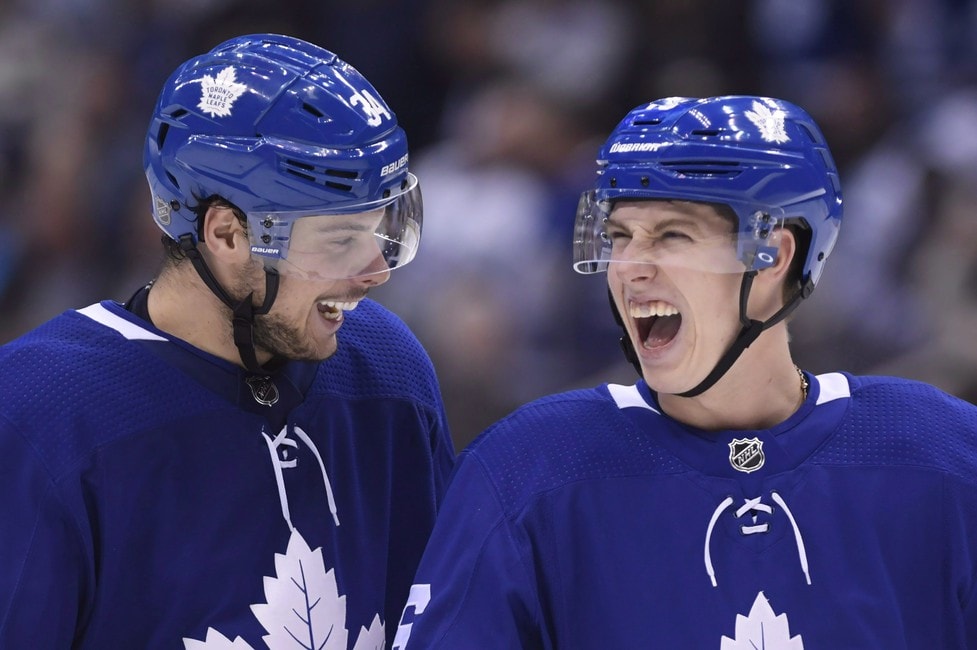 That logic includes the fact that, as Keefe notes, Thornton thinks the game well. When Keefe speaks about Thornton's skills as a veteran leader, he notes that he believes the NHL veteran "thinks the game" in a way similar to the way Marner and Matthews think it.
Keefe notes specifically, "He's (Thornton) got an elite brain, great energy, great leadership that will help our young stars."
Although many Maple Leafs' fans are worried the speed of today's NHL game might have left Thornton behind, Keefe suggests he's not really that worried about that aspect of the game. He believes that, given the way Marner and Matthews can skate and get back on defense, those two players will complement Thornton nicely.
Related: Top 3 All-Time Stars Goalies
How does Thornton respond? Although Thornton's 41 years old, thanks to his teammates he's feeling a renewed sense of youth. As soon as he hit the ice with his new teammates, he began appreciating their relatively young age. Both Matthews and Marner are 23 years of age.
Thornton praised for his younger partners. As the Toronto Star's Lance Hornby tweeted, "To start with them is pretty special. I feel young again."
Although Thornton's played center almost exclusively during his 22-year NHL career, he's fine moving to left wing. Specifically, he noted that he "played like a rover in San Jose" and feels comfortable there. Thornton also played left wing in Switzerland with HC Davos this season.
Last season, Thornton scored seven goals and 24 points with the Sharks in 70 games. Now a 22-year veteran, he was drafted first overall by the Boston Bruins in the 1997 NHL Entry Draft. By the way, that was the year both Matthews and Marner were born.
Thronton signed a one-year, $700,000 contract with the Maple Leafs in October, and used his time at home in Switzerland to get ready for the NHL season. He and his family live in Davos during the NHL offseason.
What's Next for the Maple Leafs?
I haven't heard anything about Kerfoot's injury. Although Engvall is currently taking his place on the third line, he's not the only candidate who might take a shot if Kerfoot is more than day-to-day.
Related: Maple Leafs Radical Trade Rumors: Nylander, Ekblad, Nurse & Subban
Other leading candidates who could also skate between Mikheyev and Hyman if Kerfoot misses more time would be Travis Boyd, a 27-year-old center who signed a one-year contract during the offseason, and Adam Brooks, who played seven games for the Maple Leafs last season and is projected to become the Marlies' first line center this season.
The Maple Leafs' lineup is deep, and a number of possibilities might exist to fill in for any injury.
---
---