In this edition of Toronto Maple Leafs News & Rumors, I'll share some of the insights emerging from the team prior to tomorrow's opening-night game. Specifically, I'll talk about Auston Matthews' new workout regime that has reshaped his physical body and was intended to add more "pop" to his game. Second, I'll talk about the impact of the great NHL veteran Joe Thornton on both Matthews and his other linemate Mitch Marner.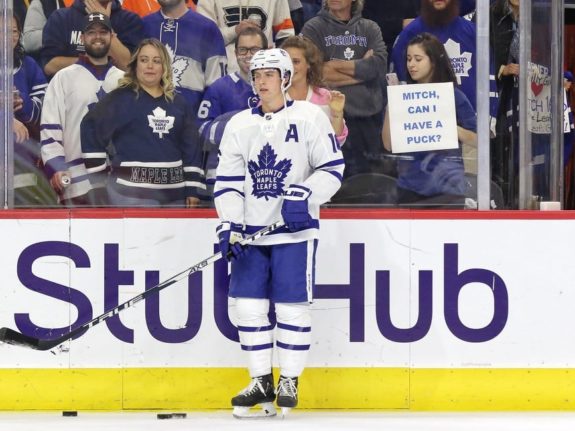 Third, I'll talk about young Swedish defenseman's Timothy Liljegren's upcoming season with the Toronto Marlies as well as a change in the status of Finnish defenseman Mikko Lehtonen's on the Maple Leafs' roster.
Item One: A Completely Reshaped Auston Matthews
Auston Matthews has improved every season, but this season he's working to take the next step. He's turned himself into a "lean and mean" hockey machine. Matthews hired the same trainer – Ian Mack – who'd worked with and transformed the Chicago Blackhawks Patrick Kane a few years ago.
Related: Maple Leafs News & Rumors: Niemela, Kossila & Perry
As a result, in a James Mirtle article today in The Athletic, Matthews was reported to have dropped 14 pounds – from 224 pounds to 210 pounds – by focusing on flexibility and agility during his offseason training. (from "A new Auston Matthews: How a unique young trainer rebuilt the Maple Leafs star, James Mirtle, The Athletic, 12/01/21).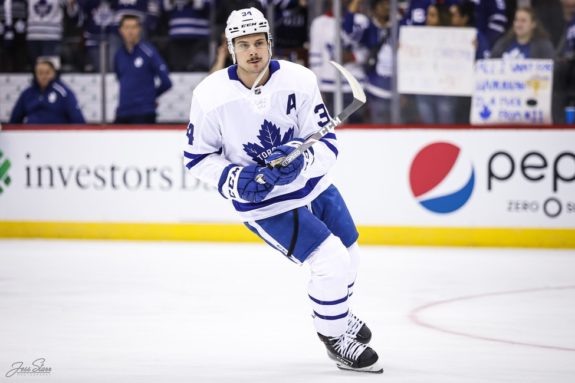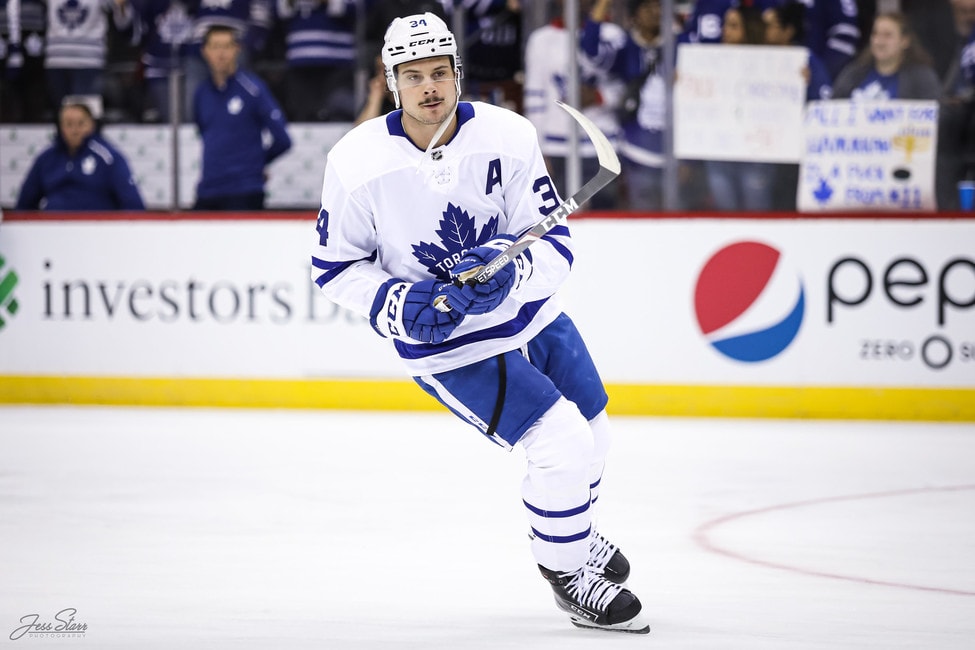 Mirtle notes that Matthews transformed his approach to both diet and training and has focused more on flexibility and core strength. His new exercise regime combined yoga, Pilates, and other body-weight exercises, with the goal of working to reduce the risk of injuries and to gain more "pop" on the ice.
Obviously, whatever he's done has worked so far. From the beginning of the Maple Leafs' training camp until the end, Matthews has been dominating. Maple Leafs' fans can only hope that Matthews' work with Mack has a similar effect as Kane's work had. The season after Kane worked with the noted trainer, he registered a career-high 110-point season. If the new regime correlates to a similar improvement for Matthews, what's the limit?
Item Two: Joe Thornton Has Made an Impression on His Younger Maple Leafs' Teammates
The regular season hasn't yet started in earnest yet; however, the NHL's great veteran Joe Thornton has made a huge impression already and his younger Maple Leafs' teammates. In a way, Thornton's being on the Maple Leafs' roster is a bit like coming home. The 41-year-old forward, who'll become a Hall-of-Famer as soon as he retires, grew up only a few hours away from Toronto.
Related: Winnipeg Jets Logo History
During Monday's practice, Thornton was spotted giving Matthews tips about low-post positioning. These two line mates, with Mitch Marner, could become both a force for the Maple Leafs this season and perhaps even one of the best lines in the NHL. In addition, Thornton brings an important leadership presence that includes tons of successful NHL experience.
Marner, kidding about Thornton's old-school ways, suggested that Thornton didn't have "social media or really know anything about it." Marner added that the absence of such distractions allowed Thornton to "just go out every day, be the same guy and joke around. We (he and the 23-year-old Matthews) are going to be the same, not going to focus on outside noise, just what we have to do every day. We know there will be bad days, and when that happens, we'll come in here with the same energy we always have and figure out what we have to do better."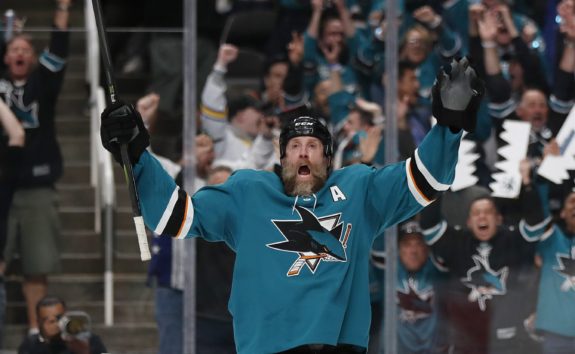 If the Thornton-Matthews-Marner line works, what's the over-and-under on how many assists Thornton could register in his first season as a Maple Leaf? (from "Old pro Joe impresses young Leafs," Lance Hornby, Toronto Sun, 11/01/21).
Item Three: Timothy Liljegren Expected to Have a Great Season with the Marlies
Timothy Liljegren was cut from the Maple Leafs' training camp and sent to the AHL Toronto Marlies on Monday. There's probably little chance the talented young Swedish defenseman will play with the Maple Leafs this season. However, he'll be expected to become an on-ice leader with the Marlies defense this season. Liljegren's NHL time is coming, but not likely this season.
Item Four: Mikko Lehtonen Not Quite Ready for a Regular Role
It seems the team has decided to practice a little patience with Mikko Lehtonen – perhaps even more than they'd hoped. It seems Lehtonen will take a spot in the press box tomorrow night when the Maple Leafs' regular season begins. After Saturday's scrimmage, Lehtonen was dropped to the fourth defensive pairing for Monday's practice.
As head coach Sheldon Keefe explained his logic, "We think there are areas of [Lehtonen's] game that need a little bit more time. We don't want to rush him into a situation that he may not be adjusted to quite yet. So, we're going to take our time with that….and take a little step back with Mikko and give him more time to watch and get a feel for the league. …We expect that he obviously will get in at some point, and we hope he's more prepared when that's the case."
With Lehtonen moved down, young Maple Leafs' defenseman Travis Dermott moves up to the team's third pairing with Zach Bogosian. Keefe was adamant that Lehtonen would get a chance to play much during the season and believed the KHL's best defenseman last season had great offensive instincts and was already good to go as a quarterback for the team's power-play unit.
What's Next for the Maple Leafs?
One NHL record to keep an eye out in tomorrow's game against the Montreal Canadiens is Matthews' streak of scoring at least one goal in four straight season-opening games. In fact, Matthews has scored in every season-opening game he's played in his career.
Related: Maple Leafs News & Rumors: Timashov, Gauthier & Future Possibilities
Matthews is one of only four players in NHL history to begin his career by scoring in his team's season-opening game four straight times. The others – Dit Clapper (1927-28 to 1930-31), Dave Andreychuk (1982-83 to 1985-86), and Sergei Fedorov (1990-91 to 1993-94) – did not score in their fifth season-opening game. So, should Matthews score against Carey Price and the Canadiens, he'll hold the NHL record by himself.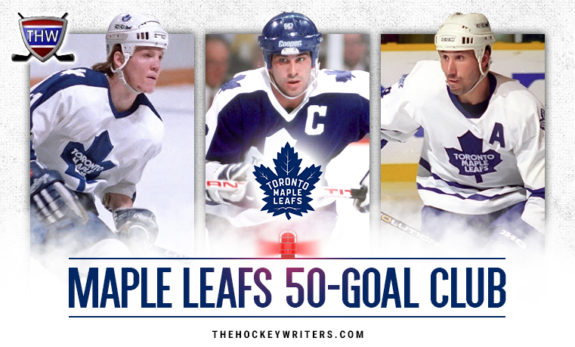 As his teammate John Tavares notes, Matthews "comes in extremely well-prepared and comes out of the gates hot. He expects a lot out of himself, wants to be a great player in this league, and is such a driving force for us."
I, for one, hope Matthews scores at least one goal tomorrow.
---
---