With training camp in the rearview mirror and the final rosters set, the Vancouver Canucks are about to embark on a journey where they will meet only Canadian teams in a 56-game sprint to the playoffs. They will play each team at least nine times and sometimes even three times in a row. It promises to be an exciting five months of intense playoff-style hockey, as every game will be important in the standings.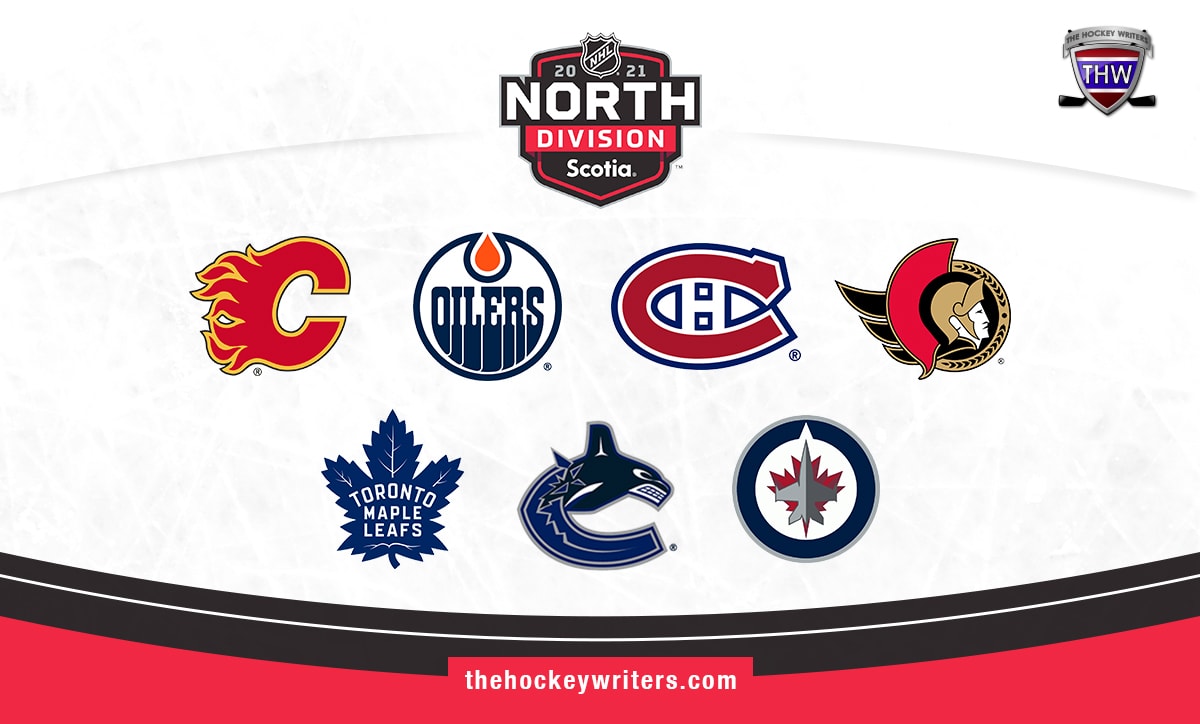 After making it to the second round of the playoffs for the first time in a decade, the atmosphere around the Canucks is again a positive one. They are still led by the dynamic duo of Elias Pettersson and Quinn Hughes and have a shiny new rookie in Nils Hoglander, so optimism abounds as they begin yet another season on the West Coast.
Canucks Young Guns Continue to Lead the Offence
If Hoglander does not have any early growing pains, the Canucks top-six should be a lethal one. Unfortunately, we won't get to see it at full power until Jan 27, since JT Miller is now under quarantine due to Jordie Benn supposedly testing positive for COVID-19. Hoglander could find himself on the top line with Pettersson and Brock Boeser because of it, so we may see some early offence from the 5-foot-9 Swedish dynamo.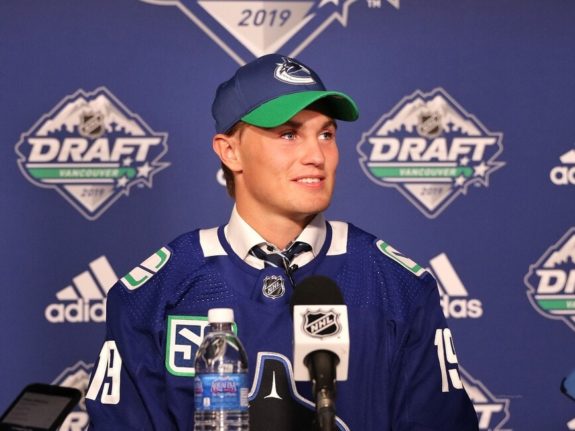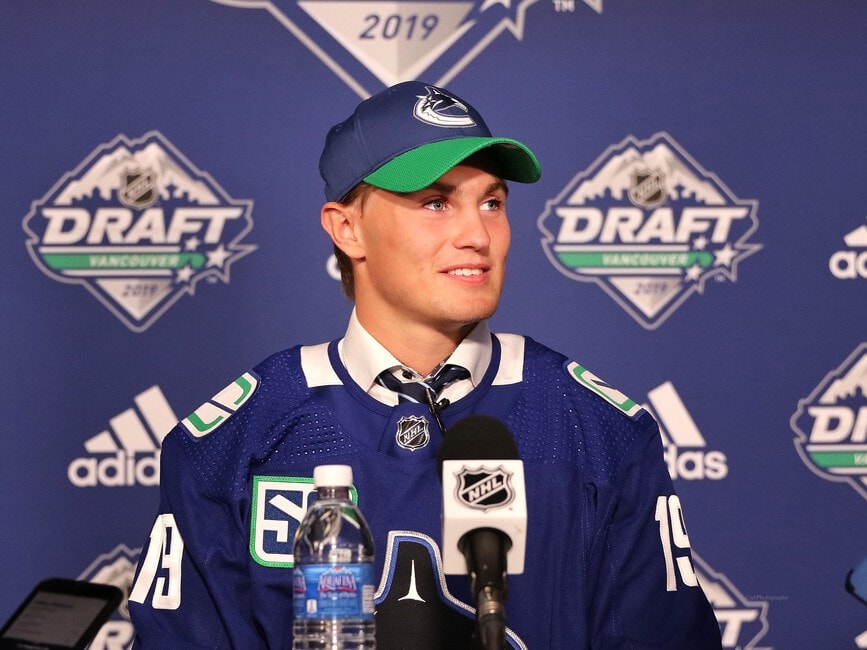 The Canucks' success will run through the young guns of Pettersson, Boeser, Horvat, Hoglander, Adam Gaudette, and Jake Virtanen. If all goes well, they will eventually be able to roll out a top-nine that should be the envy of the division.
Canucks Defence is Deep & Dynamic
After losing Chris Tanev and Troy Stecher to the Calgary Flames and Detroit Red Wings respectively, the Canucks' defence core looked like Swiss cheese. Fast forward to now, and they are probably one of the deepest and most dynamic groups in the NHL. Adding a top-pairing defenceman in Nate Schmidt and a solid veteran in Travis Hamonic was all they needed to transform the Swiss cheese into a full block of Cheddar, and it's pretty Gouda (I'll let myself out).
Related: The NHL's Top 100 Prospects – Preseason Rankings
Jokes aside, the Canucks' defence got a massive upgrade with Schmidt and Hamonic joining the team. When you look at the projected pairings of Hughes and Hamonic, Schmidt and Alex Edler, and Olli Juolevi and Tyler Myers, they are a very well-balanced group. They can all push the pace, which is what head coach Travis Green's system needs in order to be successful.
Hamonic completed the puzzle with his bargain-basement one-year, $1.25 million contract. He fills a Tanev-sized hole on the penalty kill, can play the hard minutes alongside Hughes, and stabilizes the right side with Myers and Schmidt. Basically, it's a win-win-win for the Canucks.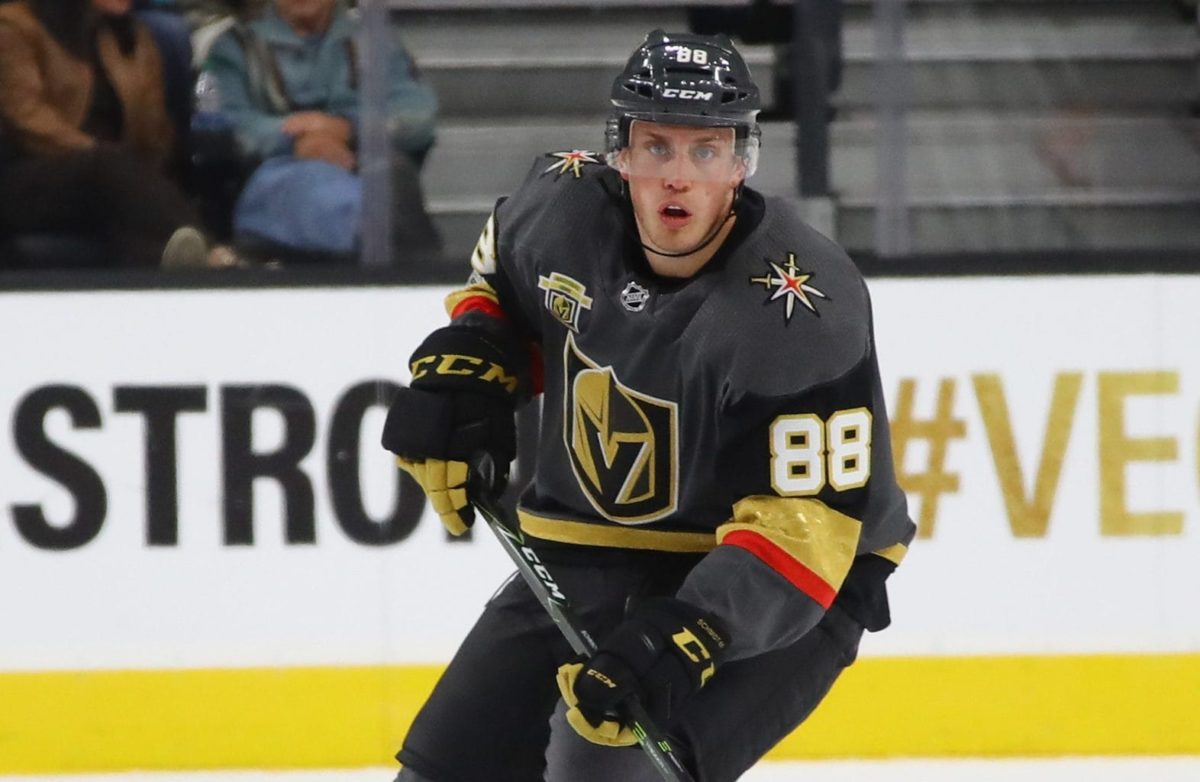 If all goes well, the Canucks will end up with two elite top-pairings. Schmidt and Edler could be one of the NHL's best puck-moving tandems and we all know what Hughes can do with a solid defensive defenceman by his side. Throw in the intriguing potential of the Juolevi and Myers pairing, and the Canucks could have one of their best defence cores since the good old days of Dan Hamhuis, Kevin Bieksa, and Christian Ehrhoff.
Rock Solid Goaltending
The Canucks lost Jacob Markstrom to the Flames but gained Braden Holtby from the Washington Capitals. If he can return to the form that saw him win a Vezina Trophy in 2016 and a Stanley Cup in 2018, they will have one of the top tandems in the NHL. Thatcher Demko, who had a coming-out party in the 2020 playoffs with an eye-popping 0.64 goals-against average (GAA) and .985 save percentage (SV%) is one of the reasons why that could be the case.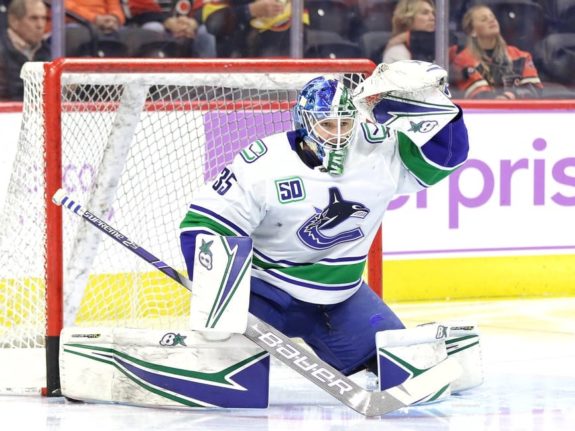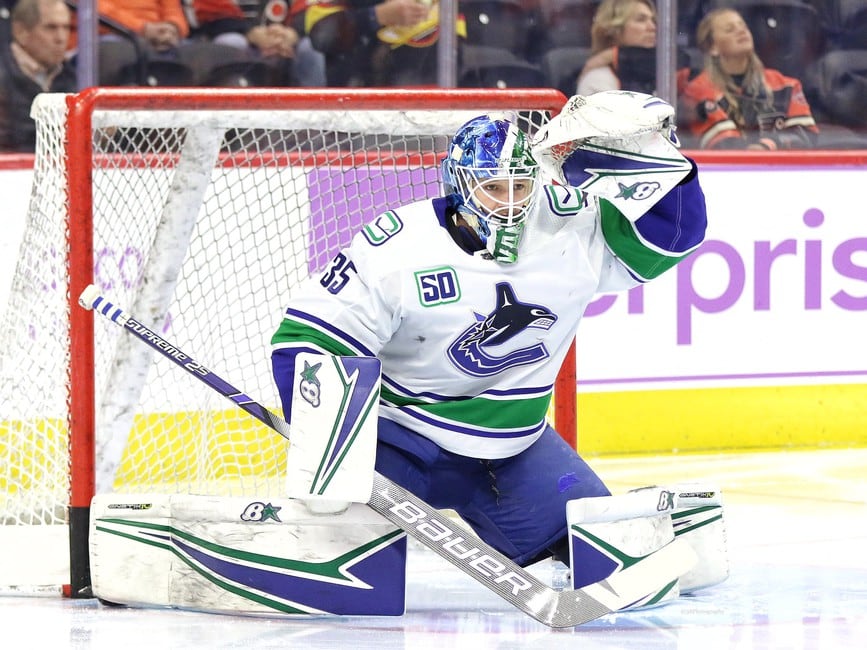 Goaltending coach to the stars Ian Clark will be the other reason. After molding Markstrom into a top goaltender in the NHL last season, he will work with Holtby and Demko to create his first superstar tandem since Roberto Luongo and Cory Schneider.
Breakout Players
Adam Gaudette
After posting career highs in goals (12) and points (33), and getting married to his fiancé Micaela, Gaudette could be in line for a breakout season. Green is going to trust him to carry the third line without the faceoff services of Brandon Sutter, and he will be used on the penalty kill as well. He's also stronger, more determined, and has more energy on the ice thanks to a change in his diet. All that could make for a very dangerous Gaudette in 2020-21.
Olli Juolevi
Olli Juolevi is finally healthy and ready to make his mark on the NHL. He has shown well in training camp on a pairing with Myers and looks poised to kill penalties for Green too. He probably will calmly play 12-15 minutes on the third pairing, and that's a very good thing for a rookie defenceman. He's a smart, no-nonsense defenceman who moves the puck, and that's exactly what the Canucks need on their backend. He may produce a decent amount of points because of his saucy lead passes too.
On the Hot Seat
Jake Virtanen
For the second straight season, Virtanen is on the hot seat. After a less-than-stellar postseason where he struggled to make an impact and was seemingly on the trade block, he has to make a big splash in 2020-21.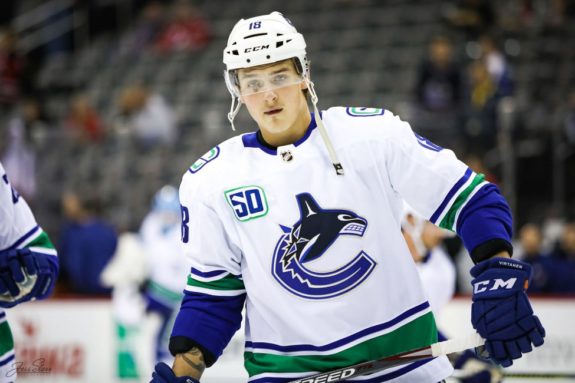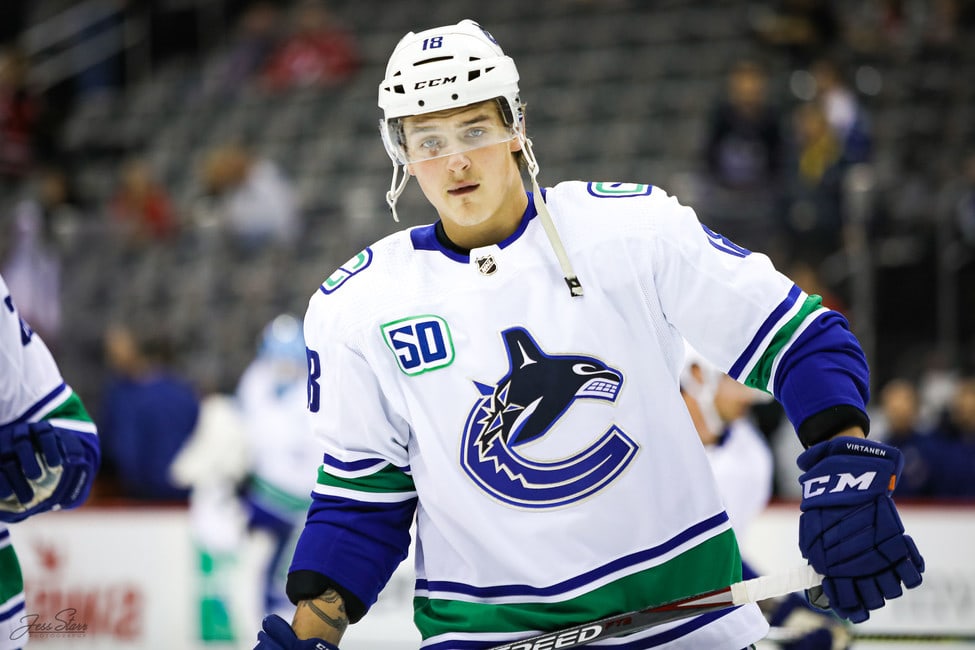 Virtanen did have career-highs in goals (18) and points (36) last season, so the potential for improvement is there. With Miller starting the season on the shelf, the time is now for him to show the coaching staff and the NHL that he belongs in a top-six role.
X-Factor
Nils Hoglander
For the second time in four seasons, the Canucks will have an exciting Swedish rookie to fawn over. Hoglander came into training camp and impressed everyone with his maturity, work ethic, and most of all, offensive skillset as he forced his way onto the opening night roster. He will start the season in the top-six and could be their fourth-straight Calder Trophy finalist by the end of the campaign.
Some Predictions, Bold & Otherwise
What's fun about the start of a new season is the fact that optimism and positivity abound. So with that in mind, here are a few bold predictions for 2020-21:
Hoglander will be a finalist for the Calder Trophy
Demko and Holtby will form a tandem comparable to Luongo and Schneider in 2010-11
Boeser will score a pro-rated 35 goals
Hughes will win the Norris Trophy
Gaudette will establish himself as a solid third-line center and finish with a faceoff success rate above 50 percent
Canucks will finally break their losing streak against the Winnipeg Jets
Jack Rathbone will play at least 20 games
Will the Canucks Make the Playoffs?
After a successful run in the playoffs last season, the Canucks will be looking to repeat in 2020-21. In a tough North Division, they will need their entire roster to step up and make a difference. We all know the core-four of Pettersson, Boeser, Horvat, and Hughes will continue to lead the offence but what we don't know is how the bottom-six will perform.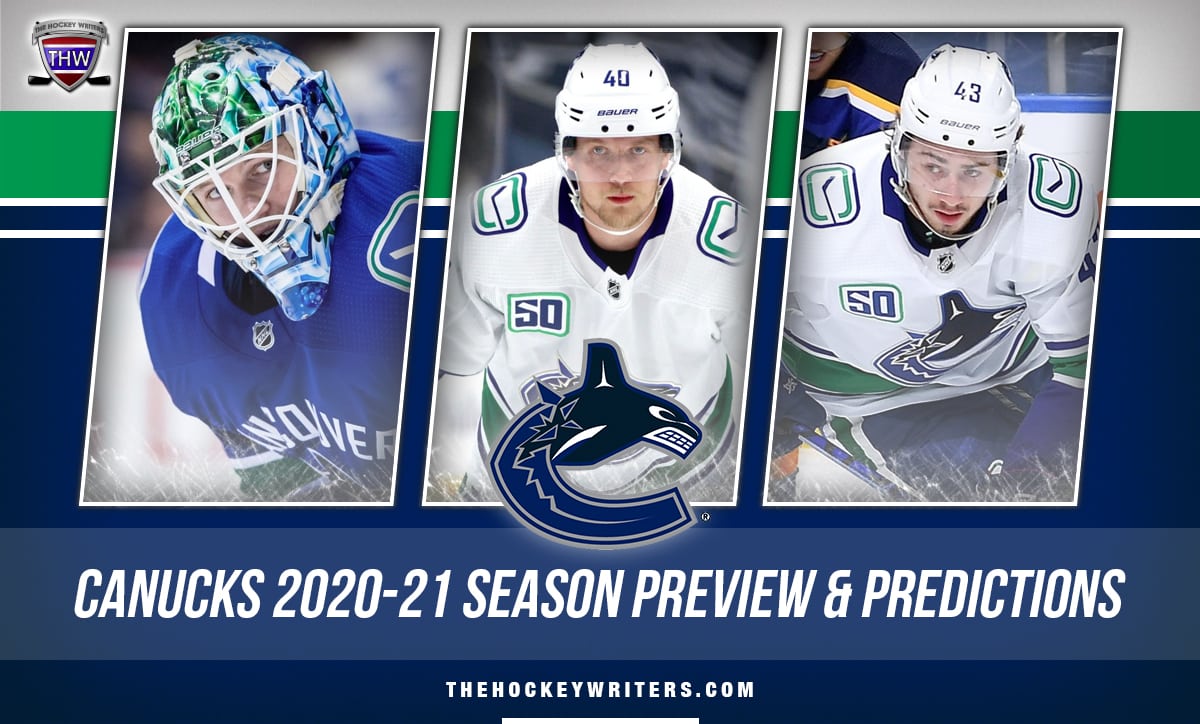 Depth will be king this season, as the pandemic continues to ravage the globe. We have already seen it make an early impact on the lineup, so the amount of NHL-ready depth will make all the difference between a top-four spot in the division and being on the outside looking in.
Related: Canucks Showcase Final Roster Ahead of Season Opener
All that being said, I believe the Canucks have the right amount of skill and depth to make it into the elite-four and maybe even win the division. The biggest difference between last season and this season is their defence. They have become a formidable unit with two elite puck movers in Hughes and Schmidt (on separate pairings no less) and Green can finally trust every one of his duos to play significant minutes against any player, on any team. That alone will give them a huge advantage this season.
Despite the fact that we can only see the Canucks in our living rooms this season, they will be a fun and exciting team to watch, even if it's only on TV. So enough with the previews and predictions, and let's drop the puck!
2020-21 Season Prediction: First in the North Division
---
---