The 2020-21 NHL season starts on Jan. 13, and the Vancouver Canucks will take on the Edmonton Oilers on opening night. The Canucks will have a few new players throughout their lineup this season – Chris Tanev, Jacob Markstrom, Tyler Toffoli and Troy Stecher left through free agency, which has created open spots on the team's roster. 
J.T. Miller was a breakout player last season. In his first season with the Canucks, Miller posted 27 goals and 72 points in 69 games. Vancouver has multiple players with an opportunity to have a breakout season in the top-six, on defence, and in the net. 
Thatcher Demko
The Canucks drafted Thatcher Demko in the 2014 NHL Draft with the 36th overall pick. Demko spent three seasons as the starter with the Utica Comets in the AHL and last season as the backup with the Canucks. The 25-year-old goaltender played 27 games last season, as Markstrom started a majority of the games when he was healthy. He will compete with recently signed Braden Holtby for the starting job in 2020-21.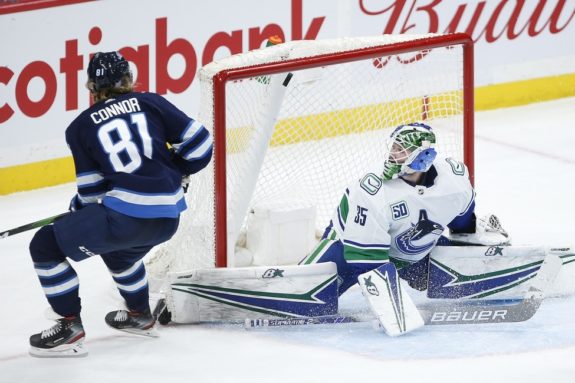 Demko played a stretch of games last season when Markstrom suffered a knee injury in February. He posted a 3-4 record, .887 save percentage (SV%) and a 3.13 goals-against average (GAA) in that stretch. Demko had a better performance in the playoffs when he replaced an injured Markstrom once again. In the three games he started, the 25-year-old posted a .64 GAA, a .985 SV%, and one shutout while forcing a Game 7 against the Vegas Golden Knights. 
"I've been able to reflect a ton on it. You can look back and watch the film, which I was able to do. But I think the biggest thing I take away from that was just the mental step that I took. That's the thing that's probably the biggest adjustment going through your career, having that mentality, creating that confidence and sustaining that confidence. For me, it was kind of like the stars aligned."

Demko said about his playoff performance.
The 2020-21 season will be an opportunity for Demko to make his dream of being a starter for the Canucks come true. He will have to have a breakout season for that to be possible. 
Olli Juolevi
Olli Juolevi, the Canucks' fifth overall pick in the 2016 NHL Draft, is finally healthy enough to play on the main roster. First, a back injury sustained while training for his transition to the NHL and AHL kept him out. Next, Juolevi injured his knee while playing in Utica, which led to two surgeries, and finally, a hip issue hurt his chances at making the main roster. 
"For sure, it's difficult times when you're injured. But I feel every time I've played and I've been healthy, I've played good hockey. That gives you confidence. Even this past year in Utica, the team and how we played, it was really good for me.

Juolevi said about his injuries.
Now that he is healthy, Juolevi has been able to focus on improving. The Finnish defenceman believes he can pair his improved defence with his puck skills and hockey IQ. Along with Tanev and Stecher, Oscar Fantenberg also left the Canucks this offseason. Juolevi will have an opportunity to take up his spot on the left side of the third pairing. 
Nils Hoglander
Nils Hoglander has joined the Canucks at training camp, and on Day 1, he got his shot in the top-six with Bo Horvat and Tanner Pearson. The 2019 second-round pick impressed the captain during the time they played together. 
Hoglander has a chance to join the main roster and make an immediate impact. He had 14 points in 23 games with Rogle BK in 2020-21 and is in midseason form. With a head start on some of his teammates and a top-six role, Hoglander can join Brock Boeser, Elias Pettersson and Quinn Hughes as the fourth Canucks' rookie in four years to be a candidate for the Calder Trophy. 
Jake Virtanen
Jake Virtanen has been a hopeful candidate to have a breakout year every season since joining the Canucks. Virtanen had a career-high in goals (18) and points (36), but his inconsistent play during the season and in the playoffs led many to believe he would leave Vancouver through free agency. Instead, the 2014 first-round pick re-signed for two seasons with an annual average value (AAV) of $2.55 million.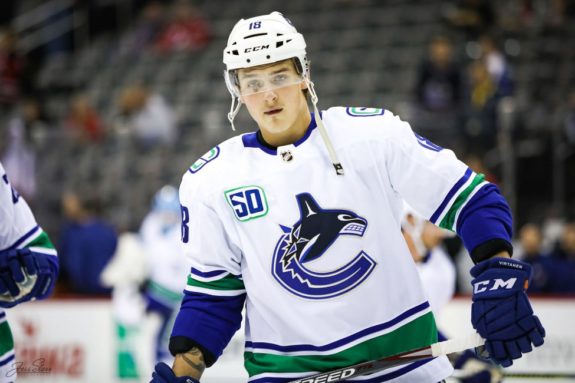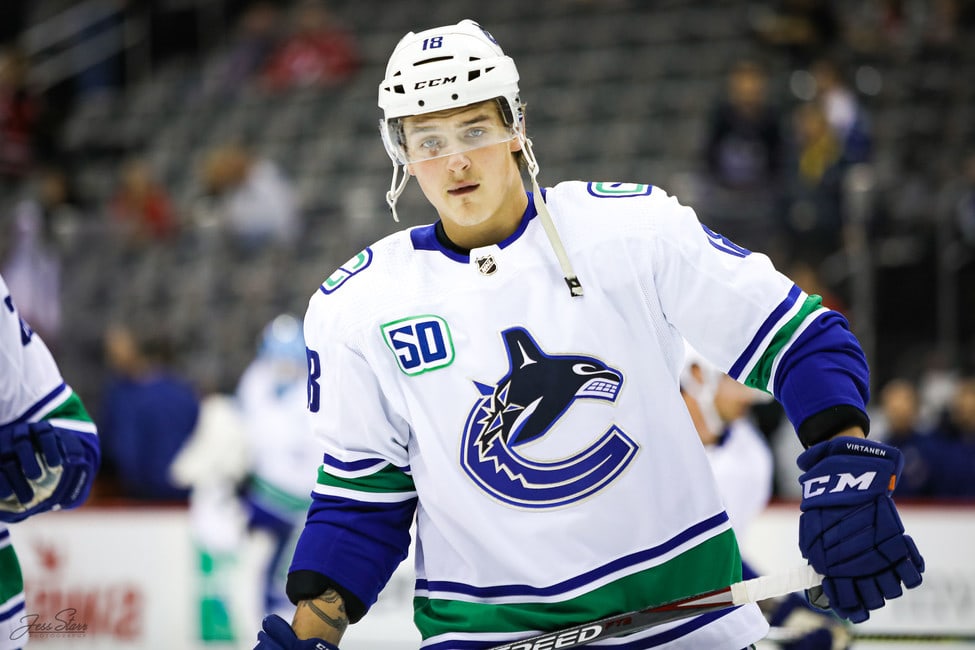 Virtanen's opportunity for a breakout season comes with the departure of Toffoli. Before training camp, the 24-year-old was the top candidate to play with Horvat and Pearson on the second line. On the first day of training camp, Hoglander was the one playing with Horvat and Pearson instead. Virtanen will once again have to work hard to earn his spot in the top-six, and if he does, he could be on pace to having another career season. 
"I'm just going to go and work hard and I'm not really paying attention (to line combinations). I'm just going to try to work hard and earn a spot in the top six. I know there's a lot of good competition out here you know you've got to work hard, and you know every guy is going to be out here trying to earn spots."

Virtanen said after the first day of training camp.
Breakout Candidates Can Change Canucks' Season
All four breakout candidates can change how the outcome of the Canucks' 2020-21 season. Demko can change the Canucks season by putting up a performance similar to the one in the 2020 Stanley Cup playoffs. He will have to help replace what Markstrom did for the team last season, alongside Holtby.
If Juolevi has a breakout season for the Canucks, he will improve their defensive core compared to last season. As for Virtanen and Hoglander, they have opportunities to improve the scoring of the top-six. If Hoglander makes the main roster and Virtanen has an impressive start, the two could play together. A line of Hoglander, Horvat and Virtanen is a possibility at some point next season. 
---
---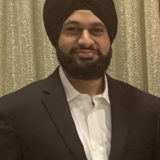 Sartaaj has been watching hockey for over 15 years and covers the Vancouver Canucks for The Hockey Writers.