With a spot in the gold medal game up for grabs, many anticipated that the latest chapter in the historic Russia-Canada rivalry would bring with it yet another highly-contested matchup. However, Monday night's affair quickly turned into a rare lopsided victory for Canada, as the Russians fell flat in a 5-0 shutout.
As TSN's Bob McKenzie put it, Canada came "as close to perfection as you can get", proving that they've only gotten better as the tournament has carried on. Silencing a potent Russian offense, taking advantage of a shaky Yaroslav Askarov, and simply outworking an inexperienced Russian blueline allowed Canada to dominate once again and leave them one win away from their second consecutive gold medal.
Riding on another brilliant performance from Devon Levi, who tied Justin Pogge's 2006 record of three tournament shutouts, Canada's offense got to work early, scoring in the first 10 minutes for the sixth consecutive game. Keeping tight to the Russian forwards, staying aggressive on the puck, and closing gaps in the middle of the ice were the keys behind another impressive Canadian victory.
Now preparing for a gold medal final against another historic rival, here are three takeaways from Monday's action, as Canada remained undefeated and continued to make their case for the best tournament performance in recent memory.
1. Newhook's Return Sparks Canada's 2nd Line
After missing the quarterfinals against the Czechs, Alex Newhook returned to the lineup alongside Peyton Krebs and Jack Quinn, rounding out Canada's second line. The Newhook-Krebs combination is nothing new for Canada, as the pair found themselves together against both Finland and Switzerland. Now reuniting against Russia, the two brought their typical fast-paced style of play to start the game, en route to opening the scoring for Canada.
Despite his one-game absence, Newhook didn't seem to miss a beat, attacking the Russian zone with speed from the opening shift. Corailing his own rebound before rifling a shot over the shoulder of Askarov had the Canadians off and running, leading to a barrage of offense throughout the game.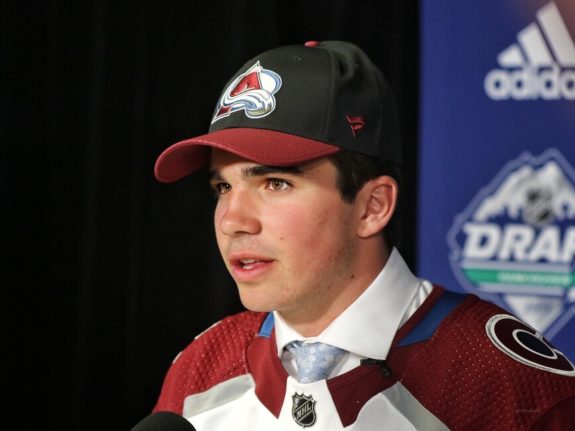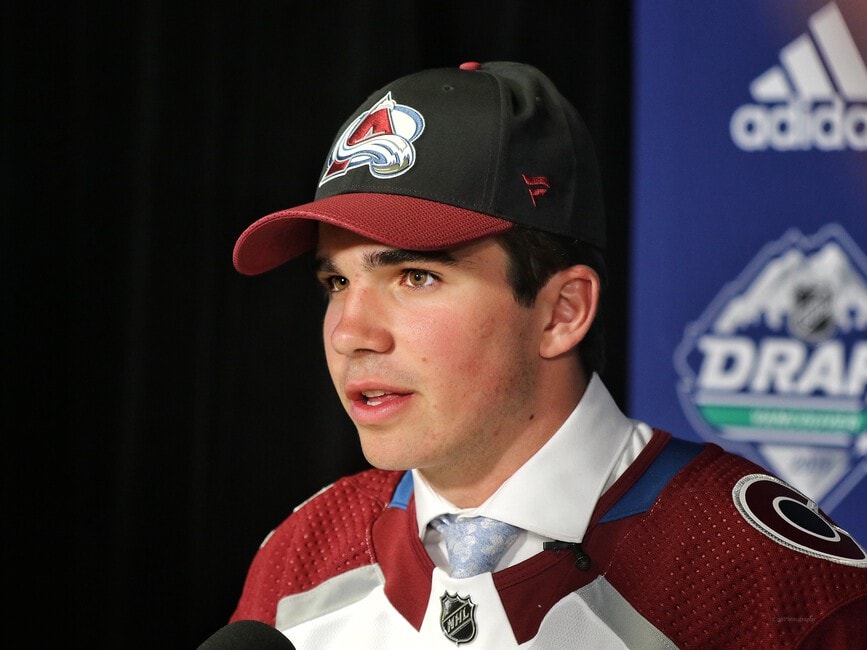 Newhook's impact on Monday extended far beyond the scoresheet, as the Colorado Avalanche prospect continued to provide Canada with a versatile, two-way presence. Throughout the tournament, Newhook has done an admirable job hunting down pucks, drawing penalties, and generating turnovers and that was no different against the Russians. His ability to kickstart the offense and create chances from anywhere on the ice has made him one of Canada's go-to players to start a game and a vital asset within the lineup.
"When you're sitting out a game and watching the guys, it definitely gets at you a bit.", Newhook said postgame. "That build-up of energy definitely gave me a boost here and we were tough to play against all night". Putting his elite skating ability and all-around awareness on full display against the Russians, Newhook was once again a driving force behind Canada's success.
2. Canada's Forecheck Makes Quick Work of Russian Defense
A running constant in this tournament has been Canada's ability to create turnovers. Backed by a relentless forechecking system that makes it nearly impossible for the opposition to escape their own zone, Canada continued that same strategy heading into the semifinals against Russia.
The Russians, who happen to have some of the youngest defensemen in the entire tournament, struggled mightily against the Canadian forwards who were quick to apply pressure and relentless in puck battles along the wall.
In search of evidence? Look no further than all five of Canada's goals, as the origin of each one can be traced back to a Canadian forward outworking a member of the opposition. From battles in the corner, to backchecking efforts that led to turnovers, the Russian defense was simply overwhelmed by Canada's forwards, and it showed on the scoresheet.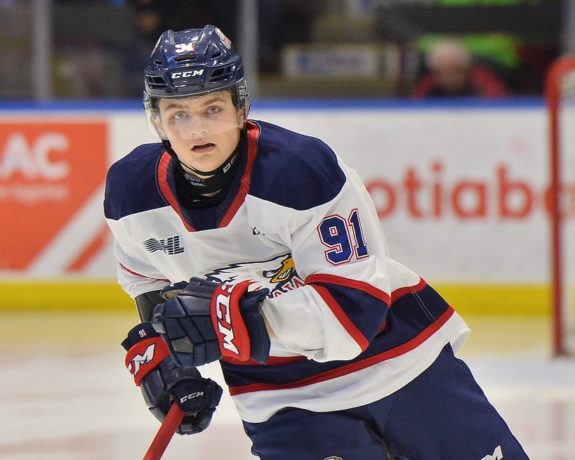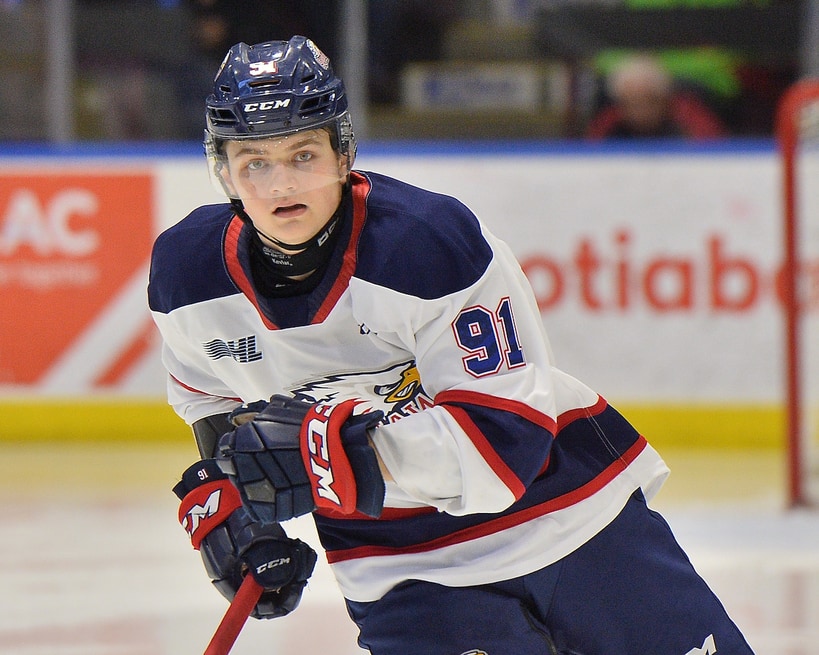 Connor McMichael, who was the recipient of an outstanding cross-seam pass from Jakob Pelletier, scored Canada's second goal following Dylan Cozens' effort beneath the goal line. As the Buffalo Sabres prospect got underneath the stick of defenseman Roman Bychkov, Cozens kept the play alive before spotting Pelletier, leading to the McMichael tally.
Cole Perfetti, who continued to be a staple on the Canadian power play, ripped home his second goal of the tournament in a similar fashion to McMichael. After Peyton Krebs (who stands just 5-foot-9) managed to fend off Shakir Mukhamadullin (who's nearly 6-foot-3) in order to maintain possession with the man advantage, he found Bowen Byram, who drew the primary assist as Perfetti netted Canada's third straight goal.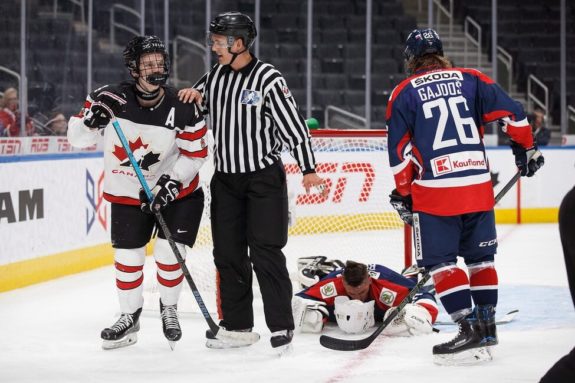 Canada's domination in the offensive zone was capped off by Braden Schneider, who was the beneficiary of Dawson Mercer's forechecking and backchecking efforts. In another classic case of Canadian forwards winning puck battles in the offensive zone, it was evident from the get-go that Russia had their hands full. Facing a team that prides themselves on their work ethic and aggressiveness is not an ideal matchup for a defensive core built on youth, and the result from Monday's contest reflects that in the truest of forms.
3. Askarov Disappeared When Russia Needed Him Most
High-octane offenses aside, the matchup between the pipes promised to be one of the most exciting in recent memory. Heading into the final week of the tournament, both netminders were riding hot streaks, coming off of impressive performances in the quarterfinals. In short, it didn't live up to expectation for one reason:
Yaroslav Askarov simply disappeared.
Credit where credit is due, Devon Levi was brilliant once again, recording his second straight shutout and etching his name into the record books. However, Askarov's performance against Canada will stand out beyond anything else when Russia reflects on the loss. Widely regarded as one of the best goaltending prospects today, the 11th overall pick from the 2020 NHL Draft simply didn't look like himself on Monday night.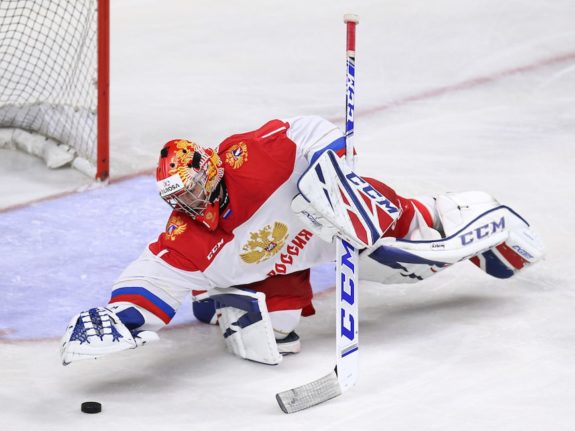 Giving up an early goal was bad enough, but that wasn't the only red flag that arose in the early going. Askarov never seemed to settle in the crease and found himself well outside the blue paint on a number of occasions. Seemingly fighting the puck whenever the Canadians had possession, Askarov failed to contain rebounds and often overcommitted to outside shots, allowing old habits to re-materialize and take control of his game.
Perhaps the most concerning takeaway from Monday's tilt was the number of times Askarov was seen chasing his stick. Dropping it nearly 10 times, directly leading to three of Canada's five goals in the process, is simply uncharacteristic for a goalie of his caliber. And although the Russian offense did little to help his case, Askarov was a big reason why the Canadians were able to establish their agenda as soon as the puck was dropped, and how they never gave Russia any sense of a comeback.
Gold Medal Game Will Renew Another Historic Rivalry
In what promises to be another classic gold medal final, Canada and the United States will square off once again to wrap up what has been an unprecedented tournament. After opening the tourney with a loss to the Russians, the Americans have been stellar, backed by tournament scoring leader Trevor Zegras and the resurgence of Spencer Knight.
Following a thrilling win over Finland in their semifinal contest, the United States head into the gold medal game riding a wave of confidence. Cole Caufield, Alex Turcotte, and Arthur Kaliyev have heated up at the right time, and Cam York is leading a blueline that has become much more than serviceable.
With the Americans getting the better of their North American counterparts in the last three gold medal meetings between the two countries, the next chapter in their historic rivalry is shaping up to be one of the best in recent memory.
Puck drop on Tuesday between Canada and the United States is set for 7:30 P.M. MST/9:30 P.M. EST.
What stood out to you in Canada's domination over Russia? How do you see them shaping up against the United States? Let me know in the comments.
All the 2021 World Junior Championship Team Information:
Austria — Team Preview — Roster
Canada — Team Preview — Roster
Czech Republic — Team Preview — Roster
Finland — Team Preview — Roster
Germany — Team Preview — Roster
Russia — Team Preview — Roster
Slovakia — Team Preview — Roster
Sweden — Team Preview — Roster
Switzerland — Team Preview — Roster
USA — Team Preview — Roster
Selection Camp Invites by NHL Team
Draft Eligible Players to Watch
One Player to Watch for Each World Junior Team
7 Predictions for the 2021 World Junior Championship
---
---