Entering the quarterfinals as the heavy favorite over the Czech Republic, a Team Canada victory seemed all but inevitable on Saturday night. And while the Canadians did end up punching their ticket to the semifinals, the Czechs hung around, and certainly put up a much greater fight than anticipated. Limiting the Canadian offense to just 3 goals is impressive enough, but the Czechs also managed to accomplish something that no other Canadian opponent had yet to achieve.
That feat? Registering more than 20 shots on goal and in the process, giving Devon Levi his first real test of the tournament. Unlike the round-robin, the Czechs didn't fold after Canada got up early. Looking back to their blowout losses against Sweden and the United States, the Czechs disappeared after getting down early. Against Canada, however, they battled hard, generating chances and playing a tight defensive game all throughout the contest.
"I thought we started well, I thought we battled really hard defensively and we did a lot of good things. Even if it wasn't a masterpiece, I thought we grinded it out and we played well enough to win", head coach Andre Tourigny said post-game, which truly sums up Canada's efforts. Saturday night was by no means a masterpiece, yet Canada proved that even when they don't play their best, victory is never out of reach.
With Canada inching closer to yet another gold medal, here are three takeaways from their victory over the Czech Republic.
1. Levi Rises to the Occasion
As mentioned in the preamble, Levi hadn't really been tested in the tournament so far. Starting all four of Canada's round-robin games, the Dollard-des-Ormeaux product hasn't seen more than 20 shots in a single contest and has allowed just three goals in that span, while being the main reason why Canada has yet to trail in the tournament.
Riding a wave of confidence heading into Saturday's quarterfinal matchup, the Czech Republic certainly brought a new level of intensity, testing the Canadian netminder for the first time through series of offensive zone pressure and chances from high danger areas.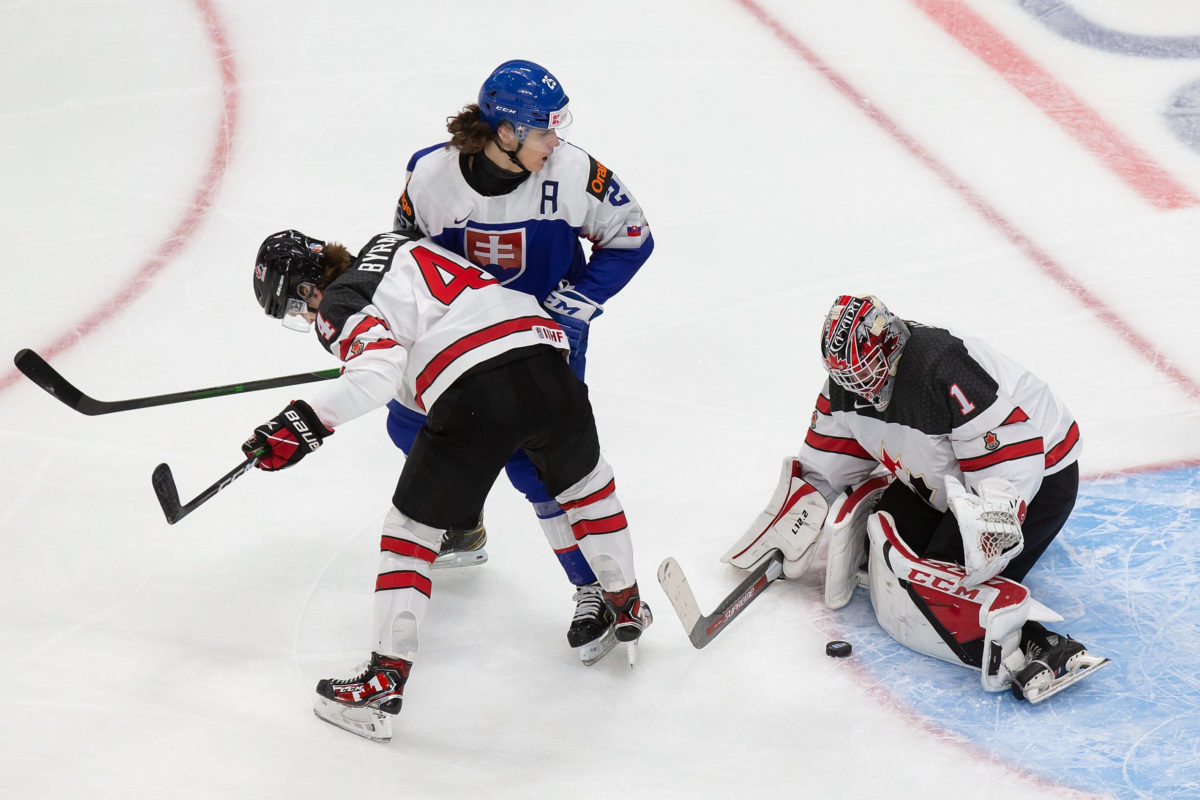 With the Czechs registering nine consecutive shots in the back half of the first period, Levi had to be sharp, facing a consistent amount of sustained pressure for the first time in the tournament. Turning aside 29 shots and a handful of grade-A scoring chances, including a few from Montreal Canadiens prospect Jan Myšák, Levi's calm and cool demeanor was the foundation behind Canada's victory.
Earning praise from all of his teammates, Levi has come a long way since being an unknown name at the selection camp. "He's been a huge part of our backend and stopping the puck.", Dylan Cozens said postgame. "He's been really great and we're very confident in his abilities."
In what was by far his best game of the tournament, Levi's puck tracking ability and rebound control were on full display in Saturday night's contest. Now leading the tournament in every major goaltending category, the Florida Panthers prospect will look to continue to play a big role in Canada's success heading into their final games of the tournament.
2. Krebs Continues to Make an Impact
For a second straight game, Peyton Krebs was one of Canada's best players. After having his way with Finland, the former 18th overall pick embraced an entirely different role for Canada, expanding beyond his arsenal of offensive weapons and branching out into a more complete player for Andre Tourigny and his coaching staff.
As expected, Krebs found himself on Canada's second line once again. Flanked by his usual linemates in Cole Perfetti and Connor Zary, who was replacing the injured Alex Newhook, the Vegas Golden Knights prospect had plenty of opportunity in a variety of situations. (from 'Vegas? Henderson? Winnipeg? Examining the Golden Knights' options with prospect Peyton Krebs,' Las Vegas Sun, 12/25/2020)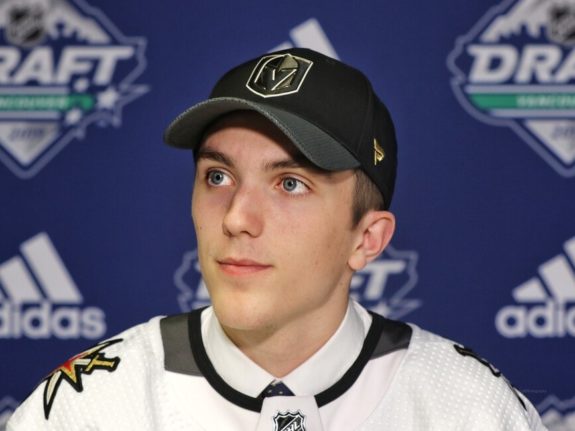 Much like he did against Finland, Krebs played an essential role in setting up Canada's offense. Leading a rush alongside Cozens, Krebs shoveled the puck to the net, later resulting in a Bowen Byram shot that managed to sneak through Nick Malík. While also being the typical hard-working player that he's known to be, Krebs found his way to the front of the net on numerous occasions, helping Canada establish pressure and generate chances.
Adding to his offensive contributions, the Okotoks native played a defensive role as well, setting the tone for Canada's ferocious backcheck. Following a Braden Schneider giveaway, Krebs raced back down the ice en route to intercept a pass intended for Myšák, preventing a high-quality scoring chance for the Czechs.
While also bringing much-needed speed and energy to a defensively-oriented contest, Krebs swayed the momentum for Canada in more ways than one. Depositing Martin Beránek into his own bench while providing a steady two-way presence, Krebs' impact has only grown as the tournament has continued. With tougher competition on the horizon, he could more than likely be called upon in key situations.
3. Canada's Lineup Changes in the Third Period Are Worth Noting
In an unprecedented move, Canada's forward lines were put in a blender during the third period against the Czech Republic. Up to this point, the only lineup changes that we've seen were minor substitutions, with Quinton Byfield centering two different pairs of wingers and Canada's extra forward position rotating between Dawson Mercer and Connor Zary.
But on Saturday? Canada came out of the locker room with an entirely different forward group, in what can only be looked at as an attempt to generate offense. To break this down further, here's what Canada's lines looked like to start the game:
| | | |
| --- | --- | --- |
| Dylan Holloway | Connor McMichael | Dylan Cozens |
| Cole Perfetti | Connor Zary | Peyton Krebs |
| Jack Quinn | Quinton Byfield | Jakob Pelletier |
| Dawson Mercer | Ryan Suzuki | Philip Tomasino |
And here's what they looked like to start the third (red indicating a player who changed position):
| | | |
| --- | --- | --- |
| Peyton Krebs | Connor McMichael | Dylan Cozens |
| Connor Zary | Dylan Holloway | Jakob Pelletier |
| Cole Perfetti | Quinton Byfield | Dawson Mercer |
| Jack Quinn | Ryan Suzuki | Philip Tomasino |
For starters, Krebs' hot streak earned him a promotion to Canada's top line, playing the left side next to Cozens and Connor McMichael. Dylan Holloway, who was previously on that top line, took Krebs' place with Zary and Jakob Pelletier on Canada's second unit.
Pelletier joined the second unit after moving up from the third line while Cole Perfetti, who started within the top six, dropped down to Canada's third line alongside Byfield and Dawson Mercer. As Jack Quinn replaced Mercer alongside Ryan Suzuki and Philip Tomasino, no line looked the same to start the final frame, a seismic shift compared to the start of the contest.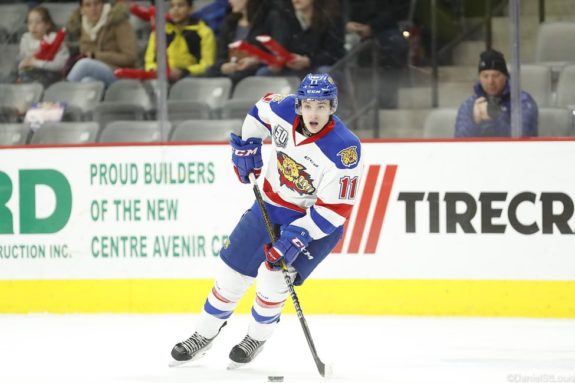 What does this mean? Well, it could mean nothing. With practice on Sunday, Canada's lines could go back to normal. However, with the status of Newhook still uncertain, a change this drastic shouldn't be ignored. Canada possesses an unmatched level of versatility amongst its players, and changes like this could just as well be a precursor to games ahead. Regardless, it's clear that Canada's coaching staff aren't afraid to get creative, something that should be kept in mind as the final days of the tournament approach.
Semifinal Showdown Will Reignite Canada-Russia Rivalry
In a rematch of last year's gold medal game, Canada squares off against Russia in one of the two semifinal matchups. Russia has been on a tear since being upset by the Czechs, besting both Austria and Sweden en route to finishing second in Group B. After fending off a valiant effort from Tim Stutzle and the Germans in their quarterfinal tilt, Monday's showdown provides them with a shot at redemption.
With the reawakening of Vasily Podkolzin, the all-around ability of Rodion Amirov, and the clutch performances from Marat Khusnutdinov, the Russians are widely regarded as the biggest threat to dethrone Canada. And if last year's festivities are any indication, the next chapter in the Canada-Russia rivalry will be just as intense as those previous.
Canada and Russia are scheduled to face off on Monday at 4:00 P.M. MST/6:00 P.M. EST, with a spot in the gold medal game on the line.
What are your thoughts on Canada's significant lineup changes? What stood out from their game against the Czech Republic? Let me know in the comments.
All the 2021 World Junior Championship Team Information:
Austria — Team Preview — Roster
Canada — Team Preview — Roster
Czech Republic — Team Preview — Roster
Finland — Team Preview — Roster
Germany — Team Preview — Roster
Russia — Team Preview — Roster
Slovakia — Team Preview — Roster
Sweden — Team Preview — Roster
Switzerland — Team Preview — Roster
USA — Team Preview — Roster
Selection Camp Invites by NHL Team
Draft Eligible Players to Watch
One Player to Watch for Each World Junior Team
7 Predictions for the 2021 World Junior Championship
---
---