Joey Daccord takes a deep breath in the tunnels of the CAA Centre. The sounds of minor league hockey games echo through the hallways as the arena bustles with life on a typical Saturday night.
It's October 14th, 2019, an unusually brisk evening in Brampton, a quiet suburb about 20 minutes west of Toronto. Daccord is set to make his season debut, but instead of taking the ice in front of a raucous Ottawa crowd, he is starting in goal for the now-defunct Brampton Beast, the former ECHL affiliate of the Ottawa Senators.
Playing in front of fewer than 1000 people would be considered by many to be a step down from where Daccord was less than a season ago when he made his NHL debut between the pipes at the Keybank Centre in Buffalo. But, for Daccord, this was just another pleasant stop in a journey that has taken him across North America.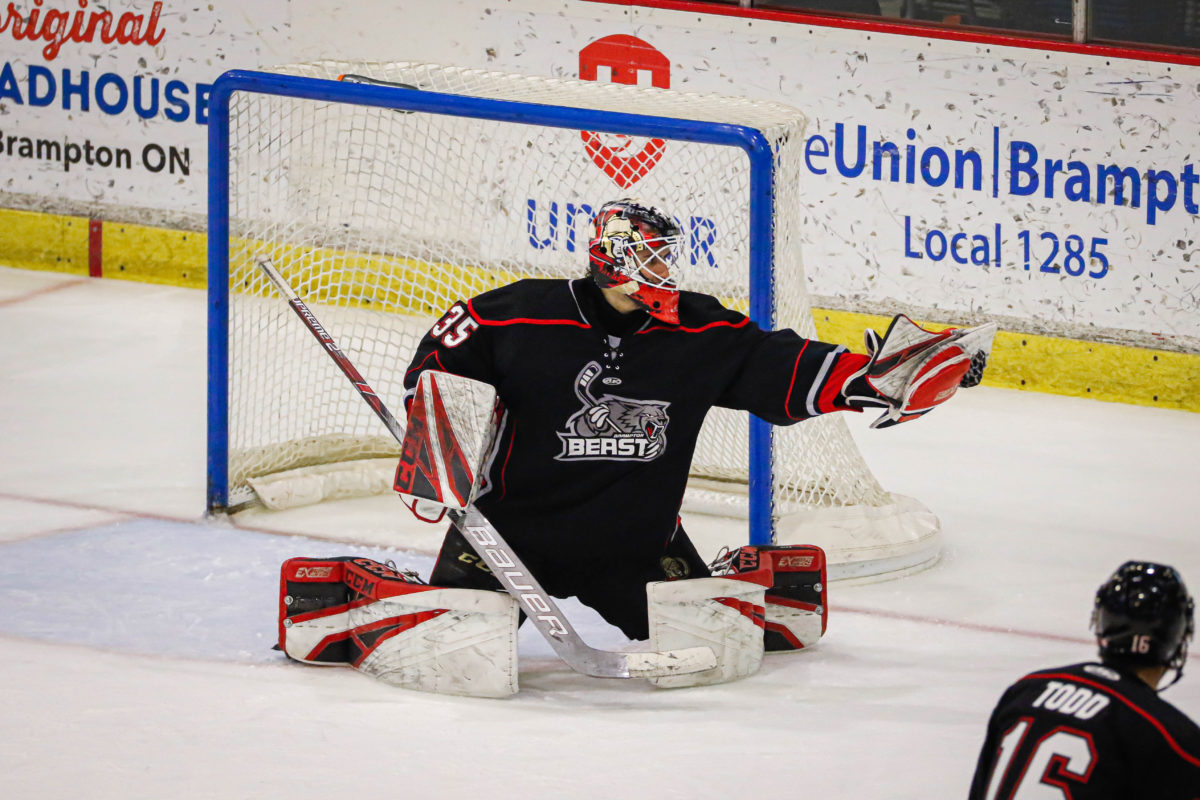 Goaltenders aren't typically selected in the early rounds of the draft. Daccord was no different. All 31 NHL teams in his first year of draft eligibility passed on him; a day he remembers vividly.
"I had talked to a bunch of teams, and I was super excited. I thought for sure I would get picked. It didn't end up happening that year, and that was pretty hard for me. I remember I just wanted to get drafted so bad," says Daccord, chuckling to himself at the irony and gazing around the room. In a regular season, by late November at the time of our conversation, the Senators' prospect would likely have been with the Belleville Senators, Ottawa's AHL affiliate. However, as pandemic life rolls on, Daccord is staying with his parents in Massachusetts and, from the looks of things, using a home office as the backdrop for our discussion.
A Long Journey With a Happy Ending
Luckily, his draft story has a happy ending, which might explain why he finds comic relief in telling it again. "My second draft year, I went out and golfed," Daccord recalled. "I had learned from my first time, and I didn't want to torture myself by sitting there and waiting all day."
He added with a smile: "When I came back it was pick 185, and I just remember sitting there being like, 'Is this for real? Am I not going to get picked again?' And to then get picked at 199 was pretty special."
I asked him if he was ever concerned that his path to the NHL would be longer after being selected in the seventh round. "Never," he replied with another shy grin and a hint towards his character. "I was just so fortunate to get picked. I was so excited."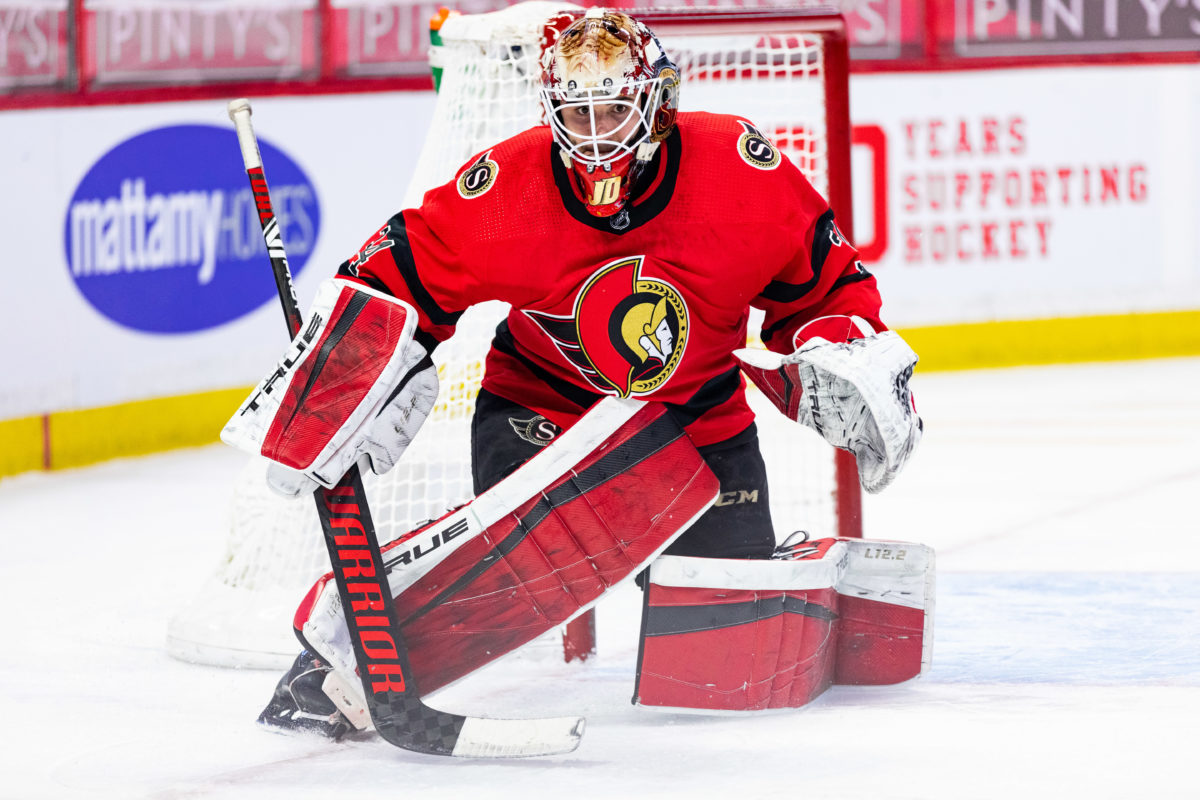 Daccord admitted that he always knew he was going to be a late pick. The unfortunate reality for those drafted in the later rounds is that the road to the NHL has many more stops and many more games played in virtually empty arenas. However, he never let that aspect of hockey life affect his end goal. He embraced the next stop in his journey, welcoming the grind through the minor leagues.
"I kind of always knew it was going to be that longer path. The one where I'm like, 'Now I'm going to go play junior, now I'm going to go play college.' And it was going to be a long road to get there," says Daccord. "I think I was also a little bit naive in the sense that I think I always knew it would work out. It never once crossed my mind that [making the NHL] wouldn't happen."
Daccord is one of four other players selected in the seventh round of the 2015 Draft to have suited up for an NHL game: Steven Lorentz (186, CAR), Markus Nutivaara (189, CBJ), Matt Roy (194, LAK) and Sami Niku (198, WPG). But Daccord didn't seem fazed when I asked about his name being on such a short list.
"Honestly, I didn't even know that," he said, looking awfully surprised.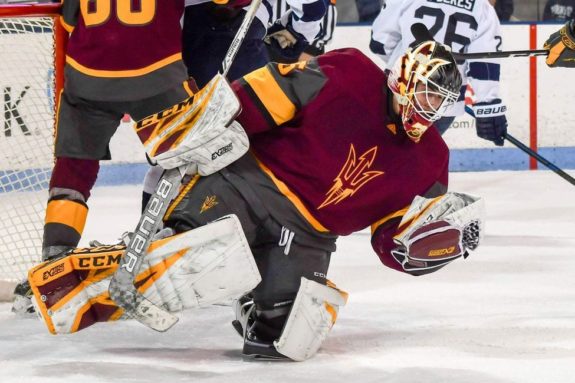 Drafted out of Cushing Academy, Daccord made a brief stop with the Muskegon Lumberjacks (USHL) before opting to commit to Arizona State University, a school with a relatively unknown hockey program in a unique market.
"My first year with Arizona was pretty challenging. It was a whole lifestyle change, and I didn't know one single person," Daccord recalled, reflecting on that nervous experience when he arrived on campus for the first time. "I went there on a day and a half visit and met the coaches briefly. I really had no idea what I was getting myself into."
Still, with a full scholarship on the table and an opportunity to play collegiate hockey, Daccord committed, leaving behind the more established hockey communities on the east coast and arriving at ASU with a goal to put their hockey program on the map. Despite struggling in his freshman year, he came away with the positives; positives that would propel him forward for the rest of his college career.
"The key for me that year was that I improved," says Daccord. "By the end of the year, I had some big games and I started to string together some consecutive games where I played well."
That seemed to be the turning point for him, and in his second year with ASU, his stats improved dramatically, dropping his GAA by nearly a full goal and inflating his SV% from .892 to a respectable .909.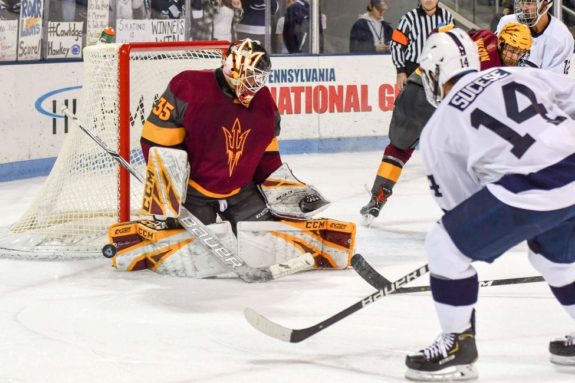 Daccord emphasized the importance of having a support system during his struggles. The former Sun Devil attributes a lot of his success to his goaltending coach at ASU, Andrew "Melon" Matheson, who, according to Daccord, earned his nickname because of his large head.
"He was awesome for me, and we really became friends," says Daccord, still chuckling at Matheson's nickname. "We were able to work through it together and we still talk a lot to this day."
Daccord referenced other members from ASU's coaching staff, particularly assistant coach Mike Field, who, despite being in charge of the defensive unit, made sure that Daccord wasn't being too hard on himself.
He remembered a practice when Field skated by and initiated a conversation. "I remember him telling me, 'We need you to be an A-, A, B+, A, A-, we don't need you to be an A+ all the time," says Daccord. "You're good enough where you just have to be the average version of yourself." And it's that mentality, being ok with being average, is what stuck with Daccord throughout his career. "When I think about being average Joey, average Joey is still a really, really good goalie."
Daccord also mentioned his father's influence, Brian, a former National League (NL) netminder who's a special assistant to the general manager and the director of goaltending operations for the Arizona Coyotes (from, A father's pride: Brian Daccord weighs in on Joey Daccord's success, The Ottawa Sun, March 15, 2021).
"He always held me accountable but was also very supportive. Him and I have always had an awesome relationship," recalled Daccord, stopping to relish some of his childhood memories. "We always just kept it real, and we were just honest with each other."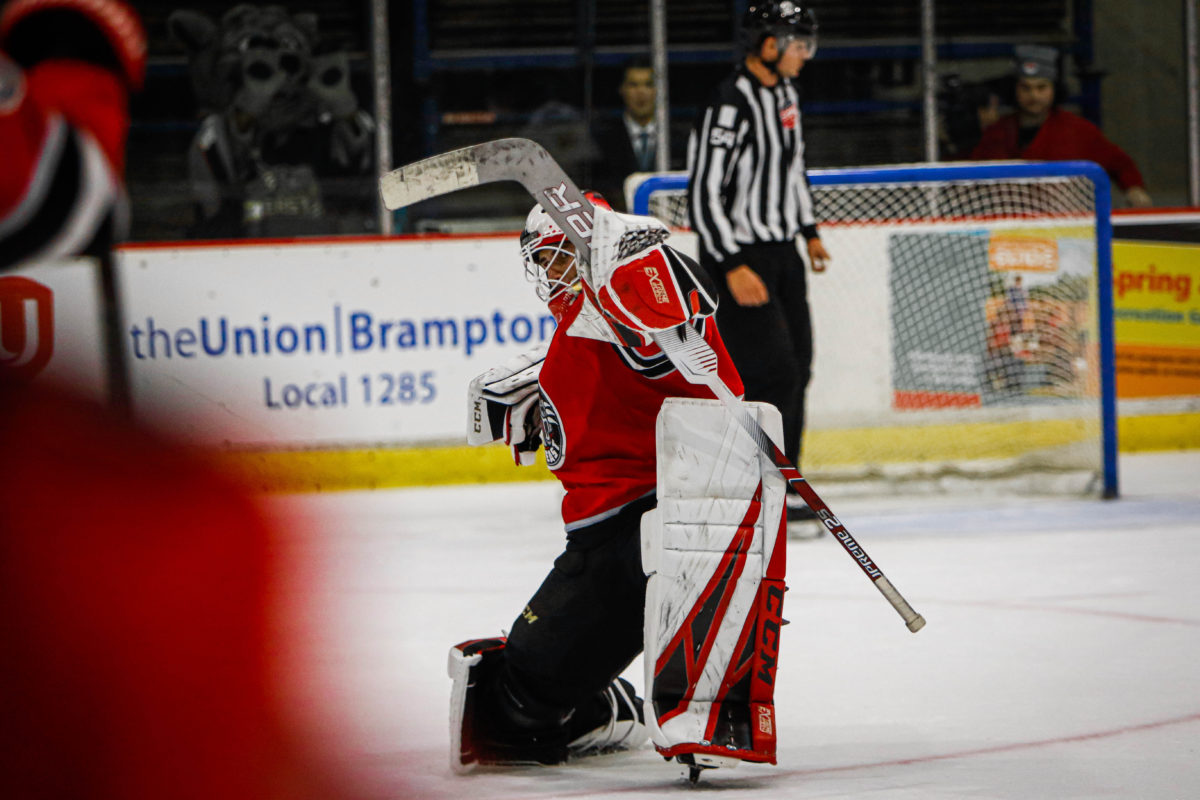 After seeing consistent improvement in his first two years at the collegiate level, Daccord continued to find success in his final year with Arizona State, leading the NCAA in shutouts and helping ASU reach the NCAA regional tournament for the first time in the program's history. ASU later beat #6 ranked Penn State, marking the first top-ten victory in program history, and, following two more wins over Michigan State, ASU was nationally ranked for the first time.
"It was our Cinderella year. We felt like we could do nothing wrong," Daccord recalled happily. "I really just had that confidence from the year before and just rode it. We got hot early and just kept rolling." The topic brought back pleasant memories from his college career.
When the dust settled, Daccord had backstopped ASU to countless firsts in program history. Not only did he post his most impressive stat line from his college career, but he was also named a finalist for both the Hobey Baker Award, given to the NCAA's best men's hockey player, as well as the Mike Richter Award, awarded to the NCAA's best goaltender.
Even after his departure, Daccord continued to etch his name in the school's record books, becoming the first player in program history to sign a pro contract, inking a two-year, entry-level contract with the Senators in April 2019. Three days later, he made his much-anticipated NHL debut.
"If I keep improving and keep playing well, then eventually I'd get signed and work my way up the minors," Daccord went on to say. "I was just fortunate enough to skip those steps and jump right into the NHL."
Daccord's NHL debut came at an interesting time. The Senators were still in the league basement and, due to injury, they were dressing a revolving door of goaltenders. To put things into perspective, Daccord was one of six netminders to man the crease during the 2018-19 campaign, perhaps the main reason he began the following season in Brampton.
Nonetheless, his determination never wavered. When other players might have been frustrated at being sent back to the minors, Daccord was the opposite and continued to embrace each experience and enjoy the challenge of working his way back up to the show.
"It was just more opportunity to grow and learn. Especially when you're in the ECHL and the AHL, there's a lot of adversity you have to go through and a lot of it falls on yourself," he says, pondering his time in the minors. "It's on you to be consistent, to be ready to play, to be a good teammate, to spend the time that you need to in the gym, to treat people with respect. It's on you to be a good pro."
Fortunately, Daccord's positive outlook extended to his life off the ice, something that benefited him during his time in the minors, playing in smaller arenas and spending hours on end riding the team bus. The 24-year old adds that veteran players played a huge role in his development in the minor leagues. "I just tried to learn from the older guys," he says as if offering advice to a kid who asked him for help. "In training camp, I just followed Anders Nilsson and Craig Anderson and tried to learn from them."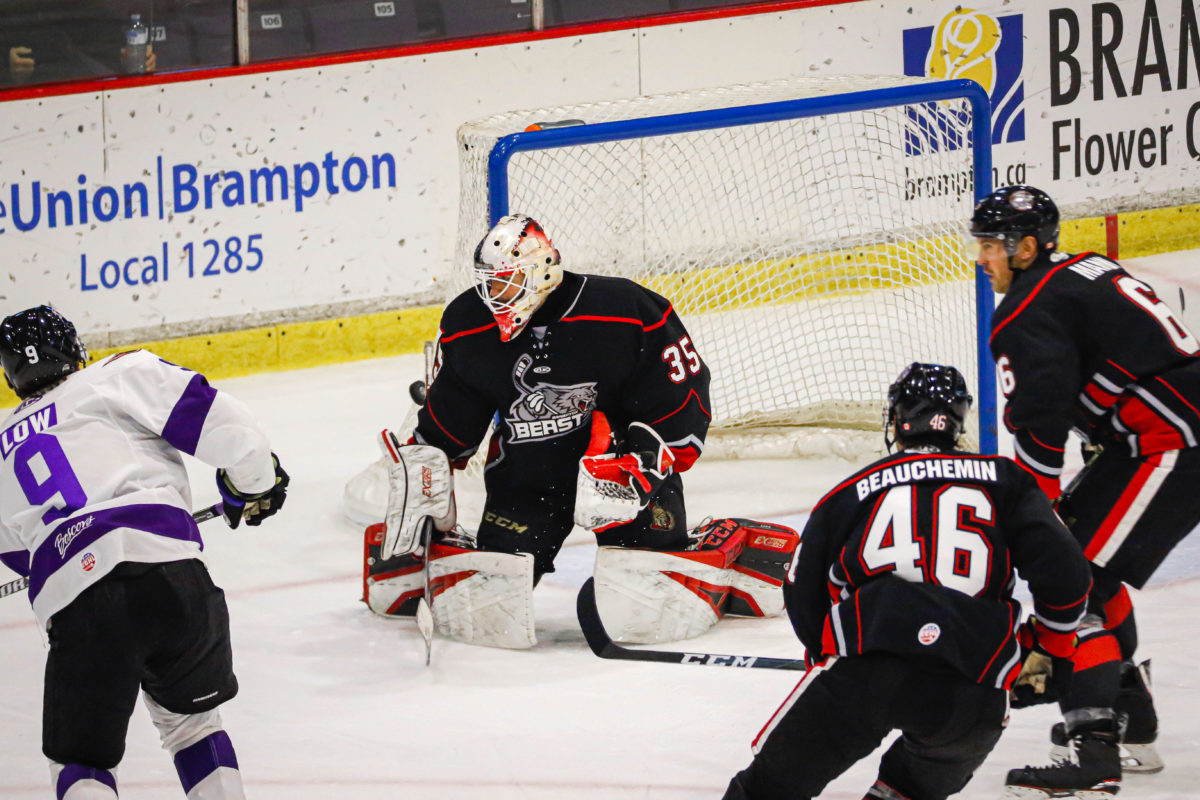 After splitting time between the AHL and the ECHL in 2019-20, the summer of 2020 represented a changing of the guard in Ottawa. Longtime netminder Craig Anderson was released, and steady backup Anders Nilsson was traded, leaving the goaltending position wide open following an already unprecedented season (from, GARRIOCH: Craig Anderson has moved on from the Ottawa Senators to another nation's capital, The Ottawa Sun, January 6, 2021).
Despite signing free agent Matt Murray and the emergence of Marcus Hogberg, the Senators still signed Daccord to a three-year contract extension in October, solidifying his future with the organization. "It was unbelievable for them to show that confidence in me, and I'm just so grateful to be a Senator for the next three years," Daccord says, relieved, as he adjusts his laptop camera. 
With the Senators trending in a younger direction, Daccord knew his time had come to perform at the NHL level on a consistent basis. Following a couple of jumps back and forth between the AHL and the taxi squad to start the season, he finally found himself on the roster after Hogberg was placed on Injured Reserve.
On Sunday night, when Daccord was expected to back up Murray when the Toronto Maple Leafs made the trip to Ottawa, things took an interesting turn. Following injury confusion during the warmup, Daccord got the start and turned aside 33 shots en route to his first career NHL victory, a unique way to achieve your first milestone for a player who has seen it all; a player who always knew he'd return to the NHL at some point in his career.
Visibly emotional during his post-game interview, Sunday's victory encapsulated everything that Daccord has worked towards. After offering a glowing review of his teammates, he thanked his high school, Cushing Academy, Arizona State University and their hockey program, as well as his family and "Melon" Matheson, and, after a brief pause, explained the origin of the nickname to Sportsnet's Kyle Bukauskas.
As Daccord expected, it took him a lot longer to burst onto the NHL scene. However, with a positive outlook, an even more optimistic perspective on life, and plenty of people around him to support his aspirations, he continues to seize the opportunity. From a journey that has taken him from Massachusetts to Arizona, from Brampton and Belleville, it's safe to say that Daccord has finally arrived at the place where he always knew he'd be.
To listen to the full length, exclusive interview, find the Get Your Head in the Game podcast on all major platforms.
---
---
Currently a sport media student at Ryerson University in Toronto, Josh Kim is a freelance photographer and journalist with The Hockey Writers. Having worked within the ECHL, PWHPA, and OHL in a variety of content-based roles, Josh has been working in sports for the past 5+ years and currently finds himself working with Ryerson athletics as a sports photographer. With The Hockey Writers, Josh chases feature stories while also covering the Winnipeg Jets, the World Juniors, and the NHL Entry Draft. While hockey continues to be his main focus, Josh is also a fully credentialed WNBA writer and the host of the Get Your Head in the Game podcast, which emphasizes the connection between mental health and sport. If you're interested in seeing a full display of his work, if you've got a story tip, or just want to get in touch, please find Josh's socials linked below his articles and visit his website: joshkimphoto.com