In securing their 41st point Sunday against the Detroit Red Wings, the Carolina Hurricanes have now won eight games in a row with a league-leading 20 wins. It's been a full team effort in getting them to where they are today, but a big portion of the credit goes to head coach Rod Brind'Amour, who's taken this scrappy, tight-knit team to brand new heights.
Brind'Amour sports a 104-60-13 overall record since taking over for Bill Peters in 2018. It immediately felt like the start of a new era, where he, along with owner Tom Dundon and president and general manager (GM) Don Waddell, had begun to enact a clear plan to bring a championship back to Raleigh. Now in his third season, he's finally beginning to get the recognition he deserves for being an excellent coach and inspiring leader.
Getting the Most Out of Your Players
Brind'Amour didn't inherit the most talented of NHL teams. Even to this day, the Hurricanes don't have a superstar in the vein or a Connor McDavid or Sidney Crosby. The last time they had a player finish in the top-20 of scoring was Eric Staal in 2012-13.
They have players like Sebastian Aho and Andrei Svechnikov, but the identity of their team doesn't fall on one player, or even one line. Aho, Svechnikov, and Vincent Trocheck each power their own unit, and that's the way the coach prefers to run things. For the Hurricanes to succeed, they all need to pull on the rope. It's a collective identity of work ethic, commitment, and camaraderie, and Brind'Amour is at the helm of that philosophy.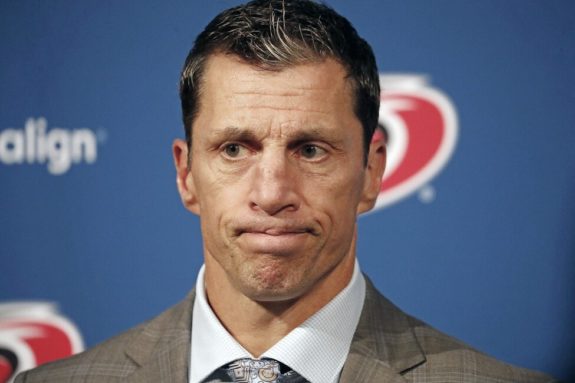 His legendary training regimen has trickled down to his players, and that's evident every night. It's rare to see the Hurricanes not go 100 percent, and even with a schedule as grueling as this season's, endurance hasn't yet been an issue. There's a reason you often hear his players say they'd run through a brick wall for him – he really has earned their utmost respect.
With all the bad publicity surrounding NHL coaches that's surfaced in the past year or two, the 'Canes are lucky to have a guy who lives and breathes for his players. The Hurricanes have insulated their organization with quality people like Brind'Amour and Justin Williams, and the product of that is their consistent effort on the ice and smiles in the locker room.
Many of the players on the Hurricanes' current roster have had their best seasons under Brind'Amour. Guys like Dougie Hamilton and more recently Vincent Trocheck have thrived under Brind'Amour's system and are playing the best hockey of their careers. Even veterans who had been previously slumping like Jordan Staal and Nino Niederreiter have been rejuvenated and are producing at career-high rates this season.
Niederreiter is one goal shy of the team lead with 12, which already eclipses his total from last year in 40 fewer games. As for Staal, he's looking like a completely different player this season and has reignited his offensive touch, in addition to being a goliath defensively. The 32-year-old 'Canes captain is currently tied for third on the team with 22 points in 25 games, and has been earning the praise of his coach and teammates on seemingly every night.
Headstrong Hurricanes Are Never Satisfied
Even in the midst of a massive winning streak, the Hurricanes have made it clear they're not satisfied, especially Brind'Amour. "Man, it's not good for you, I don't think, this coaching thing," he said after his 100th career coaching win on March 4. "It can't be healthy."
As funny as that quote is, it speaks to how headstrong he and his team are in the expectations they set on themselves. The Hurricanes have only lost back-to-back games once this season, and it was a three-game dismantling at the hands of the defending champion Tampa Bay Lightning.
What Brind'Amour has done with this team in such a short time is incredible. He's one of the most admired coaches not just with his players, but around the league, and he's been a huge factor in why free agents like Jake Gardiner and Ryan Dzingel initially signed in Carolina. Now, he's got these hungry Hurricanes rocketing to the top of the standings, and becoming a major threat to win it all this season. What more could you want out of a Jack Adams Award recipient?
Brind'Amour's Competition
There's always going to be debate over subjective awards, but it's hard to find another coach in the league more deserving than Brind'Amour. If the Hurricanes continue to ride this hot streak to the finish, it'll be almost impossible to argue against him. But there's a lot of hockey still left to be played, and any team that impresses as well as Carolina could contest him.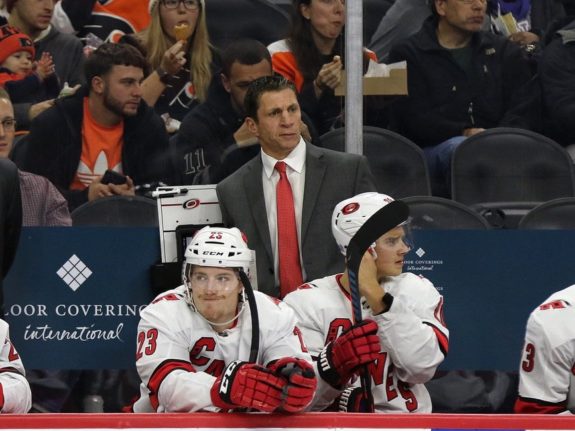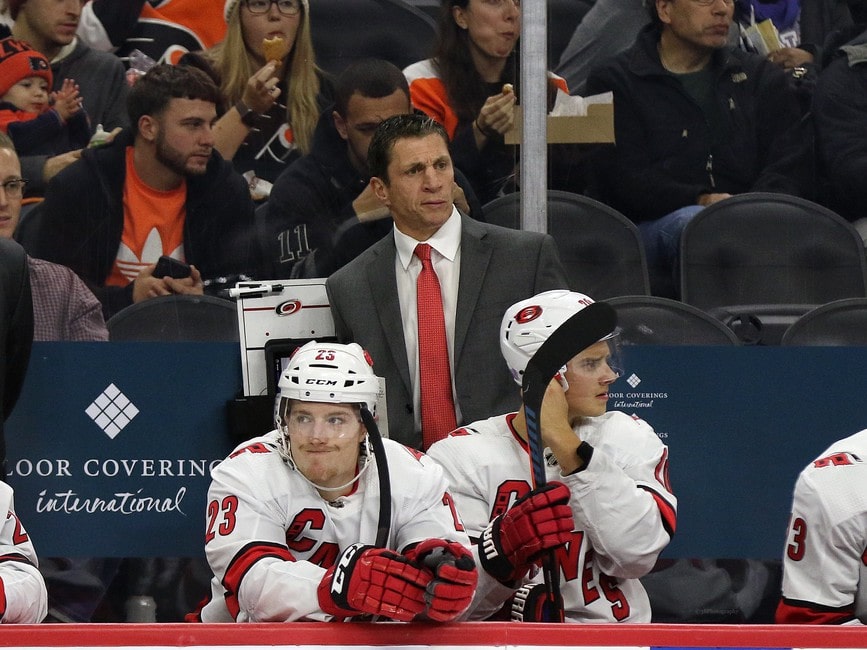 Barry Trotz of the New York Islanders and Jon Cooper of the Tampa Bay Lightning are always going to be threats, especially when their teams are the ones butting heads with the Hurricanes for top spot in the NHL. Coaching a team to the President's Trophy will always earn you high praise, and those teams are certainly good picks to finish in that top spot. But there are others, like the Hurricanes, whose coach is more of a factor to their team's success.
Looking at the most recent Jack Adams winners, there are a few trends to keep your eye on. For one, no coach has won the award in back-to-back seasons since Jacques Demers with the Detroit Red Wings in 1987 and 1988. And many of the teams whose coaches took home the award were teams that made a drastic improvement from the year prior. The Hurricanes could theoretically fall into that category, but the same could be said for several other teams whose coaches are currently in contention.
| | | | |
| --- | --- | --- | --- |
| Year | Coach | Team | Regular Season Placement |
| 2020 | Bruce Cassidy | BOS | 1st (Division), 1st (NHL) |
| 2019 | Barry Trotz | NYI | 2nd (Division), 5th (NHL) |
| 2018 | Gerard Gallant | VGK | 1st (Division), 5th (NHL) |
| 2017 | John Tortorella | CBJ | 3rd (Division), 4th (NHL) |
| 2016 | Barry Trotz | WSH | 1st (Division), 1st (NHL) |
Most Recent Jack Adams Award Winners
Jeremy Colliton has managed to take a weak Chicago Blackhawks team and help push them into the playoff picture. Even without Jonathan Toews this season, the Blackhawks are turning heads with their 14-11-5 record, and beyond that, appear to be a much hungrier, more confident group.
But if there's one guy who could really challenge Brind'Amour, it's Joel Quenneville of the Florida Panthers. To the surprise of many, the Panthers are tied for the league lead with a sparkling 19-5-4 record. They've really come together in a different way this season, and with a coaching pedigree as impressive as Quenneville's, there's no doubt he's a huge driver of their success.
The Hurricanes/Hartford Whalers franchise has never had a coach win the Jack Adams Award. There's plenty of competition for best coach in the league honors, but because of the way he's motivated this team, this could be the season Brind'Amour takes home the trophy. It's not the one he's set his sights on, but it would be a much deserved token of recognition for the behemoth of a team he's helped carve in Raleigh.
What the Future Holds
There's been talk of the town lately of who the Seattle Kraken will hire to coach their squad as their introduction to the NHL draws near. And, since Brind'Amour is in the final year of his coaching contract, he's been pegged as a potential candidate. Kraken GM Ron Francis has an obvious link to Brind'Amour from their playing days, but even with that connection, it's nearly impossible to imagine him leaving the Hurricanes.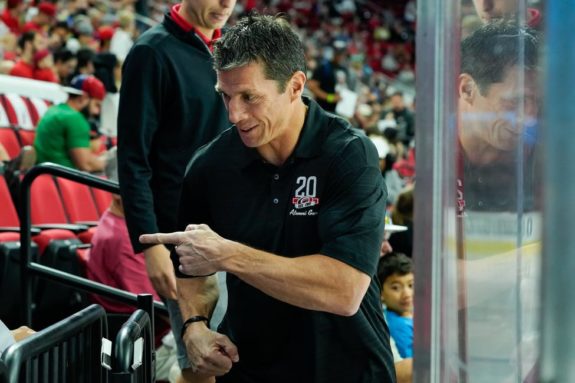 Brind'Amour has always felt at home within the organization. He played 10 years with the Hurricanes, serving four years as captain and winning a Cup with them in 2005-06. Since his hiring, he's made this team his own, and with the level of commitment and effort he's put into creating this culture, it would make no sense to abandon ship now.
So, the ball is in Waddell's court. He has to make a deal happen with Brind'Amour to ensure he's back behind the bench next season, but there's absolutely no reason to think they won't make every effort to bring him back. This is the most success the Hurricanes have seen in more than a decade, and it's only the beginning of their journey.
Brind'Amour didn't return to hockey to win a Jack Adams Award, he returned to bring a Cup back to the city of Raleigh. And if this isn't the year, then there should be no doubt that he'll be back for many more, working endlessly to achieve that goal.